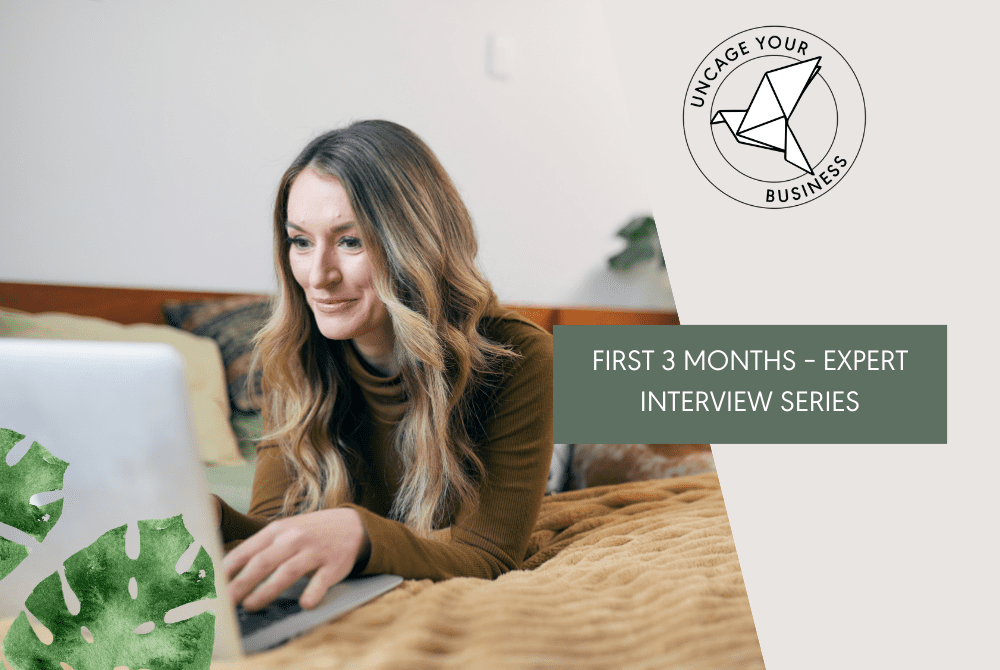 First 3 Months – Expert Interview Series
When you're starting a business, there is SO much to do, and it can be overwhelming trying to figure out what to do and when and how and why. And it's awesome that there are so many free resources out there now for you to help give you advice and lead you in the right direction. But therein lies the problem – there is SO much stuff out there, that it often ends up leaving you feeling just as lost as when you started.
I saw such a need for offering new businesses some kind of direction in all this, so I created my signature Uncage Your Business program to help all the struggling business owners who have HEART and HUSTLE, but who just have NO damn idea what to focus on and when in business.
But, I thought it might be helpful to have you hear from successful business owners who have built amazing businesses. Not sharing tips and tricks on how to make 6 figures, but sharing stories from the baby-stages of their business, and what they would do differently if they were just getting started. Stories about their beginnings. Stories about what they did right and wrong and stories that will help YOU find more focus in your beginnings.
STRUGGLING TO FIND YOUR NICHE?

GRAB MY FREE NICHING GUIDE HERE, AND SAY GOODBYE TO ALL YOUR NICHING WOES!
The Interviews
Carrie Green from Female Entrepreneur Association – Learn how Carrie's passion project accidentally turned into a business
Kate Courageous of Your Courageous Life – Learn how Kate made her life coaching business work
Andrea Owen of Your Kickass Life – Andrea started her business while she was having a baby! Learn how she managed it all
Tiffany Han of 100 Rejection Letters – Tiffany shares the first 3 things she spent money on in her life coaching business
Nikki Groom, copywriter at NikkiGroom.com – Nikki tells us how she built her business to a full time gig while still working a 9-5 job
Hope you learn from them, get inspired, and most importantly see that EVERYONE starts in the same place.
xx becca
PS. If you're struggling with knowing what to do first, check out my resources page – there's something there for everyone regardless of where you are in your business!