Life coaches, nutritionists, biz coaches, healers, and consultants (or anyone who dreams of running your business from your laptop)
(in the comfort of their own pantslessness).

I'm Becca Tracey (she/her). And there is one thing I know for sure...

Running your own online business is absolutely the best way to live a life of freedom and of service. Hands down, no question -- it's amazing.
And the good news is that with an online business and the beauty of the internet, ANYONE - yes, even YOU - can do it.
But – it's not all just hammocks on the beach and laptops on airplanes (and if anyone is trying to sell you that lifestyle, run far far away!)
In order to run a successful business, there's a hell of a lot of hustle and heart required.
Too often, new business owners waste time and energy trying to figure it all out when they are first getting started.
You are probably spending too much time:
Trying to figure out how to work social media

What to blog about

Which apps to use
... all while working to try to get some damn clients in the door.
And what I end up seeing all the time is way too many new business owners who are overwhelmed and confused about marketing, and who end up spending their money in all the wrong places, but not getting anywhere with their new business.
And then they feel like failures. And eventually, they decide to throw in the towel, because maybe this whole business thing just isn't going to work.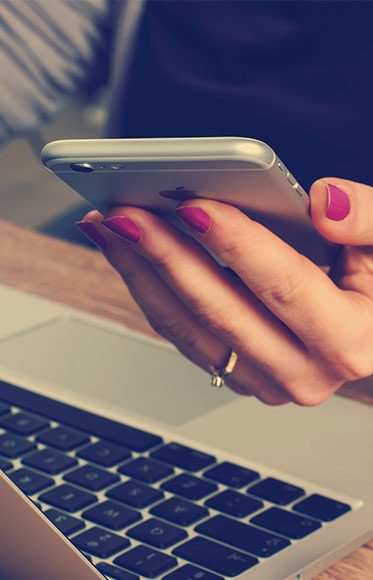 But it doesn't have to be this way
I have worked with over 1000 coaches and solopreneurs like you who are at that sweet sweet (and VERY scary) intersection of "I really want this to work" and "Is this ever going to work?"
Maybe you have:
Bought programs and courses
Tried to learn Facebook ads and webinars
Are writing blog posts and scouring Facebook groups
Felt like you are doing ALL THE THINGS
... and you really are trying, and with the best of intentions! But nothing is working and you're spreading yourself thin, looking for THE THING that will make this all work.
But the secret? The thing that will actually make a difference?
Is starting with the RIGHT foundations.
Think about all those programs you have bought and haven't taken action on; all the guides and freebies that are sitting on your virtual shelf collecting dust. I can almost guarantee that most of them started you at step 5, when what you really need are steps 1-4.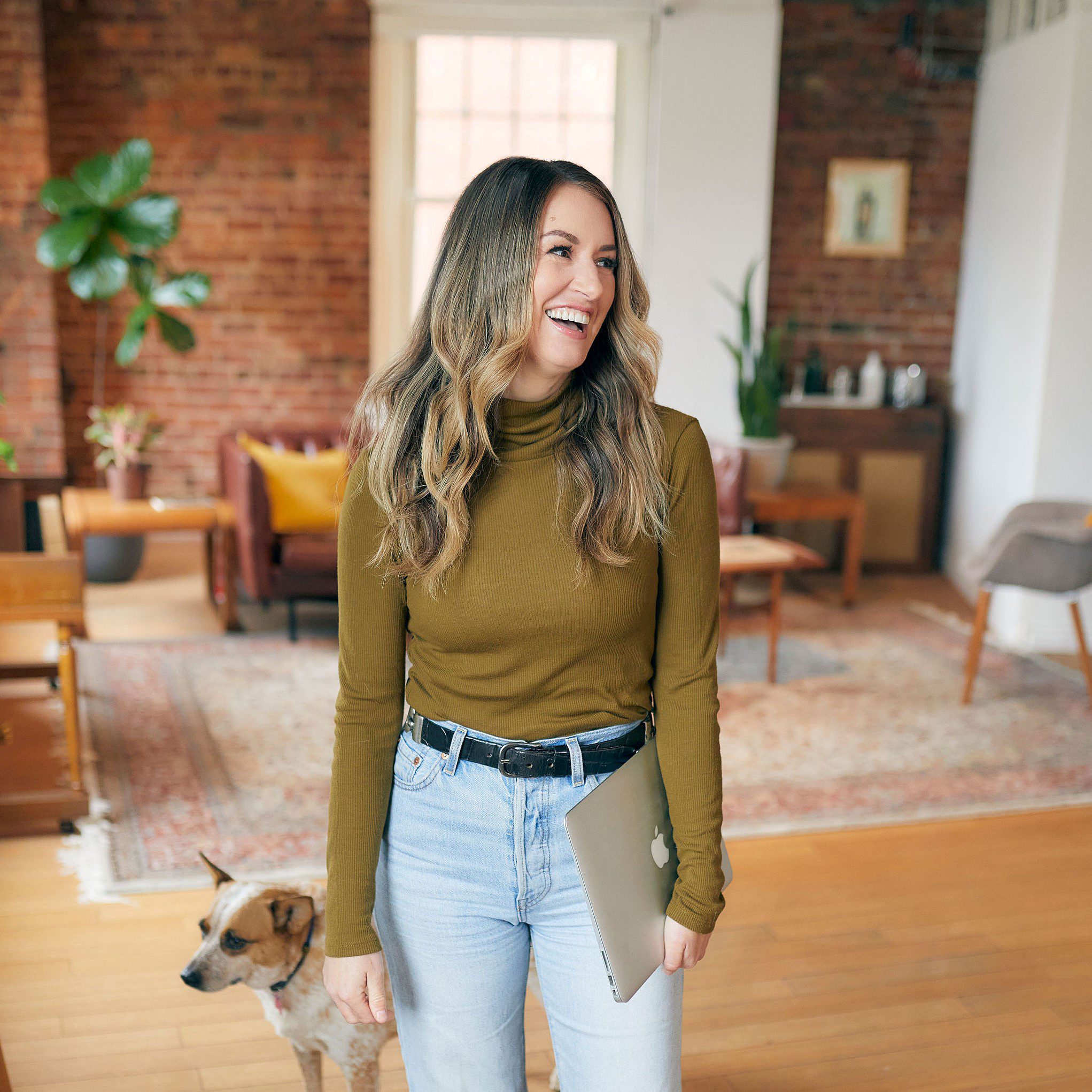 What are those foundational steps?
Having a clear, strong, compelling brand message

Understanding your niche like the back of your hand (ok, even just HAVING a niche will do)

Having services to offer that your clients actually WANT (not just stuff you created because you looked at what everyone else in your industry was doing)

Understanding how to talk about what you do and market yourself clearly and effectively
This stuff sounds obvious - of COURSE you need all of this. But my guess is that if you are doing EVERYTHING and nothing is working - you're guilty of skipping these steps (tsk tsk!).
SO I'M OPENING MY DOORS TO ALL THOSE WHO…
Want to be able to run a service-based business from anywhere, with your laptop (whether that's from a beach in Mexico or on your couch with your pup curled next to you).
Need to clear away the fog about your target market and finally get a grip on the whole niche thing in a fresh, new way (no more tearing your hair out trying to choose a niche or doing avatar exercises that just leave you more confused).
Feel ready to finally create a brand message that stands out in your crowded market.
Are dying to quit the endless cycle of thinking about it but not doing it, and instead just fucking START.
Need someone to give you that PUSH to go bigger and sooner and free-er (and other 'er's) with your dreams and plans.
Want to be part of a community that values diversity, equity, and inclusion, and is committed to using your business as a force for good in the world (while also making enough money to live your uncaged life).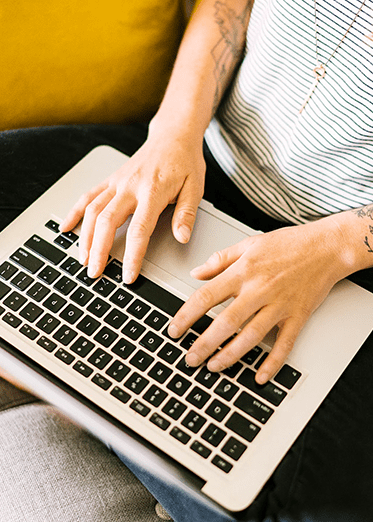 I have seen time and time again how when my clients focus on the RIGHT things in our work together and nail these foundations, they make more progress in just a few weeks than they have in the past 6-12 months (seriously -- I've had TONS of people tell me that)
Since Uncaged opened its doors back in 2011, I've worked with many hundreds of coaches, consultants, and freelancers to help them Uncage their businesses and their lives.
My clients have gone on to:
Quit their 9-5s and work full time on just their coaching income,
Build 6 figure agencies and create awesome business partnerships
Sell out their group programs and retreats with ease
And create new careers for themselves they are proud of and actually enjoy (who would have thought!)
Big results -- but they all started in the same place - cutting the crap and focusing in on the right things.
I am SO not into promising you overnight success (because if that was really possible I'd be a millionaire right now). And I know the whole "6-figures" thing may or may not be what you're after (though you're kind of sick of hearing people use that term as if it's the gold-standard, because the truth is you'd be happy to make ANY money in your biz right now).
As you can probably tell, my vibe is way more "hang out on the couch cuddling with your pup or take off on a last  minute backpacking trip", versus "hang out by the Eiffel tower in pearls with a glass of champagne", and I know what you're really after is a business that you actually enjoy, that gives you flexibility and freedom to actually live your damn life, do good work, and make a difference.
Is that too much to ask?
No - it's not. And I am going to help you create it.
SO WHAT'S MY STORY, YOU ASK?
WHY DO I CARE SO MUCH? WHO AM I TO BE HELPING YOU WITH THIS?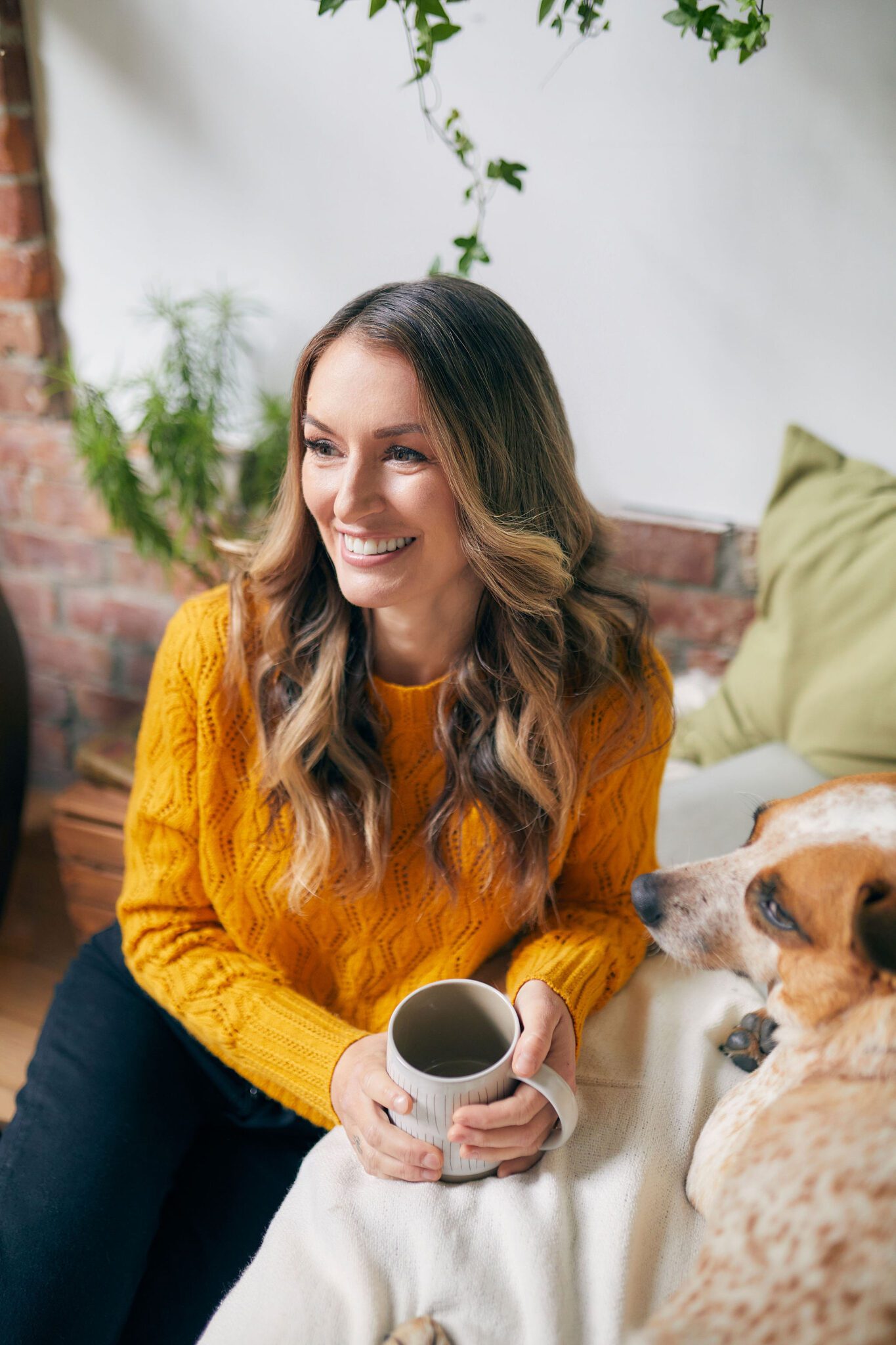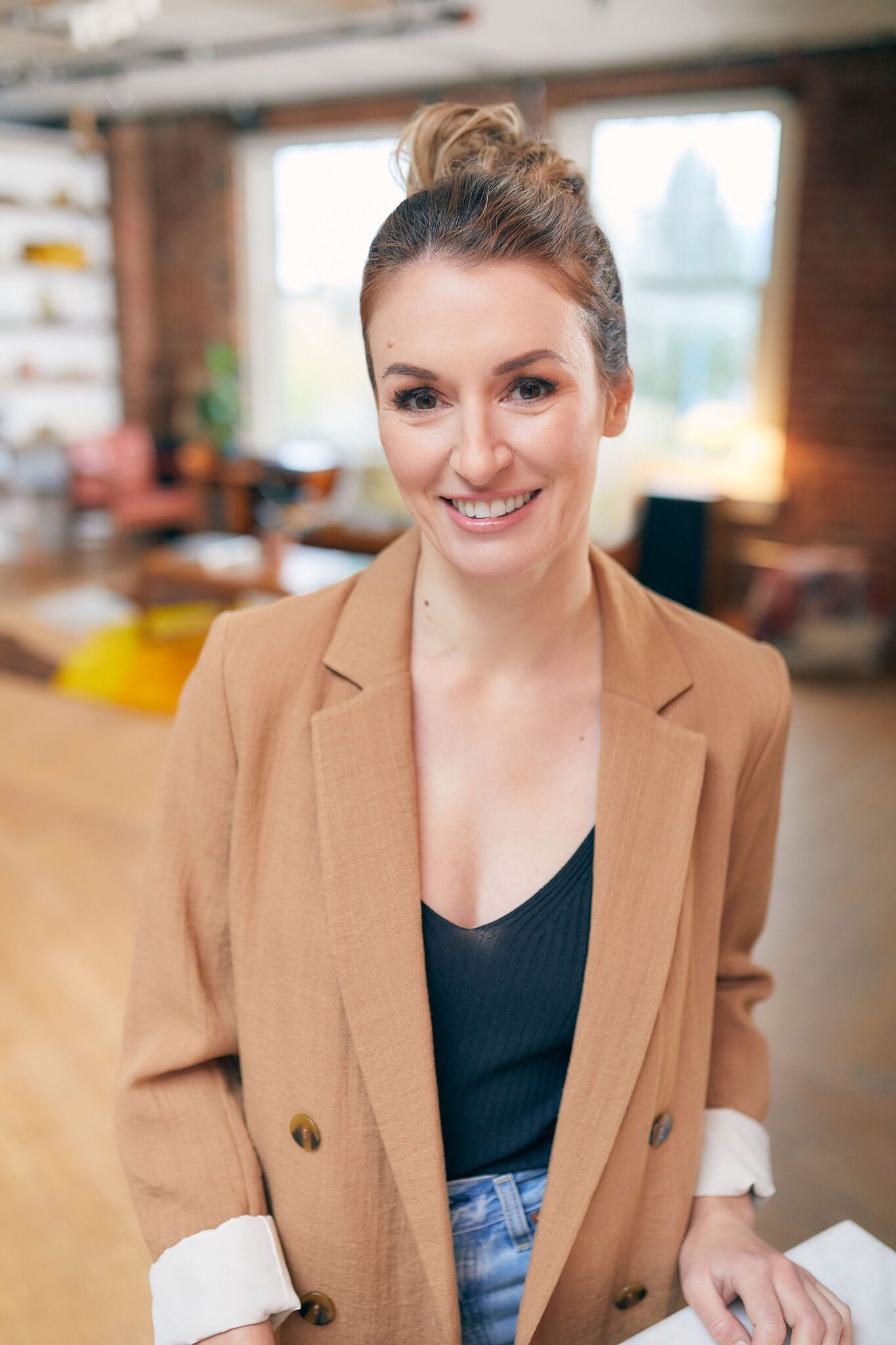 I know how damn hard it can be to get started in business...
I was once where you are -- DIYing it, just trying to figure it all out (and I can assure you I definitely didn't always have glamour shots like this, or a fancy website!).
There is so much to do when you are getting started, so many different opinions about what the "best" way is (and yup – I've got my own opinions on the matter too). I'm here to show you how EASY it can be when you stop wasting time on the wrong shit and start spending time on the right shit.
But don't get me wrong… I don't plan on blowing a bunch of smoke up your ass about online businesses being easy, breezy, beach parties 24/7. Instead I've made it my mission to bring a healthy dose of truth to the table—because anyone selling you a luxurious 6 figure lifestyle in just 3 easy months is full of a whole load of shit.
This business and this life (and hell - glamour shots of your own) IS possible, you just have to work for it. And I want to help you cut through the fog that is out there and get you focused on what will actually help you get there; no woo woo promises involved. Just simplified strategy, serious action taking, and a no fluff approach to making your business WORK.
I believe that your message needs to be heard, and I am in the business of helping you share your gifts with the world. And I believe the coaching world NEEDS more diversity in its messages.
Here at Uncaged, we aim to create a community of diversity in race, body shape, sexual orientation, gender expression, age, religion, and experience. ALL of it is welcome, and encouraged.
We believe that creating an uncaged business is possible, not just for skinny white ladies prancing around in a field of daisies, but for EVERYONE.

AS FOR MY PERSONAL AND PROFESSIONAL HISTORY…
My life has been the definition of 'uncaged', and my work history has too! I lived in a van for a year rock climbing my way around the U.S.(I and I actually started Uncaged while living in that van!). That's the van in the photo down there (yes, it says "On The Lam - Gone Fishin' on the back). That's also me rock climbing with my dog Rhubarb, something we do often when we aren't working here at Uncaged!
But before Uncaged:
I slept in hammocks, sledded down volcanoes, and sailed with Swiss polygamists (sorry Dad!) while working my way around the south pacific on a holiday visa (how many other people can say they worked on a banana farm!)

I wrangled unassuming school children in South Korea when I thought I tried my hand at being a teacher

I counselled adults on the 1-800-SUICIDE line when I thought I might want to be a counsellor (then dropped out of my Masters in counselling because it just wasn't my bag)

For a hot minute there I coached people about the benefits of kale and quinoa in my past life as a Registered Holistic Nutritionist

I worked with people on finding their passions when I trained as a Life Coach

And then I learned everything I could about online business and marketing when I ran social media campaigns and managed the blog of a massive online health community.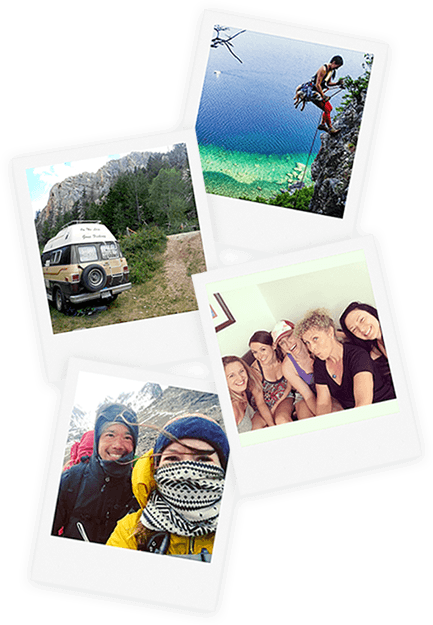 But the truth was, I couldn't settle in a proper J.O.B because I always felt stifled. Two weeks vacation? Not allowed to take random afternoons off just because the weather was nice and I wanted to have a picnic in the park? What kind of life was that? Plus I never found work that actually excited me, until I started helping other people live Uncaged too -- ding ding ding! We found a winner.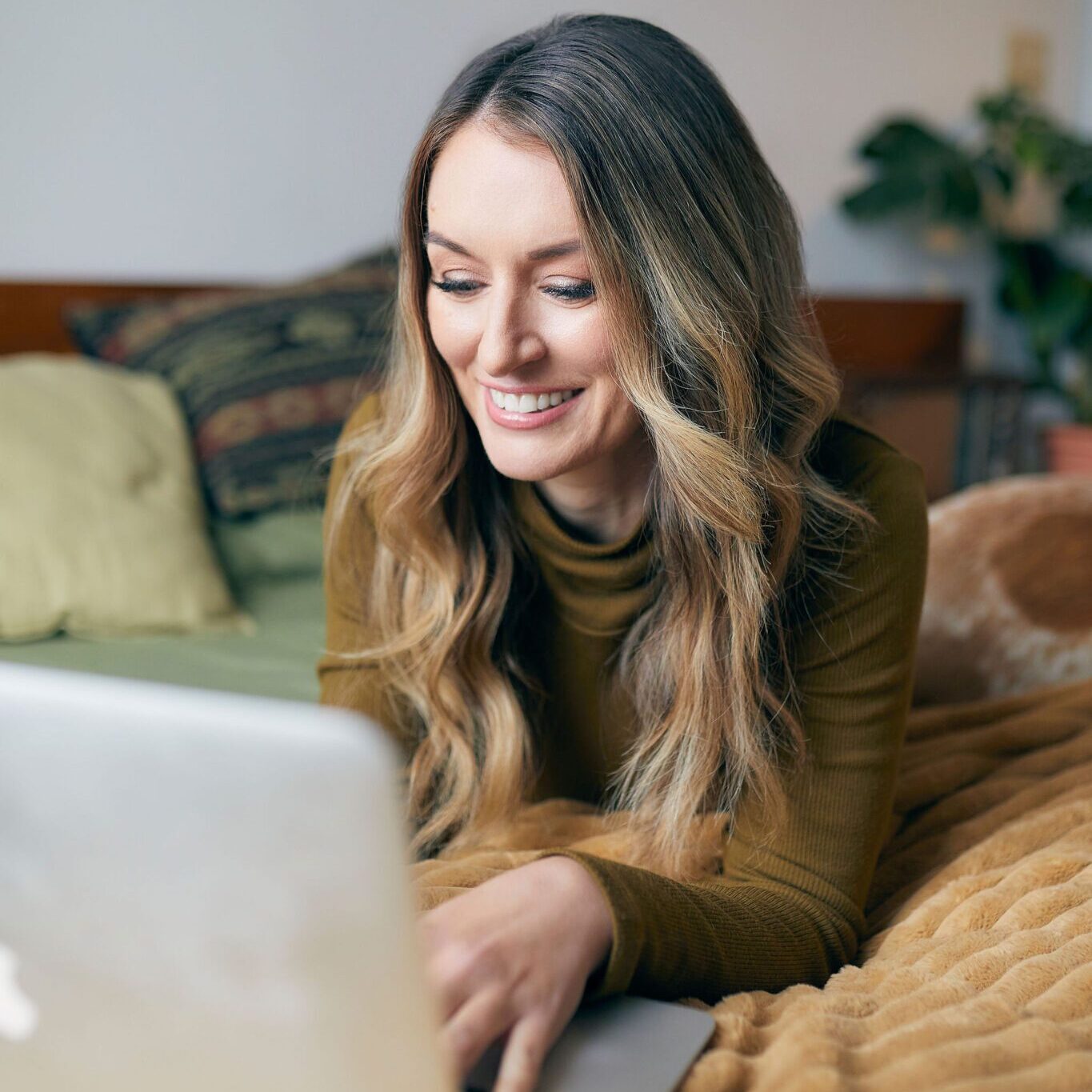 I knew if I wanted to remain Uncaged, I'd have to take it upon myself to figure out how to be my own boss.
I eventually started The Uncaged Life helping my peers (who were all life coaches and health coaches!) to start their businesses…. and found it to be the perfect intersection of all my skills:
A love for helping people build their passions

My knack for teaching and making complex topics feel

easy

Seeing the connections between all the threads in your businesses and being able to help pull out core themes

Helping people learn how to build a business online and market themselves in ways that feel good
...combined with a healthy dose of ass-kicking and cheerleading because I believe in you and your business and your uncaged life and I will do my damndest to help you make it a reality.
Now, over 10 years in, I've been featured in places like Entrepreneur, Being Boss, and Teachable (see all of me in the media here), and have helped thousands of solopreneurs take their businesses from side hustle to full time uncaged businesses (see the testimonials here)
So whether you:
Have no fucking clue how you can stand out in your market,

Need some help harnessing all your ideas into services that sell,

Just need a serious kick in the pants (just kidding, you don't wear pants when you work from home!) and a LOT of hard-won advice from someone who has been where you are
… Then you're in the right place. Let's work together to help move you from hobby to business.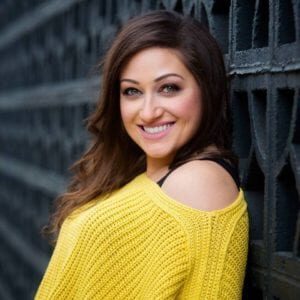 Becca really gives her clients everything!
- Jamie Jensen, Copywriter and Screenwriter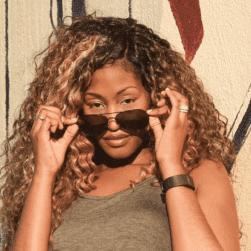 Uncage Your Business is the holy grail of courses! I made my money back within days of starting!
- Kimber Lee, Systems Strategist
Our aim is to foster an environment in our paid programs and free community where everyone feels valued, supported and inspired to achieve their business goals. This includes providing opportunity and access for all people across differences of race, age, color, ethnicity, gender identity and expression, sexual orientation, migratory status, disability/abilities, and socioeconomic background. We actively invest in our own learning to help us build an anti-racist, anti-oppressive, equitable, inclusive company. We believe Black Lives Matter. We stand for LGBTQIA+ rights. We do not believe that Hilary Clinton eats babies or that Covid doesn't exist. We invite you to join our community if you share these values!