Nice Package: Interview With Lis Dingjan
Welcome to the Nice Package! series, where I'm chattin' with cool business owners who have sweet packages that their clients can't wait to get their hands on.
I'm SO excited today to bring on one of my BFFs, Lis Dingjan of The Identity, who also happens to be the amazing designer behind Hey, Nice Package!
Lis is an amazing person and I'm constantly awed by how much new stuff she is creating! She has more businesses than I can even keep track of. She does web design and development services, runs a charity, is starting a photography business, has more than one product based business, and lord knows what else she's up to (she emails me at least once a week  with a new business venture that we just HAVE to start together).
I wanted to bring Lis on because even though she's a web designer, which is a business with quite tangible outcomes (as opposed to say, life coaching), she's a great example of how even when your work is tangible, packaging isn't always easy.
Lis has some fantastic advice about how to actually find out if people will pay for what you're creating, how to know when you should invest in design for your programs and sales pages (and when to wait), and shares how she went from way undercharging to gaining the confidence to charge prices that make her feel really good.
STRUGGLING TO FIND YOUR NICHE?

GRAB MY FREE NICHING GUIDE HERE, AND SAY GOODBYE TO ALL YOUR NICHING WOES!
Thanks for being on Lis – I love you (despite the fact that the still shot in the video looks like I am screaming at you!)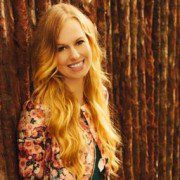 Lis Dingjan is a designer and coding geek at The Identity who's obsessed with being in the creative zone (totally code for the shower). She helps businesses succeed with laughs, lashings of high quality, and a whole lot of love and value. Accidentally circumnavigating the world every year, she's travelled through over 50 countries and calls everywhere home. When she's not throwing things at her computer you can find her working on charity projects, drinking far too much tea, listening to Leonard Cohen and pretending she's funnier than she really is.
PS. If you're struggling with creating your packages and services in your online business, I created a free resource just for you that will tell you the 4 biggest mistakes business owners make when creating packages, and teach you how to come up with endless amazing package ideas. Enter your email here to get it free.