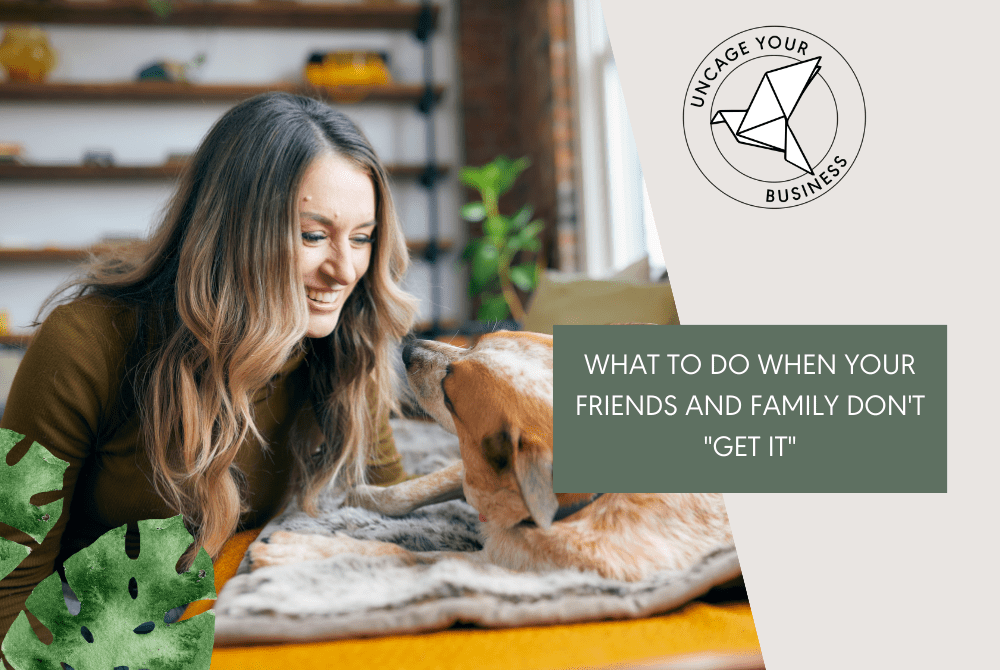 What To Do When Your Friends And Family Don't "Get It"
You know what I'm talking about.
The eyes that kind of gloss over as their mind drifts to their grocery list as soon as you start talking about how many new opt-ins you got today, or how you just can't seem to get Mailchimp to send to your list properly and should you hire a VA to do it or just do it yourself, and why on EARTH are your widgets not lining up properly??
Or the friend that used to know you back in the day when you liked to party a little too hard on Friday nights, but now look at you, home in your PJs by 8pm talking to your weird new online friends and brainstorming your next launch. What happened to the up-for-anything, fun friend they used to know?
Or the dad who insists that you get a real job and who thinks your business is nothing but  a phase, like that time you used to kiss girls in high school.
But little do your friends or your dad know that you're in it to win it, and this is as much of a phase as loving Ryan Gosling is, which is to say that it ISN'T.
But you still feel self-conscious and weird about it, because your new life as an online, Uncaged business owner is so different from your old one, and it makes you nervous to even put your stuff out there when you don't feel like anyone takes you seriously (or even cares).
So what are you to do? How can you possibly grow your business when no one gets it?
Here's is exactly what you need to do:
1. Get new friends.
Create a new family. Surround yourself with people who not only support you, but are EXCITED for you and IN IT WITH YOU.
Not to say that you have to ditch all your old friends (though it's not a bad idea once in a while to do a bit of an inventory and make sure that the people in your life ARE actually there for a good reason).
But you will never make it alone in business. That much I can guarantee. Look around at any successful business owner and they will always tell you that it was the support of their peers and colleagues, their communities, their mastermind and coaching groups, that are responsible for their success.
No one gets anywhere lone-wolfing it. And no one comes out with the exact same support group as when they went in.
READY TO PRICE YOUR SERVICES THE RIGHT WAY?

ENTER YOUR NAME AND EMAIL BELOW TO DOWNLOAD MY FREE PRICING GUIDE
2. Actually tell the people in your life what you do all day, in language they can understand.
If your friends and family think you spend all day fucking around on Facebook and creating inspirational images in PicMonkey that are just SO cute but not actual real work, they need a reality check and it's YOUR responsibility to give it to them if you ever want them to take you seriously.
So lay it all out for them in ways they can understand. I guarantee they will be mega impressed when they realize how many hats you actually have to wear to run that little hobby business of yours.
Here's a script you can cut and paste and make your own, if you need help starting the conversation:
Hey _____. I know I've been working a lot lately on my business, and I know you think it's all a little weird, so I wanted to take some time to explain it to you!
Ok, so you know how I am a ______? Well what that means is that I _________ for my clients.
But because this whole operation runs with JUST little ol' me, it's not like I can JUST be a ______.  Over the past few months (years?), I've had to learn how to do a billion other jobs. I've had to learn about branding and how to position myself as an expert in my field. I've had to learn about marketing and have done a lot of work to make sure that my business is solid so that it will sustain me in the longterm.
I'm starting to dig into web design and learning how to make design changes to my site so that I don't always have to hire someone to do it. And now that I'm working with clients, I'm also learning how to evaluate whether my programs are effective, and make changes to make them even better. Oh, and then I actually have to make time to DO my client work.
And as if that wasn't enough, I've also had to dig into accounting and taxes, to make sure that I'm legit at tax time and that I have all my ducks in a row. And I've also had to legally register my business and create contracts and privacy policies for everything I do so that my ass is covered legally.
It's a LOT of work to make everything run smoothly, and I'm sure some of it is still super confusing to you. It's confusing to me too! But I'm really committed to growing my business to a place where it sustains me and I can quit my job/take more time off to be with partner/stop living in your basement/afford to buy a house/etc, so I might be a little MIA for the next while (who knew that starting your own business means working more than I've ever worked before!).
I love what I'm doing, so if you ever have any questions about it I'm  happy to share more!
When in doubt, add concrete numbers.
Over 250 people who have signed up to my website!
I have 3 clients that are paying me $300/month!
I made $50k last year and hope to bump it to $80k this year!
Non-internet business people don't obsess over numbers like you do, so they are bound to be impressed!
The point is to help them to understand that the work you are doing is legit and not just some dream that is never going anywhere.
When I talk to my partner Mike about my work, he's super impressed. He says that if I worked at his job (for the provincial government), I'd be doing at least 5 people's jobs. That always helps him put things in perspective and fully GET what a badass little business lady I am (note: Mike laughs anytime I call myself a lady).
3. Stop going to the hardware store for milk.
You're not gonna find what you need there.
That isn't to say that your friends/family  CAN'T support you (some of them may be super loving and supportive!), but they probably aren't the best people to turn to all the time when it comes to your business.
Your friends/coworkers/parents are NOT your ideal clients. So if they don't really get what you're doing, at the end of the day it doesn't really matter. They will never pay you for your services, and you shouldn't be going to them for help and advice about a business they know nothing about.
Learn where your clients ARE and then make sure that THEY understand what you do –  that's what really matters in your business.
It's scary as hell to go against the grain and do things YOUR way, especially when it comes to your career.
People won't understand. People will judge you. Usually it's because they're jealous and/or scared to actually go after what THEY want, so hating on you is the easier option.
And I'm not going to pretend that it's easy. It's terrifying.
But at the end of the day, it's a choice: Do you want to let other people's insecure thoughts and words hold you back? Or do you want to take your life into your hands and push forward anyway?
Make your choice.