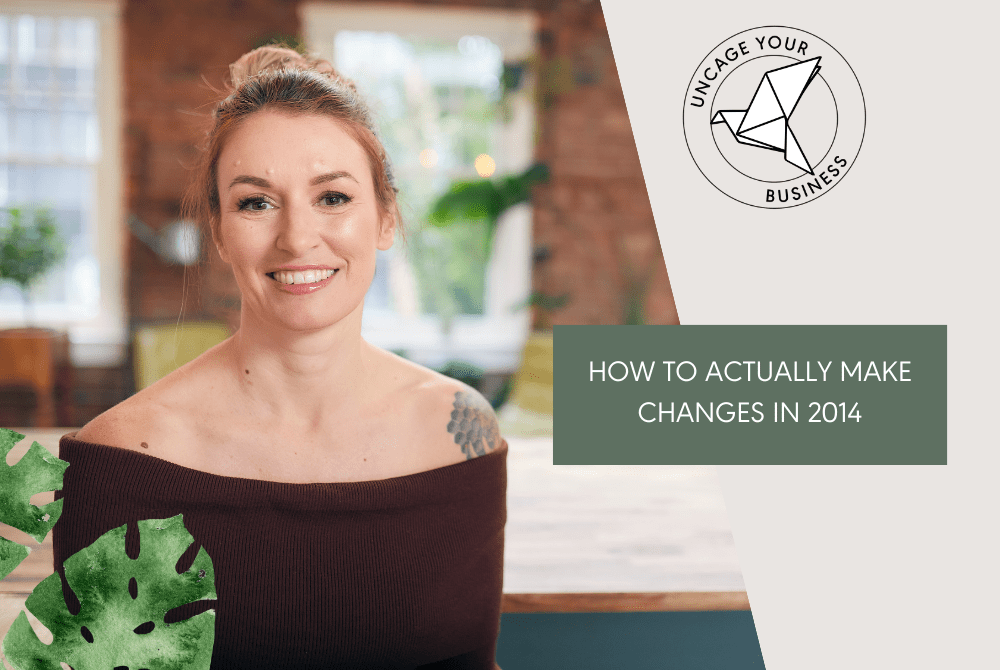 How To ACTUALLY Make Changes in 2014 (hint: it's not by making goals or resolutions or intentions)
It's the start of a New Year tomorrow, and if you want to make really big changes next year, there are a few things you need to do, and they are not the same things that you're seeing out there from oh, just about everyone.
I'm not going to tell you to set goals (not SMART goals, not BHAG goals, not any kind of goals).
I'm not going to tell you to make resolutions, or extravagant plans.
I'm not going to tell you to scrap both of those and try intentions instead.
I'm not certainly not going to tell you to do your affirmations.
Because all of that? Is just fluff. It's for people who don't get shit done naturally, and need to use 2014 as a re-do after all the stuff they DIDN'T accomplish last year. That's ok. You're not a bad person if you operate this way. You're just trying to do what every business and life guru tells you THEY did to make $100k or move to their dream home or quit their job or buy the llama farm of their dreams.
But the problem with that is that it's THEIR way.
READY TO PRICE YOUR SERVICES THE RIGHT WAY?

ENTER YOUR NAME AND EMAIL BELOW TO DOWNLOAD MY FREE PRICING GUIDE
Want to know what actually works? Knowing who you are and what's important to you, and then DOING it.
You're not a child who needs to be told what to do. You don't need another strategy or gimmick or outline.
You need to zero in and learn to do things YOUR WAY.
Here's what I want for you in 2014:
To trust yourself more.
To love yourself more.
To believe in yourself more.
And to get to a point through all of that where you are naturally motivated to do the things you have set out to do (no lists, no intentions, no affirmations required).
And how do you do that? By taking risks. By going out on a limb. By not doing what you said you would do if it doesn't work for you anymore. by saying yes more. And no more. By starting before you're ready. By making big decisions in an instant, based on only your gut feeling and a glass of wine.
Because the more you do that? The more you won't need to worry about setting goals and intentions and resolutions  – you'll just naturally start to do all the things you want to do. And before you know it, a year will go by and you'll have achieved WAY more than was on your silly list in the first place.
I should know. It's how I run my life.
Happy New Year. I'm more excited than a kid on Pop Rocks to watch you kill it in business and life in 2014.