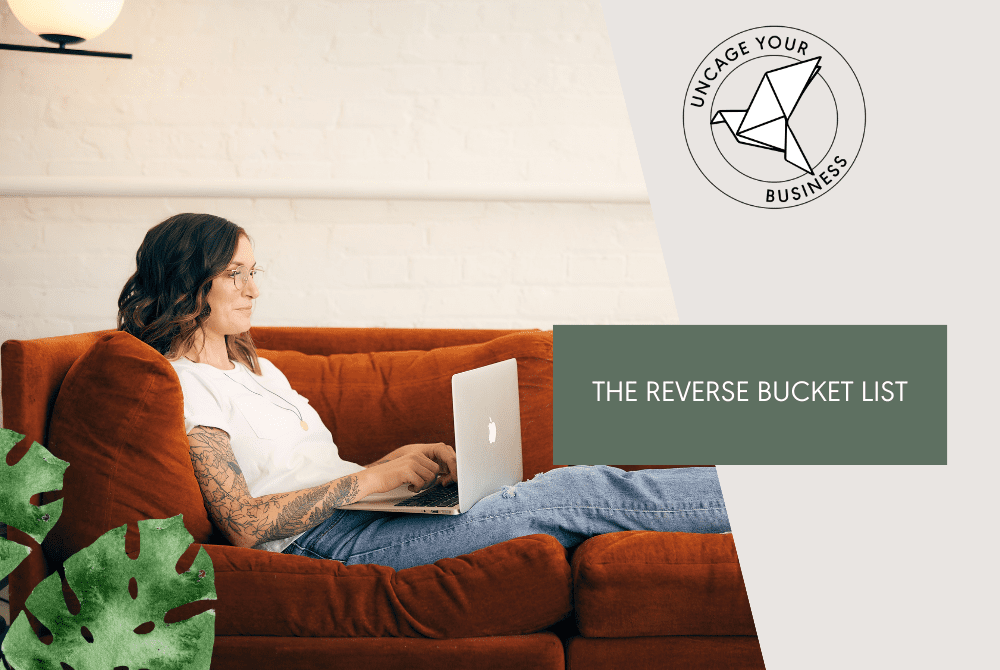 You know how sometimes, even though you love them, the people in your life who have it more "together" than you can make you feel like a real piece of shit?
Yeah. That happened to me a while ago (this post was written in 2012, so it was a long while ago now haha)
I was at a business friend's house, and her walls were full of these post it notes. I'm taking probably 100 post-its, all arranged in perfect asymmetrical rows, that were splattered with little inspirational affirmations and thoughts and other coachy type things.
And one whole chunk of wall was dedicated to celebrating the past – one note for each thing she had accomplished.
Think reverse bucket list – a backwards look at everything she'd done, all with a neat little checkmark next to them.
I remember looking at that wall and just feeling deflated…. like I would NEVER achieve the kinds of things she had
Obviously, this shitty I was getting because of her awesome accomplishments and creative post-it notes has NOTHING to do with her (she's a lovely friend!). It's ALL me. And my own bullshit insecurities.
I saw this list and I immediately got jealous of all the amazing things she's accomplished. And the fact that she has a gorgeous condo in which to display such amazingness. And the fact that her list of future goals is about 1000x more ambitious than mine.
And all I had at the time was a dirty 80s Chevy campervan van and a few scrappy notes in my moleskin about what I wanted to do eventually, someday, when I was done being a dirtbag rockclimber in a van.
Except, I did have more. I just hadn't quite structured it into a fancy little art project… yet.
The more is all those totally cool things I've done before I lived in a van (AND, I guess living in a van for a year is pretty cool too!).
Funny how quick we are to write off what we've done in the past and only focus on all the things we want for the future.
But when the future seems far away, and we're feeling anxious about our BIG dreams (and the pressure that can come along with them), celebrating your past is a quick and easy way to reconnect to how amazing you are already, regardless of what the future holds.
3 month business building checklist

ENTER YOUR EMAIL BELOW TO learn exactly what to do to start your new business
So without further ado, I present to you my Reverse Bucket List (written in 2012 when this post was first published. I can now add a whole lot of other cool things to this list, like creating a business that's brought in multiple millions of dollars, done a 180km solo backpacking trip, and FINALLY learning to drive  at 36 years old!)
Here list of all the things I'd accomplished that I'm super proud of. Some big, others subtle. All which have played a part in me becoming who I am today and even fueling the business I have today (follow me over @theuncagedlife on Instagram!)
Read. Be inspired. And go create your own list of at least 50 things.
Becca's Reverse Bucket List
1. Pay my own way through University
2. Go on a solo trip through Thailand
3. Teach English in another country
4. Bungee jump
5. Jump out of a plane
6. Swim with dolphins
7. Get straight As for a full year
8. Travel to a 3rd world country
9. Experience depression
10. Survive the death of a parent
11. Be in love
12. Be in love with myself
13. Manifest $10,000 (no kidding… should write a post on this!)
14. Become my own boss
15. Be location independent in my work
16. Ride an elephant
17. Take a year-long road trip
18. Become a holistic nutritionist
19. Get accepted into a Masters program
20. Save a life
21. Sail with a Swiss polygamist
22. Learn to rock climb
23. Take a 30ft rock climbing fall
24. Lead climb a 12+
25. Make a difference in the world
26. Take a year off to travel
27. Pay off my 14 year student loan in less than 2 years
28. Ask a guy a shitload of guys out
29. Experience total heartbreak
30. Be a total heartbreaker
31. Work on a farm
32. Work in a stripclub
33. Work at Hooters (stop judging me)
34. Go on a yoga retreat
35. Go on a solo rock climbing adventure
36. Live in a van
37. Make passive income
38. Get paid over $100/hour
39. Cultivate a regular yoga practice
40. Move to another country… alone
41. Travel around Central America for 2 months
42. Hike up an active volcano
42. Lead a workshop for 20+ people
43. Kiss a stranger
44. Learn to tell the hard truth
45. Start an online business
46. Walk my talk
47. Change someone's life who I've never met
48. Pull an all-nighter on the beach and watch the sun come up
49. Get paid to write
50. Take a homeless person shopping
… and the list goes on (and should probably be updated since I wrote that list in 2012 when I was 30 years old. I'm not 41 with a whole lot of other wins under my belt!)
Now. your turn. Create your own list of 50 accomplishments (nothing is insignificant).. Celebrate your past, and get ready to rock your world when you see just how awesome you already ARE.
HOT TIP – this is an incredible exercise to do if you area business owner and trying to figure out how you are different from everyone else in your industry. Your unique experiences give you a lens with which to look at your clients problems and offer them solutions. Don't discount anything! Even if it's not directly related to your business, I'd challenge you to come up with a reason why each thing IS an asset to your clients). I'd love to hear what you come up with — shoot me a DM over on Instagram @theuncagedlife
xx becca