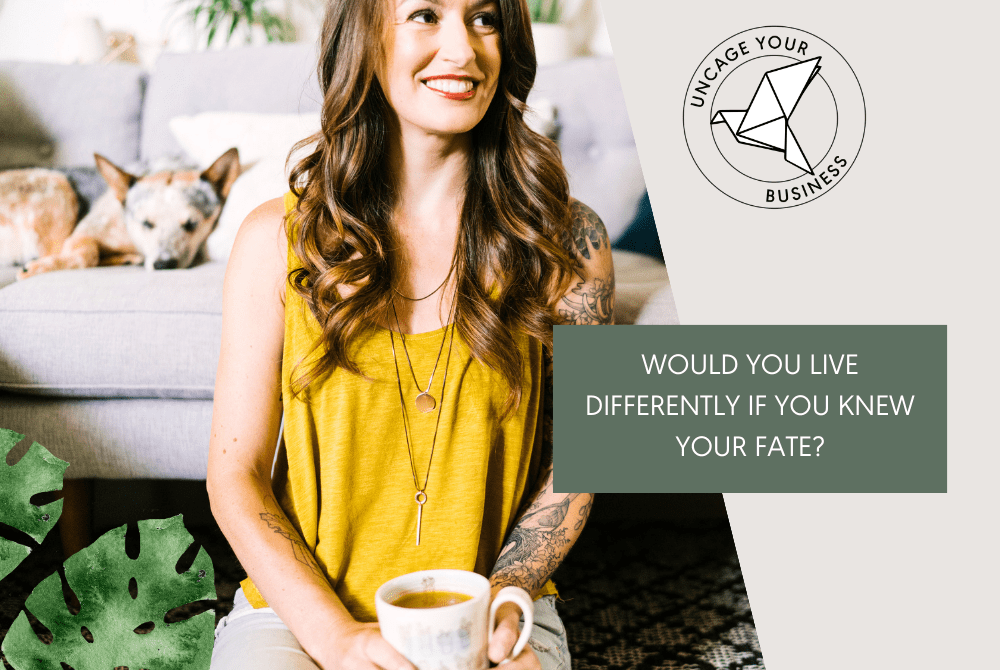 Would You Live Differently If You Knew Your Fate?
I don't know what she was like as a little girl. Was she playful? Silly? Wild like me?
I have no idea who she was as a young woman, or what her wildest hopes and dreams were.
Did she want to work at the bank? Or did she have bigger things in store for her life?
Did she ever dream of things that felt impossible? And if she'd had the chance, would she have taken the chance on those dreams?
I don't know if she was a good cook. A good wife. A good daughter.
Did she like to travel like I do? Did she ever have the urge to leave the country on a whim, to pick up and hit the road, to see what else was out there for her in this world?  What would she have done with her life, if she'd known her story ahead of time?
I'll never know how she felt when she found out she was pregnant with me, her first child, at 24!! Or how it changed her life when she saw my face for the first time. Was she excited? Was she scared?
She never taught me how to cook. Or clean. Or how I was supposed to braid my hair, or deal with heartbreak. And we never went for tea and talked about life, relationships, or chatted into the wee hours of the night about what it really meant to be a woman, to be a human, to be alive.
We never talked about the idea of getting married. Whether she thought it was a good decision she'd made at the young age of 23.  Did she believe in forever love? In the idea of "the one"? Did she know that I didn't? Did she even think about these things?
I have no idea how she felt about all the demons from her childhood. The ones I never learned about until way too late in life.
And I have absolutely no idea how she felt when she went to see her first therapist for simple "anxiety". Did she know it was the beginning of the end?
And when she and dad divorced, and she took me to therapy every week to talk about who I wanted to live with, did she know that this was too much for a child to take on? Could she tell that I knew, deep down, that she couldn't take care of me? Did she know that I never once said this out loud, no matter how much the therapist tried to lead me there? She was my mother, for fuck's sake.
I'm not even really sure when her illness started. Sure, I remember my grade 3  teacher asking me how she was doing when she had been in the hospital already for weeks, maybe months. But when did it REALLY start for her? As a teenager, when her brother abused her? As a new mother, when it all became too much to hold?
I often wonder whether she was as aware as I was, that the fact that she never ate anything couldn't be good for her. Watching her be fed through tubes on the psychiatric ward – the most aggressive treatment for anorexia at the time, her doctor told me years later. Why didn't she just eat normal food, like everybody else?
And why did I have to go visit my mom in a hospital anyway? Surely this wasn't how most kids spent their Saturday afternoons. My 7-year old self didn't know what to do with it all, except shut it out.
But then, how could any child be expected to understand the complexities of mental illness.
And when it got to the point when she actually lived in the hospital full time, did she realize how sad it made me to not have a mother?
I'll never know if she ever had the urge to talk about her illness with me. Maybe she didn't want to bother me with it. Or maybe she just didn't even recognize she was ill. Maybe her anorexia distorted any kind of self-perception that she had. Isn't that what happens? I don't know.
Maybe she had no idea who she was anymore.
And when it got really bad, when all the other shit started to get worse – I wonder how she felt about being diagnosed with depression, anxiety, PTSD? Was she told that these were now the labels she was to live with? Did she notice how the meds made her act? Did she feel the stigma of these terms the way that I did as her daughter?
And when I was away and travelling and doing anything I could to NOT have to deal with my "crazy" mother, did she miss me? Did she blame me? Did she still love me?
I wonder if she ever wanted to reach out. To ask for help. To have a heart-to-heart, as I've heard mothers and daughters sometimes do.
And I wonder if she had, if I'd have had the courage to say yes.
I'll never know.
Those many years I lived away, in Australia, in Korea, in Thailand, in Vancouver –  if I'd known they'd mean not seeing my mom again, would I still have stayed away? And all the time I spent worrying about what my friends would think if they met her,  about being embarrassed about her if I ever had a wedding, about any public event that she nigh try to attend with me – would I have changed the way I felt if it meant I could bring her back?
I actually don't know. Which makes me sad.
I wonder if that last phone call I made to her house, a whim I had out of the blue on a Friday night in my 20s before heading out to drink myself into numbness, was my intuition telling me that I better call my mom. It's really too bad she didn't pick up.
I'd find out later she was busy dying, the exact moment I called.
Dropping dead to the floor in the bathroom at a friend's house while watching the Olympics.
I wonder who was winning?
And when she moved out of her apartment just a month before, packed up all her boxes, stored everything away, and moved onto my uncle's couch, en route to a local women's shelter, I wonder if she knew she was packing up her life for good. If it was her way of cleaning up years of clutter and hoarding. Years of reminders of a life unfulfilled. Her way of helping make the whole thing just a little bit easier on us.
Hell – I sometimes wonder how she really died. Sure, the coroner explained that her heart just stopped – one of the not so pleasant side-effects of many years of not feeding her body, combined with a combination of cigarettes, wine, and god knows how many prescription pills.
But I mean – how did she really die? Was she in pain? Did she know she was dying? Did she want to go? Was she as ready as I think she was? And what would she have thought about the guilt and the shame and the utter relief I felt, when I got the call the next morning, telling me she was gone.
And when we could only afford to get her the most basic of boxes, the one that's pretty much only meant for the eyes of close family before they burn you in it, did she know that we had always wanted better for her? That we simply didn't know how to help her.
And today, on what would have been her birthday (50 years old + however many years dead it'll be when you are reading this), does she have any idea how much I wished her life, our life, had been different? Does she know that all those times I was harsh to her, that I got frustrated with her, that I hurried through our visits and rushed off to hang out with my friends, does she know that it was simply because I didn't know what else to do?
And my god… Does she know how much she changed my life? Not in the regular motherly-love kind of way.  No, not like that. We didn't get that. More in the way of forcing me to grow up fast, to learn to make decisions for myself, to be independent, strong-willed, take-charge. As my therapist now tells me, when you don't have a parental figure to go to for your dependency needs, you figure out how to get what you need on your own. And boy, I sure did.
My mother is responsible for my entire life. My entire business. (And unfortunately my entire current therapy bills)
I wrote this post because it lights a fire inside me to know I can choose what happens next in my life. To know I have the privilege of a healthy body and mind, that I live in a world where I have the luxury of choice.
My mom? She didn't have that choice. Her illness was beyond choice.
Use the choices you've got, while you've still got them. Because you really never know what will happen. I doubt my mom knew when she was 20 what was going to happen to her.
And I wonder how she would have lived differently if she had known.
xx becca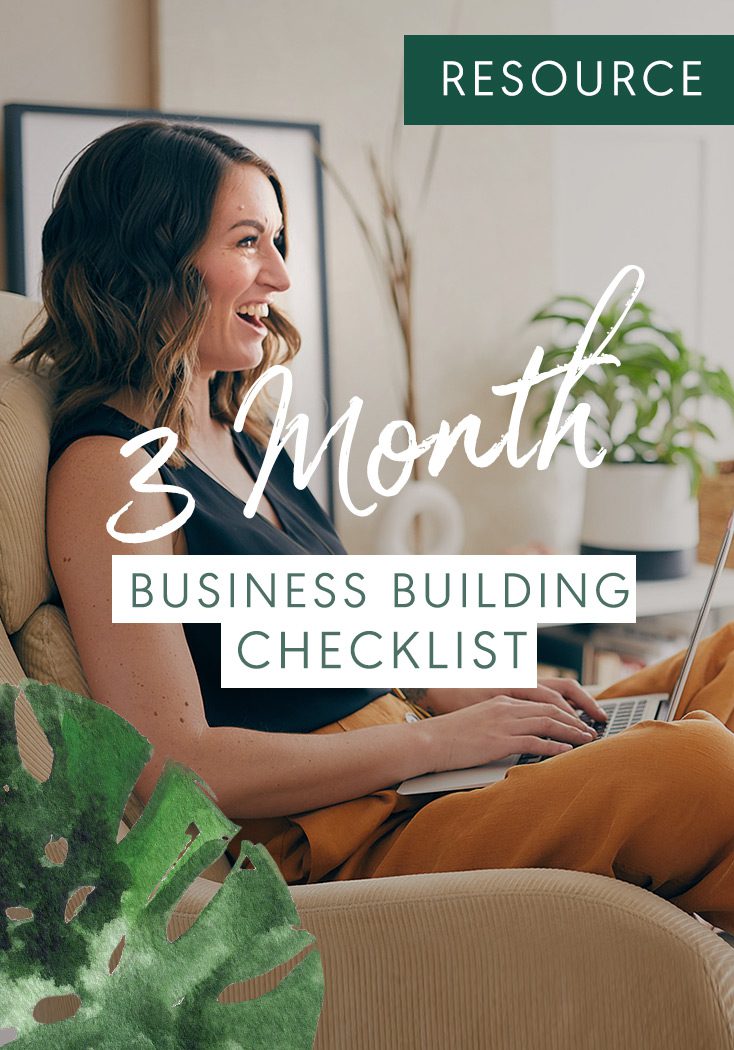 3 month business building checklist
ENTER YOUR EMAIL BELOW TO learn exactly what to do to start your new business