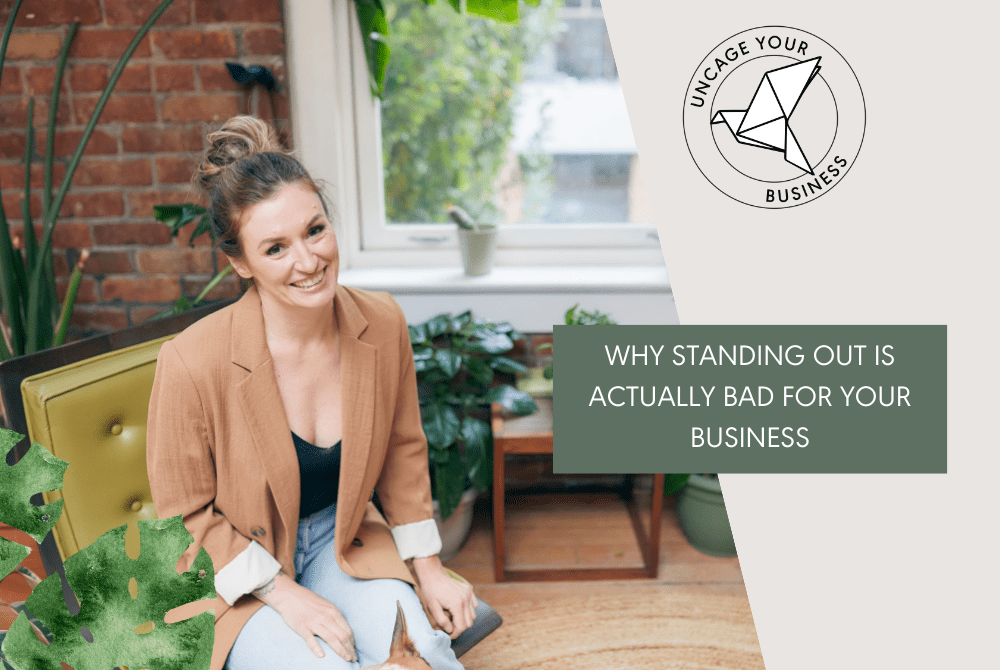 Why Standing Out Is Actually Bad For Your Business
You know exactly what I'm talking about. The advice that is plastered just about everywhere (and yes, even on my own damn site) that tells you you need to do business differently. The stress on how important is to have your USP. How you can't be the same ol' same ol' – you need to create something new and unique and inspiring.
You're told that this is the problem with your business – you're not different enough.
The real problem, however, is not that you're not different enough.
Oh no.
The real problem? Is that you are spending so much energy trying to be different that it's stalling you in your tracks and stopping you from actually moving forward in your business.
Trying to stand out is bad for your business.
The other problem is that it means you end up creating a business that's not YOU – it's some weird, skewed, trying-so-hard-to-be-different-that-I've-lost-the-real-me version of you. I see it with my Uncage Your Business clients all the time.
And that is DEFINITELY not good for business.
The obsession with being different has become so obsessive that it's actually taking you a few steps back in your business.
Think about it – you start to look around at what everyone else is doing to see what YOU can do differently. And you start to come across all these other businesses that are just SO cool – they're doing amazing things,  they have great personalities, they're fun and funny and smart and well-dressed doing EXACTLY what you want to be doing – but way better than you think you could ever do it.
So how the fuck are you supposed to be different AND be as good as them?
Might as well pack up your bags and go home now before you embarrass yourself, right?
(WRONG – obviously).
STRUGGLING TO FIND YOUR NICHE?

GRAB MY FREE NICHING GUIDE HERE, AND SAY GOODBYE TO ALL YOUR NICHING WOES!
Imagine how much momentum you'd gain if you stopped looking at what everyone else is doing, and instead just created what
you

wanted to create (and trusted that just by nature of you being a completely different human being, it WILL end up being different).

The truth is that you only need to be 1% different (which you will already be without even trying).

But the more you try, the further you get from your real business vision.

I'm declaring an end to the madness about standing out and being different.

Put your head down.

Unsubscribe from everything.

Stop worrying about everyone else's business and be more YOU in your business.

It's time to get to work.  YOUR work.

xx becca

PS. I teach a program that helps you learn exactly how to stand out in an authentic way. It's called Uncage Your Business, and it's helped 100s of business owners like you learn how to make their businesses actually work. Enter your email here to be the first to know when the cart opens!