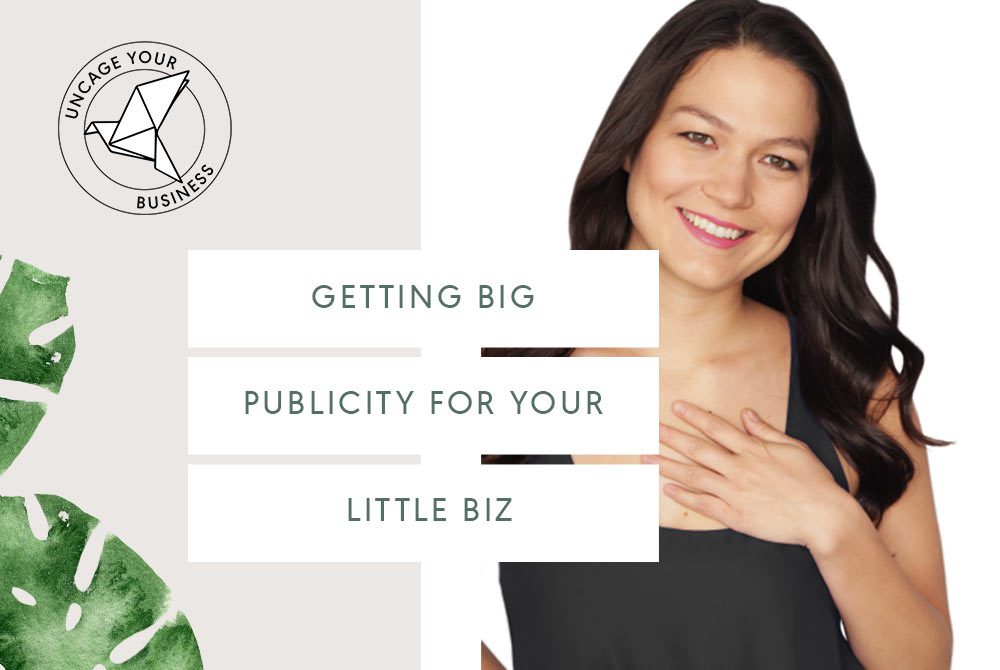 How to get big publicity for your little online business
Hey! So listen – if you've been in the online biz space for a bit now, you have probably noticed that some people show up EVERYWHERE – it seems like every week, they're showing up in a new place – interviewed on podcasts with thousands of listeners, quoted in prestigious magazines, and guest blogging for the biggest online sites.
You see them announce in their email newsletter, "My new book just hit #1 on the bestseller list!"
Every time they open up their signature group program, hundreds of people flock to join on the very first day.
They write a heartfelt, vulnerable post on Facebook – and within an hour 300 people have "liked" it or shared it.
On the one hand, you're happy for them. It's great that people are doing meaningful work + getting attention for it.
But also – it kind of pisses you off and makes your skin crawl with envy – because YOU want to be that person. Deep down, you've always known you were meant to do something big. To touch lives and impact the world and all that jazz.
But it feels like you're always watching others shine, while you're still stuck on the sidelines. You think, "When is it going to be my turn?" while you cry and drown your biz sorrows in B&J with Netflix.
Well, uncaged friends, enter my friend Selena Soo, a brilliant publicity + business strategist.
Selena's been endorsed by industry leaders like Marie Forleo, Danielle LaPorte, and Lewis Howes. She's has helped clients & colleagues land media appearances in Oprah Magazine, Forbes.com, Entrepreneur.com, FOX, and more.
She is the real deal and I interviewed her to talk about how you too can get yourself in the spotlight.
In this interview we talk about:
How soon is "too soon" to get started with publicity if you're a new biz owner
How to know what and where to pitch
The fear of being visible and how to lessen it when putting yourself out there
The secret to networking with BIG industry leaders (and having them pay attention to you)
Her tips are simple to implement and incredibly impactful – in fact, on our interview I learned three new things I am going to start doing, just from our chat! She's so great with this stuff!
In this free webinar, you'll learn…
The story of an online star who got featured on multiple podcasts in her first month of business (and has since grown a movement of over 40,000 raving fans)
How one health coach went from anonymous to sought-after expert – getting 2-page spreads in magazines, invitations to speak at top corporations, and a spot on FOX News with one of Oprah's health experts
How to get the media's attention – even if it feels like thousands of people are competing for the same opportunities
How Selena used online publicity to create a $330,000 launch (And how you can leverage publicity to get more high-quality leads and clients)
STRUGGLING TO FIND YOUR NICHE?

GRAB MY FREE NICHING GUIDE HERE, AND SAY GOODBYE TO ALL YOUR NICHING WOES!
It's time to stop waiting on the sidelines, watching others shine. It's your turn to stand out, and it's easier than you think, I promise!!
xx becca