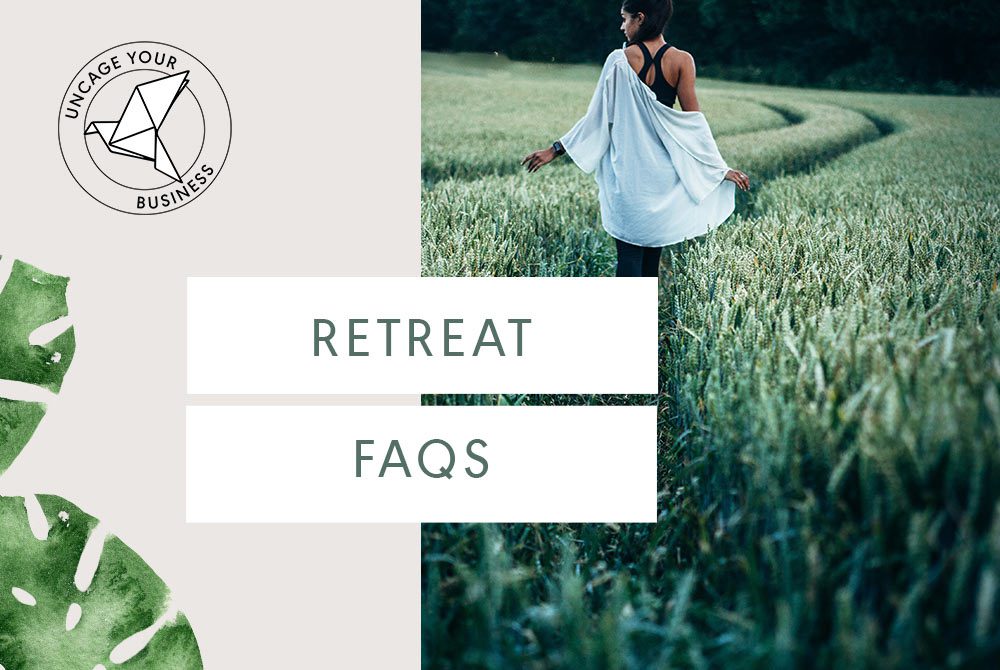 Retreats are hot hot hot! And why wouldn't they be? They are a fantastic income stream to add to your business!
Facilitating amazing transformational experiences, connecting with clients in person, getting paid to travel – what's not to love! If you want to run retreats in your biz you totally should! In fact, there is such huge interest in retreats right now that I created a whole course about how to plan them the right way with less stress and more profits.
Since I started running retreats 7 years ago, there are some common questions that I always get asked, so I wanted to answer those for you here, in case you've asked yourself the same Qs!
Of course, all of this PLUS so much more is outlined in Your First Retreat, but here are some quickie answers to your most common burning questions:
How long does it take to plan a retreat?
For a local/non-international retreat, I recommend planning your retreat 4-6 months out. For international, you'll want at least 6 months, but likely up to a year to plan. You want to make sure you can get your venue of choice, popular ones can fill up fast, so it's better to plan in advance than leave til last minute! This also gives you lots of time to launch and get butts in the seats!
How far in advance should I launch my retreat?
You definitely want to allow enough time for marketing to make sure your retreat fills. Here's the launch timeline I recommend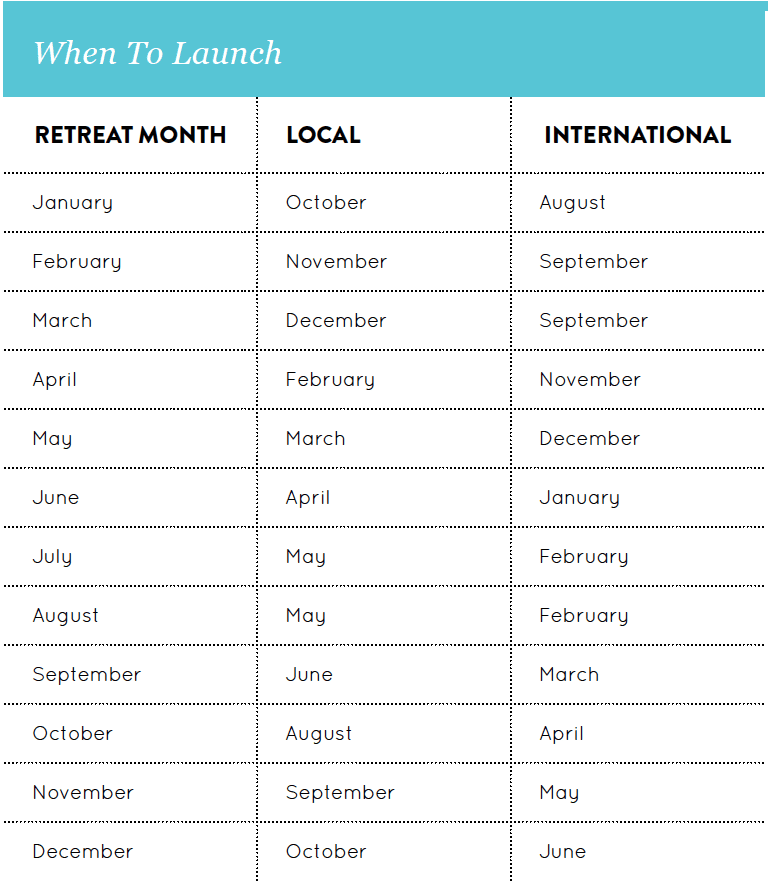 How much money can I make from retreats?
I'm going to keep this nice and simple and tell you "it depends." When I created Your First Retreat I interviewed over 25 retreat leaders in the coaching and online biz industry, and their profits (after all expenses plus their own travel, etc. was paid for) ranged from $500-$8000 per retreat, with an average of about $4k.
Is this typical? Who knows. I go into WAY more detail about pricing retreats in the course, and a lot of profit depends on smart planning and good marketing!
But YES, you can make money, and NO, you won't be pulling in 6 figures from retreats (BUT — you can turn those retreat participants into higher-paying clients after your retreat, which is how people who say they make 6 figures with retreats do it).
Do you recommend bringing on a partner?
YES. Absolutely, yes. Retreats are a lot of work and it's definitely nice to have someone else to help! And while on the retreat, having a partner is nice to give you a break energetically during your time there.
It's also nice to have someone to come back to at the end of each day to assess how things are going, help deal with any issues, and help brainstorm or make quick decisions if you need to change up the way things are going mid-way through. In my course Your First Retreat there is a whole section on choosing the right partner for your retreat and all the different ways you can bring them in.
Do you need to visit your retreat location first?
Of course, if you CAN get there, then do it (and write it off as a business expense – hurrah!). You will have such an easier time planning if you can scope out the venue first. However, it's definitely not necessary.
If you can't get there, here's what I recommend:
Asking for referrals for venues from people you know and trust
Make a shortlist of your top choices, then take the time to read reviews on trip advisor
Have detailed conversations with your contact at the venue to make sure that the place you choose fits your needs
How many people is a "good" amount to bring on a retreat?
I personally really love retreats with 8-12 people. They feel like small, boutique experiences, and the group really gets a chance to connect. When you have this range of people, they naturally tend to break off and form small groups and everyone can find someone they get along with.
With smaller groups, you run the risk of everyone just trying to spend all the time together, which can get exhausting. With much bigger groups there might be people in the group who never even get the chance to interact. I'd say a max of 20 is a good number for a small coaching retreat. This way you can ensure everyone gets personal attention and that the group can all get to know each other without feeling overwhelmed because there are SO many people!
I hope this helps give you a solid idea of how to get started with retreats – they are a lot of work but it's SO worth it!
Happy planning!
xx becca