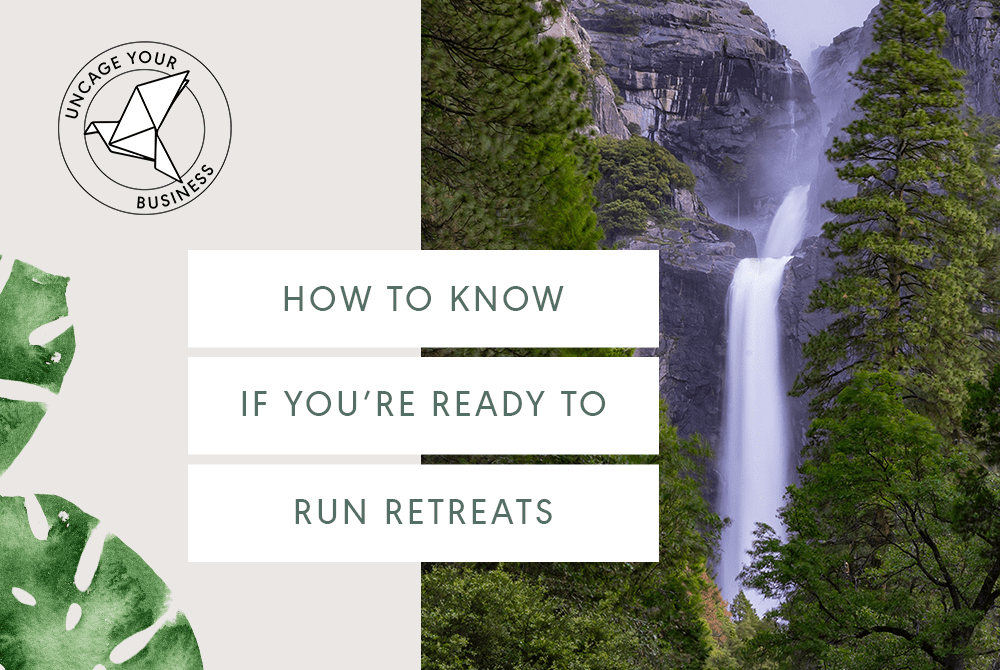 How to know if you're ready to run your own retreat
Last week I wrote about how amazing retreats are for your business. But depending on how far along you are in your business, there may be some preliminary leg work to do before you dive deep into retreat planning.
Not every business is retreat-ready, and if you're going to put the work into planning and organizing, you want to make damn sure you're going to fill your retreat!
Most people who run successful retreats already have an existing business. When I was starting Uncaged, I KNEW I eventually wanted to incorporate retreats, but I had no idea where I would pull clients from. Knowing I didn't have a solid client base yet was a good sign that I wasn't quite ready.
With some solid hustle and hard work, within a year I was planning and running my first retreat — and it sold out and I made money! Woot!
I ran retreats for four more years in my business! Now I'm teaching others how to do the same, without going nuts, or broke.
Retreats CAN happen sooner than you think in your business, I promise!
If you're not sure what exactly you're offering or who it's for, filling your retreat is not going to come easily. I know – it's sad news. But the best retreats are the ones that are run by business owners who have spent the time creating the foundations of their business first and building a strong brand and client base.
Your retreat is going to be an extension of your business, and if your business isn't working (ie. you have no clients and no prospects), your retreat doesn't have much hope. Womp womp.
But don't worry – with the tips I'll give you below, you can build this foundation more quickly than you might think, and you'll be retreat-ing in no time!
Filling a retreat is one of the most challenging aspects of this whole retreat biz, and you want to make sure that your business has a solid foundation when you start running retreats.
First, we're going to outline the core components of your biz below. If you get stuck and the answers don't come easily, there is a good chance you need to dig deeper and narrow your focus and clarify your foundations. Don't get discouraged  – you can do this fairly quickly and will be retreat-ing sooner than you think.
It pays to do this preliminary work because it will help you tremendously when you're trying to market and get those butts into your retreat.
Two Areas to Focus On to see if you are retreat-ready:
Your Foundations:
What is your business message?

What main problem does your business solve for your clients?
What results do you provide?
Who are your ideal clients?
What services do you offer your clients?
Knowing these things is key to selling anything in your business, and selling retreats are no different.
If you haven't gotten clear on these business foundations yet, spend some time on these before diving into retreat planning. Your future retreat will thank you!
If you're really struggling? Come join me in Uncage Your Business where we focus on all these foundations to help you build your audience and get paying clients faster!
Your Reach:
In order to fill your retreat, you need to actually have people to sell to. It sounds obvious, but there are a few ways to help you get ready.
The bigger — more importantly — how engaged your list is the easier it will be to sell your retreat (or any of your courses for that matter!). 
Q's to ask to find out if your biz is retreat-ready:
Do you have a mailing list (even a small one), a Facebook group, Instagram account, or other social following where you interact with your audience?
If not, it's time to create one of these now and start building your reach. When it comes time to marketing your retreat you want to have a warm audience that's ready and waiting to say yes please! to what you offer.
I know you just wish I could tell you an exact number, but unfortunately, there's no magic number for how many people you should have on your list (I know, I know, it's annoying that I won't just tell you!). Here's the thing, I know people who have sold out retreats with a list of 150 super-engaged folks, and people who haven't been able to fill retreats with a list of thousands.
The more valuable content you put out into your world and the more you engage with and listen to your audience (and then create a retreat that specifically fills a need for them), the better positioned you are to fill your retreat spots when you launch.
Do you have a decently steady stream of new clients?
If not, what are you doing to improve this? Past clients make GREAT retreat participants because you have already built a solid relationship with them.
Work with and network with as many people as possible if you're planning on running retreats in the future. The fact that you have new people coming to work with you means that you're reaching people with a strong message – muy importante for retreats!
Can you think of at least 5 people in your inner circle/on your client list that would say YES to a retreat right now?
The bigger your personal network, the more likely you are to fill your retreat. #science.
If your network is small, you'll want to work on building those relationships before planning a retreat. In my retreat course, I give you an email that you can actually send to these people, so start thinking about that list of people now!
If you're having trouble getting clients, or you have no one to market to, it's likely that filling a retreat (which tends to be a higher-priced offering than most of your services probably are) it's going to be challenging. So you'll want to work on building a base first so that marketing your retreat is easier when the time comes.
If you feel like you need help in this arena, and KNOW you eventually want to run retreats, I've included a whole section in the course about how to start to build your list and grow your reach.
Retreats can happen sooner than you think in your business, but it pays to do the foundational work to get your business retreat-ready to avoid disappointment (and avoid losing money!) when you launch!
Happy retreating!
xx becca