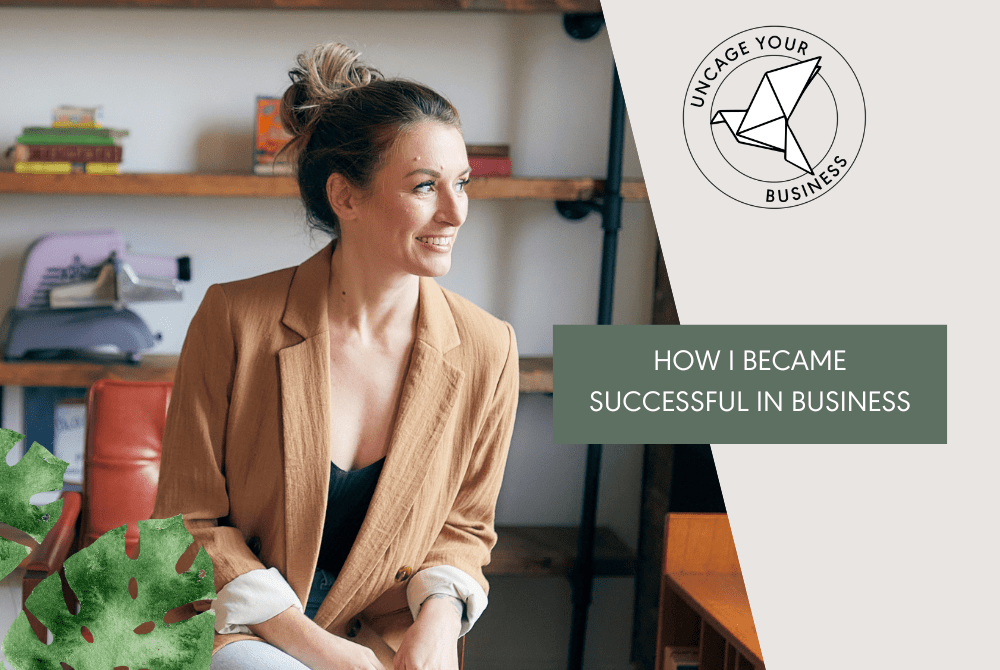 How I Became Successful In Business
This is the question that every new business owner wants to know from every successful business owner ever:
"How did you become successful in business?"
I started The Uncaged Life in November 2011, so that means I'm heading into my 4th year in business (holy shit!). And I am thrilled (for my own sanity) to say that I am at the point in my business where things WORK.
But it wasn't always that way. So I wanted to share a little bit about some of the things that I did to help me get here.
But first – I need to mention money.  I LOVE talking about money, but I don't like talking about how much money I make in my business. It feels SUPER weird. Which is funny because it didn't feel weird when I was making very little money… but now that I am making more than a little money, it feels weird.
But I'm going to talk about it a little bit because I think it's a great measure of success in a business. Sure, there are other ways to measure success (joy, free time, being of service, how you wake up feeling everyday etc). But since I am in the business of helping people grow businesses, and my clients want all of that PLUS they want the money, honey, I feel that it's important to share a little about the money in my own business.
Because let's all be honest here – no one wants to hire a business coach who is struggling to pay their rent. We all want to know that the people we trust with our businesses have done it themselves and can help us get to where they are.
Ok? So I may bring up money in the following stories, but let's not get all weird about it.
HOW IT ALL STARTED
Confused. Scared. Motivated.
That's how I felt when I was starting Uncaged. I knew I wanted to create an amazing community of people who wanted to travel the world and work with no pants on and do what they want when they want.
But that is all I knew. I didn't really have a clear sense of what my business did for people. I certainly didn't have package and programs outlined. And I had zero idea how to actually create this big dream of mine. But I knew that I was going to work my ass off to figure it out.
So I paid for help.
Here are a few of the things I invested in during the first year:
Life coaching with a business focus
Copywriting for my entire site (before I had a site)
A bundle of online business building courses
B-School with Marie Forleo
More life coaching with a business focus
Daily Whip with Erika Lyremark
An online course about branding
An online course about social media
An online course about attracting clients
An online course about creating online courses
Two months one-on-one with a well known business coach
Did any of this help me? Sure. In small ways. But was it what made the difference in my business? No.
All these courses did was take me further into the rabbit hole of getting wayyy ahead of myself without first having a solid foundation.
Not to say they weren't useful (I NEVER regret spending money on my business even if it doesn't turn out the way I thought it would. I think you always learn something from every dollar you spend.)
But remember my house example from last week's post? Yeah – like that. I was buying all the fancy furniture before I even built the damn house.
My first year was a LOT of experimentation and a lot of time spent dilly dallying because honestly, I didn't know what the fuck I was really doing. Or who I was helping. Or what exactly I did for them.
I made money in my first year – about $15000 total – but my lack of clarity in my niche and my services was certainly responsible for me not making more. I even sent out an email to my list and asked them to tell me in their words what they thought I did… and the answers were all over the map (and none of them were quite accurate). Good sign that I needed to reel things in, and fast, if I was ever going to make this work.
At the time I was coaching new business owners, people who didn't know what they wanted to do with their lives, and people who were working 9-5 jobs and wanted to do something different but had no idea WHAT they wanted to do – whether it was starting a business,  finding a new career, or saying FUCK IT and packing up on a round the world trip.
MY SECOND YEAR OF BUSINESS
In my second year of business I made the jump to making around $85000. And in the third year I cleared 6 figures in net income. This was a HUGE deal to me and exceeded my ultimate business goals by a lot. I never thought that this would happen. But it did.
And here is exactly what I did to make it happen.
I stopped looking at everyone else's business and started focusing on my own. I unsubscribed from everything. I stopped taking courses and hiring coaches. And I NICHED THE HELL IN. Big time.
I coached myself. HARD.
I forced myself to make decisions that weren't easy to make. I had to get really honest about which clients I LOVED working with and where my best skills were.
I defined my business message and also REALLY narrowed down what problem I solve for people. I changed all the copy on my site so that it no longer said I would work with the career change people and the travellers, and niched in to ONLY focusing on online, service-based businesses.
And that decision? Was terrifying.
But that decision? Was also the the most important thing I did in my business ever. And as soon as I did it, I saw my income grow, my clients base get more solid, and my message get spread way more loudly and clearly than ever before.
3 month business building checklist

ENTER YOUR EMAIL BELOW TO learn exactly what to do to start your new business
MY THIRD YEAR
Once I had cut all the crap and forced myself to get really super specific, I was finally able to create packages that were CLEAR to people who visited my site.
I dropped many of the programs I was selling and created niche-y as hell packages that sold out right away, and continue to sell out (and I now teach that process in Hey, Nice Package!)
I was finally able to STOP all the mad experimenting and settle into a place of ease in my business, where I could run the same programs over and over and over and fill them every time and actually take some time away from creating new stuff all the time.
#THEDREAM
Not only did I gross more than double my income from last year, I worked WAY less. And while I was working way less, my business continued to grow while I was enjoying time away rock climbing and eating everything in Italy and living my life again like a regular person.
I was running Uncage Your Business while I was doing this: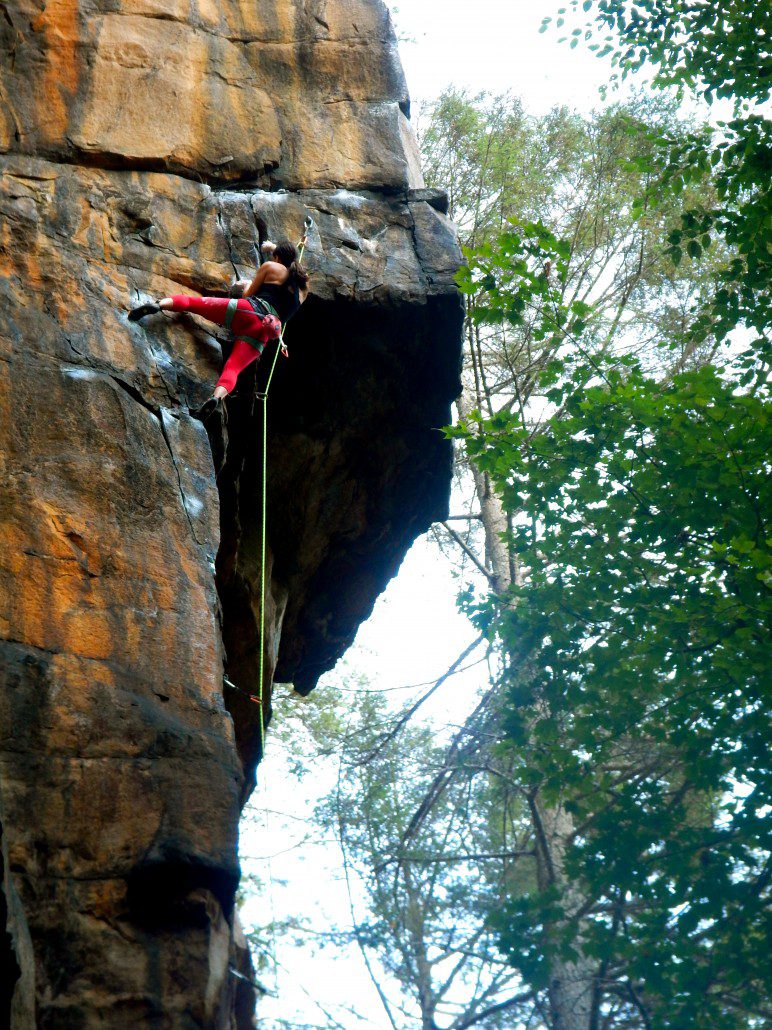 Any my online digital programs were selling while I was doing this:
SO WHAT?
The reason I am telling you all this, $$ numbers, details, photos and all, is because I want you to see what is possible when you stop messing around with the wrong things in your business, and start focusing on the stuff that will actually help you get further along and finally make some damn money, so you too can run your business while galavanting around islands (or while taking care of your kids, or while doing volunteer work in Africa, or whatever other wild Uncaged adventures you have in mind).
And I know what you're thinking – because I thought the same thing.
It feels like I will never get there.
That kind of success is for other people – not for me.
It all sounds like too much damn work.
I don't know if I have what it takes.
I have been trying and nothing is working.
I said all of those things, and more (likely with a few more swear words thrown in during the rough times). I said them all because everyone online tries to make it all seem so easy and it did not feel easy.
And I know that you are smarter than to believe all the people online who tell you they can help you make 6 figures in 3 months and and that they tell you it will be a piece of cake.
They won't help you do that and it won't be a piece of cake… but what WILL make it easier is getting the right kind of help. I had a lot of help when I started… just not the right kind.
I don't regret investing in a single one of the programs I paid for, because once I coached myself to get mega clear on my message, my packages, my clients, my results and all the in betweens, I was finally able to USE all the more nitty gritty stuff I had learned in the past.
But all of it was virtually useless for me until I reeled everything in, focused, made some hard decisions, and took charge of my business from the bottom up.
And I know the same will be true for you. You can have all the things you want and more and maybe even unicorns and rainbows and the ability to poop glitter (anything is possible?), if you just stop getting ahead of yourself, take the time to build your business like a rock from the ground up, and FOCUS.
Not just anyone can do this – but YOU can do it. I know you can.
PS. If you're new to business (or things just aren't working) and you need a serious boost of clarity about who you are, what you do, and what to SELL, check this out.  .