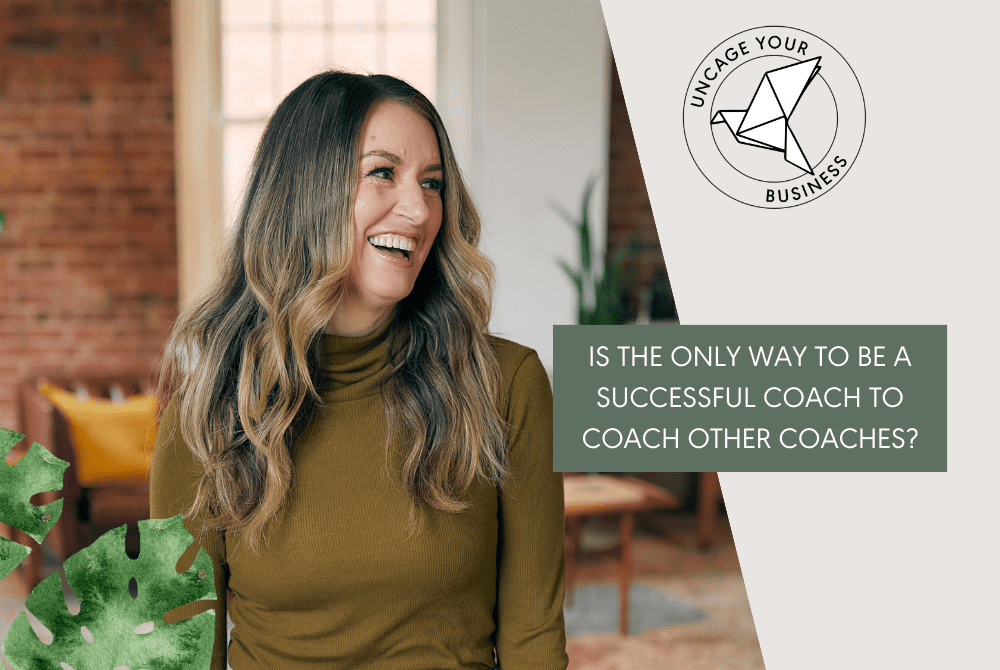 Is The Only Way To Be A Successful Coach To Coach Other Coaches?
Hey, pppssssssttt! Have you heard that the most profitable way to make money as a coach is to coach other coaches?
OF COURSE you have, because it's literally everywhere online, right?
I know you've seen the pyramid-scheme stuff all over social media, the glamorous shoots, the rags to riches tales, the bajillion dollar courses. I can totally see why this idea has taken hold because it's so easy to get sucked into the glamour of it all – how easy it must be to make a shit ton of money overnight, because look she did it, and she's just like me! 
It's a super tempting idea to subscribe to. ESPECIALLY if you're struggling to get clients, if you're connecting with people but they're constantly telling you they can't afford your services, or if you've been sucked into some of the sketchy marketing out there promising you an easier way.
Maybe coaches are more willing to invest in coaching because they see the value in it?
Maybe coaches just "get it" so it's an easier sell?
So what's the truth: Is it really easier and more profitable to sell to other coaches?
Um… NO WAY!! You can totally kill it as a life-coach serving humans who aren't coaches. 
I've worked with 1000+ students in Uncage Your Business.
I've seen coaches make a shit ton of money in a wide range of niches: in relationship coaching, health coaching, focusing on personal development, or even healing work combined with coaching in career, in business, or in life in general. 
And I know that all of these niches can be equally profitable.
You can make just as much money coaching business owners or other coaches, as you can coaching women who struggle with their periods — promise!
IT'S THE STRENGTH OF THE PROBLEM AND THE CLARITY WITH WHICH YOU COMMUNICATE IT THAT MAKES THE DIFFERENCE!!!
Whether you're selling to coaches or couples, you have to get your offers, messaging and marketing clear if you want to get clients.
If I have one sole focus in my program Uncage Your Business, it's to help you get UBER specific about what you do (and feel great about it!), and this is the biggest shift you can make that will bring you clients almost instantly. 
So now we've got *that* out of the way, if it's not automatically coaches you serve, how do you pick a niche that's going to actually pay for your services?
N.B. Notice I said above, "that's going to pay for your services"? That was deliberate! I see a whole lot of new biz owners get soooo frustrated by having people tell them over and over again that they can't afford their services (that is a whole other blog post in the works!)
Life coaches tend to have huge hearts and will say things like, "I want to help low-income parents to help them be better parents" or "I want to work with college kids who don't know what to do with their life". The truth is, marketing individual coaching services to these groups is going to make it hard for you to get paid. There are still ways to serve those people, but maybe by partnering with an organization already tapped into that market and have them pay you instead. 
This is where really good niching comes in.
A profitable niche is really one that understands this core concept: Forget avatars. Forget ideal client. Forget age ranges and demographics. Focus on PROBLEMS.
To me, your niche is the PROBLEM you solve.
Not a lot of people teach niching like this so I can understand why there's often so much reluctance to do it — there's a fear you're going to get boxed-in when actually the opposite is true!!
Niching around problems lets you work with all kinds of different people, but still with a clear focus. Lots of different people of different ages and from different places and of different lifestyles can have the same kinds of problems – and you can help ALL of them (other coaches included!).
Hallleluuuujjaaaaaaah!!! 
Now, of course, you might not WANT to help all of them. This is where getting clearer on your ideal client can be helpful. But you don't NEED to do that, at least not right away. Trust me on this!
If you step back and look at your business and what you do for people (or what you WANT to do for people, if you're new to business), you'll want to sum up very simply what MAIN problem you solve. What are they struggling with?
For example, my clients have the problem of not being clear on their business, so they have a hard time marketing or getting clients.
Some more examples:
A health coach might work with women who find their period really inconvenient and don't want it to get in the way of their life.

Another health coach might work with clients whose main problem is that they beat themselves up about their body image and they are tired of battling with food

A business coach might work with employees who want to turn their side-hustle into a full-time gig.

Another life coach might have clients whose main problem is that they feel like shit most of the time because they are so busy taking care of everyone else with no time to take care of themselves.
Although all of these clients probably present with a whole bunch of smaller problems, we can still take a step back and look at the big picture and see what the overarching, main problem is. When you do that, everything becomes so much simpler.
So next time you hear someone try to tell you the real money is in coaching other coaches, remember that solving problems is what success is made of.
xx becca
PS. If you're ready to find YOUR profitable niche and start getting those clients, then come check out my Uncage Your Business Program. It was designed specifically for you, new-ish business owners (coaches, consultants, healers, & service providers), to not only help you get clear on your niche, but also build a solid, strong foundation for your business that will help you get clients!