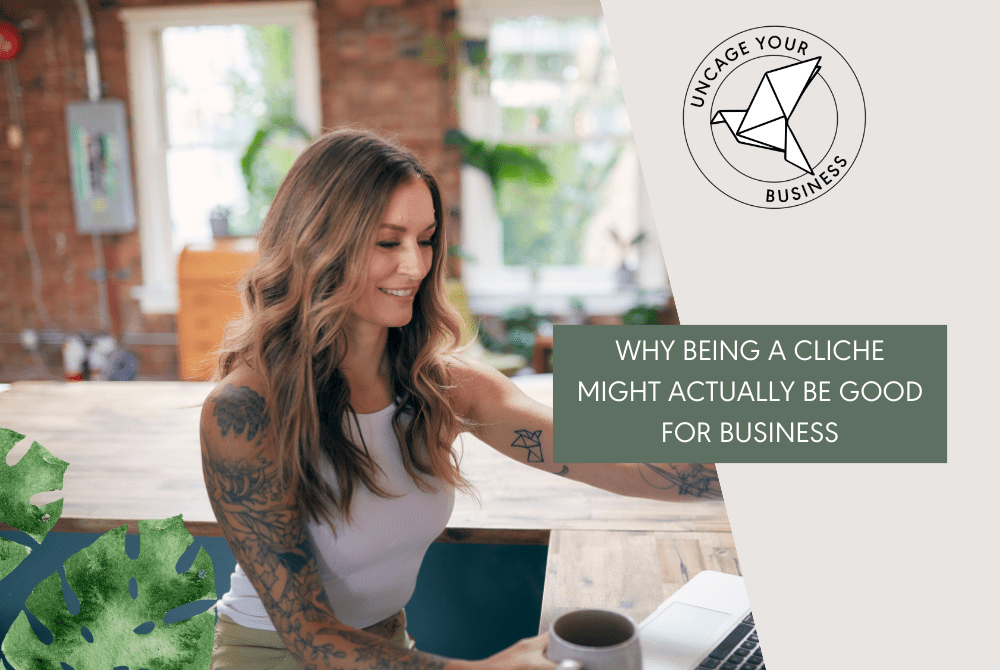 Why Being a Cliché Might Actually Be Good For Business
There's something going on in the online business world that is really fucking annoying, but I can almost guarantee that you don't even realize that it's happening because you are so immersed in this world and it's all around you.
Let me paint you a picture of what this phenomenon is, using a real world, non-business example (so you can see just how ridiculous it really is).
Picture this:
You go to the doctor for let's say, some kind of funky rash (you name the body part). You tell the doctor all about it, and he takes a minute to decide what to do about it. He knows very well that it's just a standard run of the mill heat rash and there is some cortisone cream can get rid of it. But for the love of god, everyone is using cortisone these days. It's SO overused, he says to himself. SO last year. He's sick of hearing about it, because he isn't just any old doctor. He's different, he's special. He doesn't want to use what all the other MDs are using. So even though he knows it will do the job and heal you right up, he decides that he should give you something different, something new, something unique.
But you don't know the damnedest thing about the different creams and treatments and all the crazy options out there. You're not a fucking doctor. All YOU care about is getting rid of the damn rash in the quickest way possible, with a treatment that's tried and true and WORKS.
Do you really give a shit whether your doctor is offering something different than what everyone else is offering?
No, because you don't know the difference.
You have a problem, your doctor has a perfect solution. So he should give it to you.
Yeah? Yeah.
So then, why is it in your businesses you run around trying so hard to be different, to not talk like anyone else, to not offer solutions that others are offering?
Rhetorical question. I'll tell you why:
Because someone somewhere told you that you had to stand out. So you got your panties all in a knot and took it to the extreme.
But you are forgetting one (very, very important) fact:
You are fully immersed in your own industry, as well as the online business industry as a whole. You are in it 24 hours a day 7 days a week. You are part of a thousand Facebook groups and email lists and courses that are full of other people JUST LIKE YOU.
You see what every single other goddamn person in your field is offering. You hear the same language again and again. You see the same programs. You read the same blog posts.
But your client is not like you. They have no bloody idea that any of this world even exists. They aren't coaches, or nutritionists, or copywriters, or designers.
They are just a person with a problem that needs fixing.
When they find you, you are likely the most unique damn thing on the planet.
They never knew that someone understood them like you do! They're amazed at how much your website speaks directly to them (even if you use the words juicy, or awesomesauce, or authentic, or any other "annoying" online business words that we might be sick of hearing). And how all your programs are exactly what they need (even if they aren't the most obscurely unique thing out there)
In fact, they probably LOVE that you use those words. Because before now, all they have had to turn to is boring career counselors, or MDs, or their family and friends – and none of them really GET IT.
But you! You get it! They love you, you are their new idol and they want to be a part of everything you do because they have a problem and overuse of internet business words isn't one of them.
You have the magic potion that will fix their lives.
STRUGGLING TO FIND YOUR NICHE?

GRAB MY FREE NICHING GUIDE HERE, AND SAY GOODBYE TO ALL YOUR NICHING WOES!
We tend to forget that we are in this super weird, slightly incestuous, overly obsessed with different industry, and that our clients are just regular people.
And I am ALL FOR being yourself in your business, letting yourself create all the wacky and unique stuff that YOU want to create. But when we become so obsessed with being different, we lose sight of what we wanted to create in the first place.
Your job is not to worry about being different than anyone else, it's to worry about being more of YOU.
So please, get your stuff out there, in all its juicy, awesomesauce, authentic glory, and remember that your clients love it.
What do you think? Agree or disagree? I know the whole "be different" thing is a hot topic, and I want to know your thoughts. Let's get the discussion going in the comments.