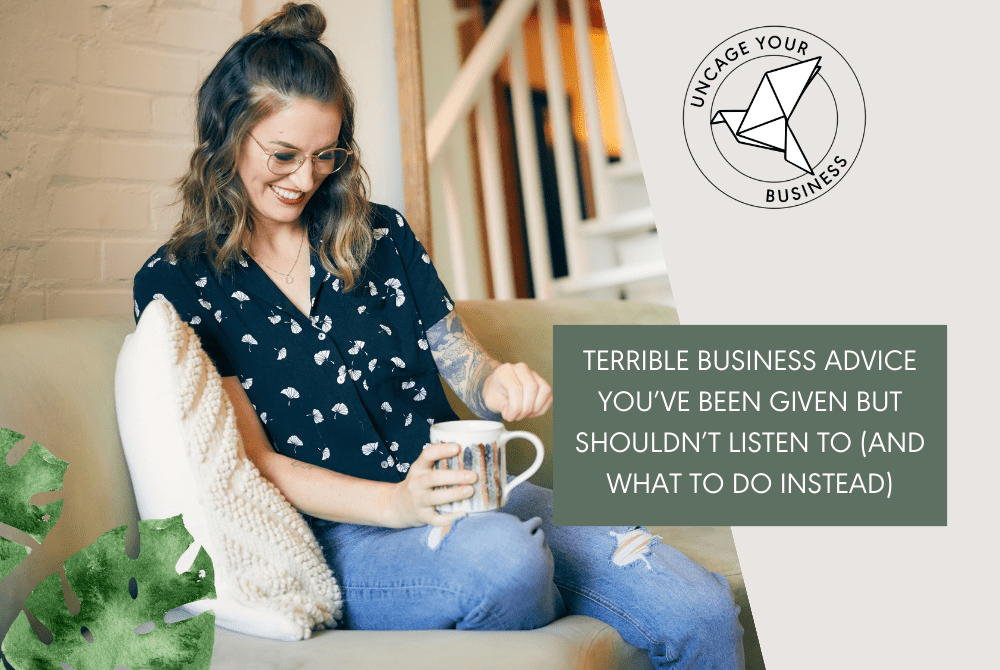 Terrible business advice you've been given but shouldn't listen to (and what to do instead)
Being in the business of coaching coaches and coaching a lot of woo woo types (woo woo's, I love you, and I say that term with endearment), I hear a loooot of reasons why they don't want to do this or that in their business. Or conversely, why they DO want to do things a certain way. When you're a sensitive, feelings kind of person, it makes sense that you'd want to run your business that way too. The crappy part about this is, there are "business coaches" out there egging it on.
I blame the fact that there is whole sea of life-coaches coaching people on their businesses, who don't have any actual business experience themselves, who are telling people to do what feels good, to leap and the net will appear, to feel the fear and do it anyway…  instead of teaching them tried and true business strategies.
And I'm all for people running businesses that feel good for them (that's kind of the point right?), but all too often, this advice is being taken as gospel and it almost turns into a rally cry of sorts, shouting out to the world about how you are living life and doing business YOUR way, with other new coaches jumping on the bandwagon, so that you have a whole band of coaches who are touting the same message, with very few of them actually achieving much success in business.
A few of the rally cries include things like:
I'm doing business on MY terms.
I only do it if it's a HELL YEAH.
I'm following passion and I know that will get me where I want to go.
And sure all of that is great and to a degree, these strategies can work for you and help you make some of the decisions involved in the day to day running of a business. Things like trusting your intuition, and finding your own unique way of bringing more of yourself to your business, are essential skills in business.
But as blanket advice that applies to every part of your business (and especially to STARTING a business)? Are you kidding me? No. Just, no.
Here are the top 5 pieces of cliché advice out there that I do NOT recommend taking, and what you should do instead.
Bad advice #1: Follow your passions
This one needs to stop. The reason this advice doesn't work is because as humans, we have MANY passions (note: the word 'passions' can be replaced with 'interests' here too). How are you possibly supposed to follow all of them? This is what leads to a business that doesn't make any sense (or any money). We've all seen it – the life coach who also sells scarves and who teaches cooking classes and who loves animals and talks about how your pets can teach you about branding. No. The other reason this advice sucks is that we're talking business here, not hobbies. And as much as I wish they could, not all of your passions are gonna get you paid. It's amazing that you love working with underprivileged teens to help them with body confidence, or that you have a lust for travelling to far away places… is there someone willing and able to pay you for these things?
What to do instead:
Choose one area of interest that provides an intersection between something you love, something you are GOOD at, and something people will pay you for. Sometimes this means leaving some of our passions as hobbies – and that's ok. In fact that's GREAT!  We all need more than just our business to maintain our sanity. If the passion that you absolutely MUST turn into your career won't get you paid directly with clients, you may need to bite the bullet and find a job that lets you do it. Working with an organization that already offers the services you want to offer is a great way to do work you love without having to worry about how you'll pay your rent.
Bad advice #2: If it's not a HELL YES, don't do it.
Again, I understand the basis of this advice, but if you run your business this way, not much is going to get done. When you're starting a business, you need to learn a million and a half different skills. All of a sudden you're a marketer, and a web designer, and a writer, and a social media strategist, and a bookeeper. Unless you can afford to hire it all out right away (more power to you if you  can – do it!), you are going to be doing a LOT of stuff that is the exact opposite of HELL YES. And the advice of "don't do it unless it feels good" usually keeps people stuck, because not a whole lot is feeling good… which means not a whole lot is getting done. As much as we all want business to be fun and give us the good feels all the time, that's not how it works.
This advice applies to niching too… sometimes your niche will only feel 70% good. That's FINE. Go with it. If you wait to find the perfect HELL YES niche you could be waiting forever. And niches that are 70% good  on paper, often turn into HELL YES's when you're actually diving in and working with people. So it's always better to pick something that feels good but maybe not GREAT,  than to sit and wait for the 100% perfect niche to appear.
What to do instead:
Get over it, and get used to it. Really, that's some of the best advice I can give you. Sometimes business is just business. It's WORK. And while it's still awesome work that lets you help a lot of people and do something you enjoy, it's still work.  Eventually you will want to get to a point where you are hiring out anything that you a) don't want to know or b) don't know how to do, and I understand that we don't all start with that kind of money to invest. But even early on in your business, if you find a task wearing on you and sucking all your energy and time, it's MORE than worth it to pay someone else to take it off your plate. And for everything else, get used to the fact that there will always be parts of your business that you don't love. Let go of the expectation that everything needs to feel good. EVEN YOUR NICHE. There is so much freedom in just choosing SOMETHING to get started with, rather than agonizing for months or years for the PERFECT thing.
Bad advice #3: You need to be different
I wrote a whole post about this a while ago, but I'll sum it up here again – trying SO hard to stand out and do something different takes you further away from what you actually want to be doing. Not to mention that if you're doing something entirely different that no one has ever done before, you should be worried about the viability of your idea.
What do to instead:
Just be YOU. Stop worrying about whether it's been done and how it's been done. Stop looking at what everyone else is doing in the first place (it will just get in your head and stall you even more). Start to worry more about how YOU want to do it. Bring more of your personality to your work, bring all your ideas and beliefs and opinions, and let your business be fully YOU. It will, by nature, end up different than what's out there… without you having to try so hard.
Bad advice #4: Your marketing techniques need to be innovative and new and exciting
This is a hard one to disagree with but I'm gonna go ahead and do it. I hear this all the time from clients, "I don't want to do  ___ to market my business. That doesn't work for me. I want to do something else", to which I ask whether they have TRIED doing ____… to which I get blank stares and excuses as to why they haven't tried it.
And I get it. We all want to be beacons of light in an oversaturated online space, we want to be noticed, and we want it to always feel like a hell yes (see point #2). The truth is, some of these "old, boring" techniques are done over and over again for a reason – they work. Things like blogging, guest posting, getting promoted on other people's sites, being interviewed as an expert, creating a freebie to get when they sign up for your site – this shit works. And unless you're a huge company with an equally huge advertising and marketing budget, it's unlikely that you will be able to actually pull off a new and innovative way of marketing.
Sure, you don't HAVE to do every list building technique under the sun (let's all promise to cut tele-summits off that list right now, shall we?), but you do at least need to do a baseline of online marketing in order to get anywhere. Not to mention that all of this is FREE, which is every new business owner's BFF word.
What to do instead:
Keep it simple. Keep it boring. And be consistent. Pitch a new guest post every week to get in front of an audience bigger than yours, and see how your numbers grow. Get yourself interviewed on 5 podcasts this month. Make an amazing free thing to give to people and then promote it to everyone you meet. These methods are tried and true and don't cost you a thing. The businesses that end up successful aren't the ones that are the best at what they do or have crazy marketing techniques – they are the ones who are consistent, who show up, and who do the boring work that others aren't wiling to do… and they do it until it starts to work. Be one of those people.
Bad advice #5: You don't need a niche
I'm gonna keep this one simple – if you want your business to get off the ground at faster than a snail's pace, then yes, you do need a niche. It's just SO much easier when you know who you're talking to and can be specific about how you help them.  And I don't know about you, but life and business can be hard enough already, I'm all for taking the easy approach so I can actually make money to live and buy overpriced superfoods and pay my ridiculous Toronto rent. Wanting to make a good living isn't selfish, and it doesn't have to be so hard. We've all seen businesses out there that seem to have no niche – they focus on a broad topic like love, or personal development. All well and good, but go check how long they have been in business, how they started, and how long it took them to make any money. You'll see that those businesses took a long time to get to the point where they were generating income. If you have years to spare and want to experiment with your business  as a hobby then staying broad is a-ok, but if you want to be able to afford to live off your business, niche in.
What to do instead:
Niche doesn't have to mean a specific demographic, and niche doesn't mean that you need to know exactly what kinds of shoes your ideal client wears and whether she drinks red wine or beer (we all know the kind of exercise I am talking about right?). Niche just means that you are clear about what problems you solve for your clients, and you know who generally has those problems. If you can nail down your specific problems and the specific results you get for people, you're golden. Stop worrying about picking an arbitrary age range, and challenge yourself to get super clear about what problem your business helps people with, and all  your marketing will become to much easier.
Need help with  your niche? We have a freebie for that! Click here to get our free niching guide.
To recap:
Don't follow your passions
Don't wait for a HELL YES, wait for a "this feels 70% good"
Don't try to be different
Do the boring marketing stuff (it works)
Do pick a niche (even a 70% niche)
Grab our niching guide below and get started with your 70% niche now!
STRUGGLING TO FIND YOUR NICHE?

GRAB MY FREE NICHING GUIDE HERE, AND SAY GOODBYE TO ALL YOUR NICHING WOES!