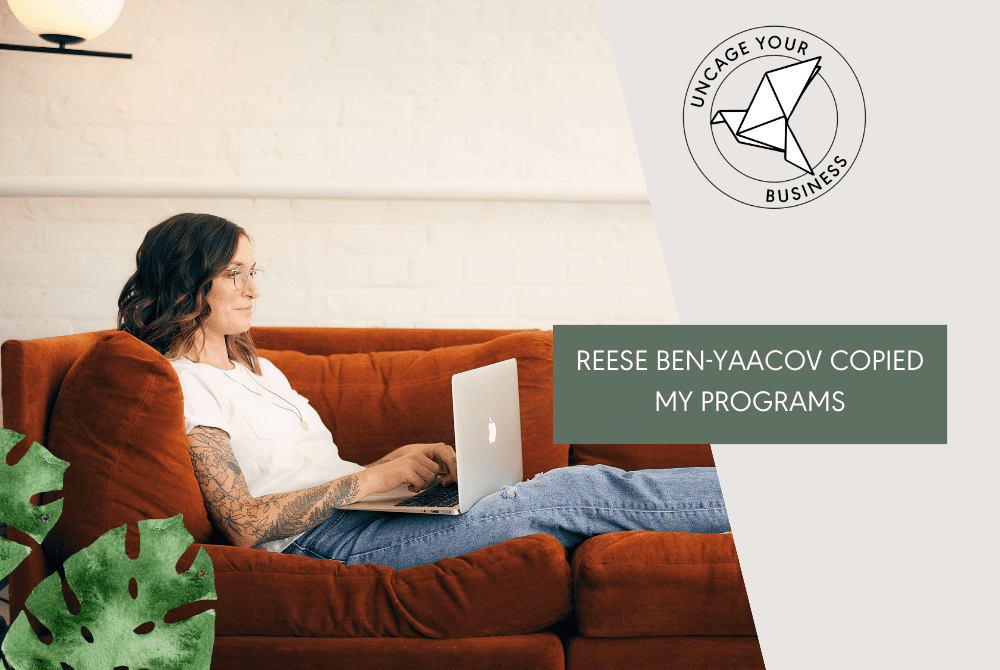 Reese Ben-Yaacov Copied My Programs
I have been debating whether to write this post or not. It is not an easy one to write, and it will not be an easy one to read if you know Reese. But I have decided that it needs to be done to inform and protect the people I care about most – the Uncaged community. Some of you might not agree with my decision to talk about this publicly, but I feel that stating the facts without any of the emotion tied to it is the best way to handle this case. I'll write a post another time about the ethics of running a business, but this is not that post.
It is with a heavy heart that I have to draw attention to someone who has copied my work and is selling it as her own.
Her name is Reese Ben-Yaacov and her website is ReeseBenYaacov.com
This is her header:
I guess it doesn't take years to grow a successful VA business and it can happen right now if you just copy other people's programs.
I am not usually one to worry about copycatters if someone is borrowing ideas or copying a blog post or two – that happens all the time and is par for the course in this industry. It sucks but it happens. I usually contact them and ask them to please take it down, and am flattered that someone would want to copy me.  It's not usually worth the fight. (And if you are EVER unsure if you can borrow someone's idea – contact them first! They will be flattered, and be sure to credit them!).
And I wish this was just a case of a borrowed idea. But what Reese Ben-Yaacov has done is cut and paste copying. We share many similar colleagues and clients and are a part of many of the same online circles.
Stealing and plagiarizing is ILLEGAL. And when it's being done by someone who is in my community group, who is selling to my clients, who is well known in her industry, and who has worked with my colleagues – I feel a duty to speak publicly about it. I am fiercely protective of the Uncaged group and of YOU. So while this post is extremely difficult for me to write and I didn't make this decision lightly (or without legal counsel),  I don't feel comfortable NOT telling you the facts about what is going on here.
If you have purchased her Virtual Assistant Start Up Guide or her recent workshop called Irresistible Packages, PLEASE ASK REEESE FOR A REFUND. She will be honoring all requests. And please contact me and send me your proof of purchase. I would like to send you the original content that these materials that were created from (namely – Biz Shiz, and Hey, Nice Package!). I want to make sure that you have the authentic materials in your hand – it's the least I can do.
I have a lot more to say about this topic, but this blog post is meant to be an informational account of what has happened – not an emotionally charged rant about the ethics of business and what is right and wrong (that is coming another day – rest assured)
News of this incident has been circling around various Facebook communities, and I know it is shocking to many people who know and work with Reese. The stages of grief always seem to come into effect when we learn that someone we know and trust has done something we don't understand: Denial, Anger, Bargaining, Depression, Acceptance.
It is for this reason that I want to make it VERY clear that this is not a case of "borrowing of ideas" – and the only way I can do that is through showing the facts.
Here are some screenshots of parts of my programs, shown next to Reese Ben-Yaacov's programs: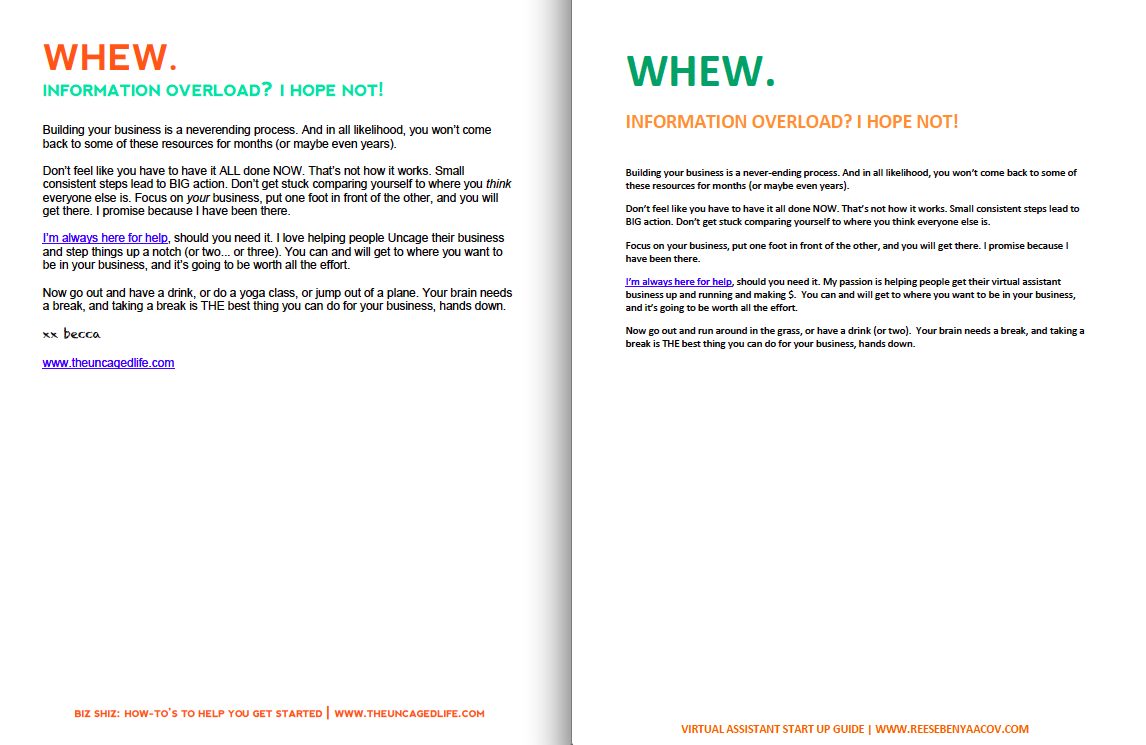 LEFT SIDE: My last page of Biz Shiz. 
RIGHT SIDE: Reese's last page of her Virtual Assistant Start Up Guide
LEFT SIDE: A page from my guide Biz Shiz
RIGHT SIDE: A page from Reese's VA Start Up Guide. These are just two examples – the entire guide was copied like this.
LEFT SIDE: A screenshot from a video recording that is part of Hey, Nice Package! In this video I walk people through how to create packages for their business.
RIGHT SIDE: A screenshot from the video that Reese re-created  for her workshop "Irresistible Packages", based on my Hey, Nice Package video. She walks people through the same system with the same worksheet. You can see in the righthand side of her image that she actually has my Hey, Nice Package program (HNP) open in one of her tabs as she records the video. #oops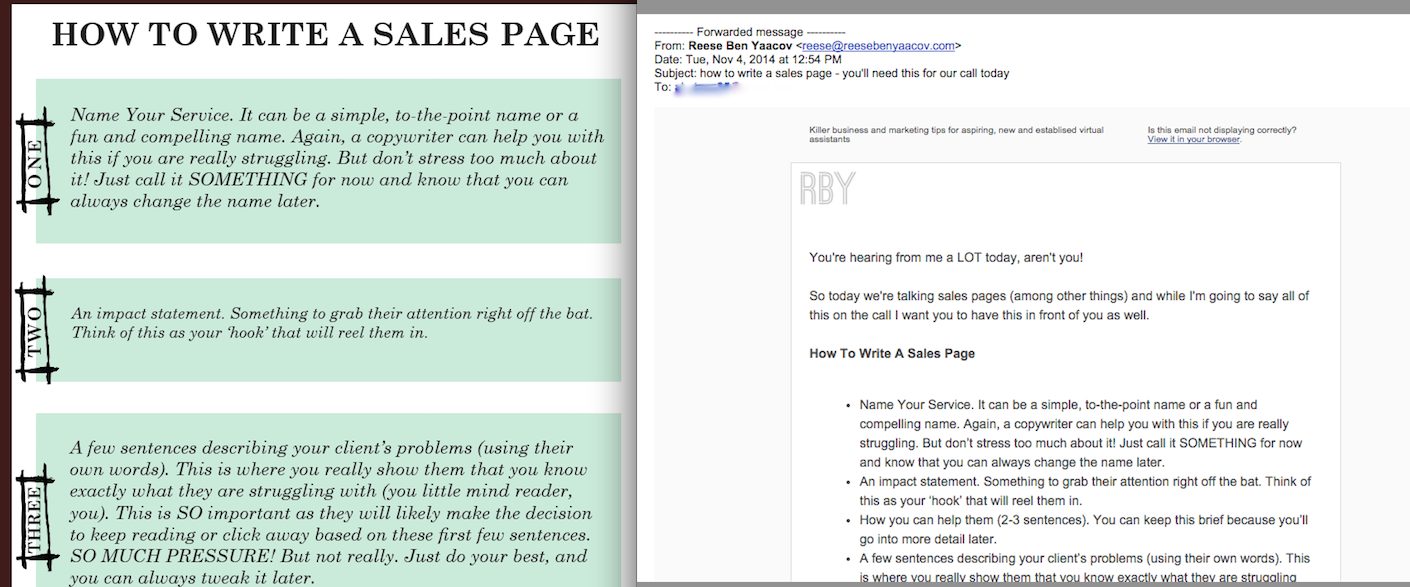 LEFT SIDE: A chapter on "How To Write A Sales Page" from Hey, Nice Package.
RIGHT SIDE: An email Reese sent to people in her workshop Irresistible Packages about how to write a sales page, with the exact same copy. She also copied the course's worksheets and sent them out in similar emails.
LEFT SIDE: My header and tagline from Hey, Nice Package!
RIGHT SIDE: An email Reese sent to her clients in her Irresistible Packages workshop, using my exact taglines from Hey, Nice Package (plus other parts of the copy that are swiped directly from my sales page).
So those are the facts.
ON A POSITIVE NOTE — at least I know that if you did buy from Reese Ben-Yaacov, you got good material. It is MY material afterall – so at least you didn't totally waste your money! And a reminder – if you did purchase the products mentioned above, please email me at bec[email protected] and I will send you the original material that her courses were copied from. It is important to me that you have the original work.  And demand a refund from Reese!
HOW TO PROTECT YOURSELF IF THIS HAPPENS TO YOU:
This issue was brought to me by a client, and unfortunately I would never have known otherwise.  If you see something suspicious – please inform the person affected! We need to look out for each other in this business.
You can also use copyscape.com to check if your work is being copied (I actually checked this morning and found a whole OTHER site that is a direct replica of mine, down to the bird logo and everything). This case is a little different because with Reese Ben-Yaacov, it's the downloaded material that is copied, which won't be picked up by copyscape. But for general website content, it should catch it. Make sure you have terms and agreements of use on your website and at the point of purchase for each product. Cover your ass for when this does happen (because some version of it will inevitably happen in your business when you reach a certain level of success).
Check out this interview I did with a lawyer about how to protect yourself.
Or, best option of all, you can make sure you have THIS in your legal toolkit. Protecting yourself legally is the best way to nip this stuff in the bud when it happens! And this course will help make sure you do that!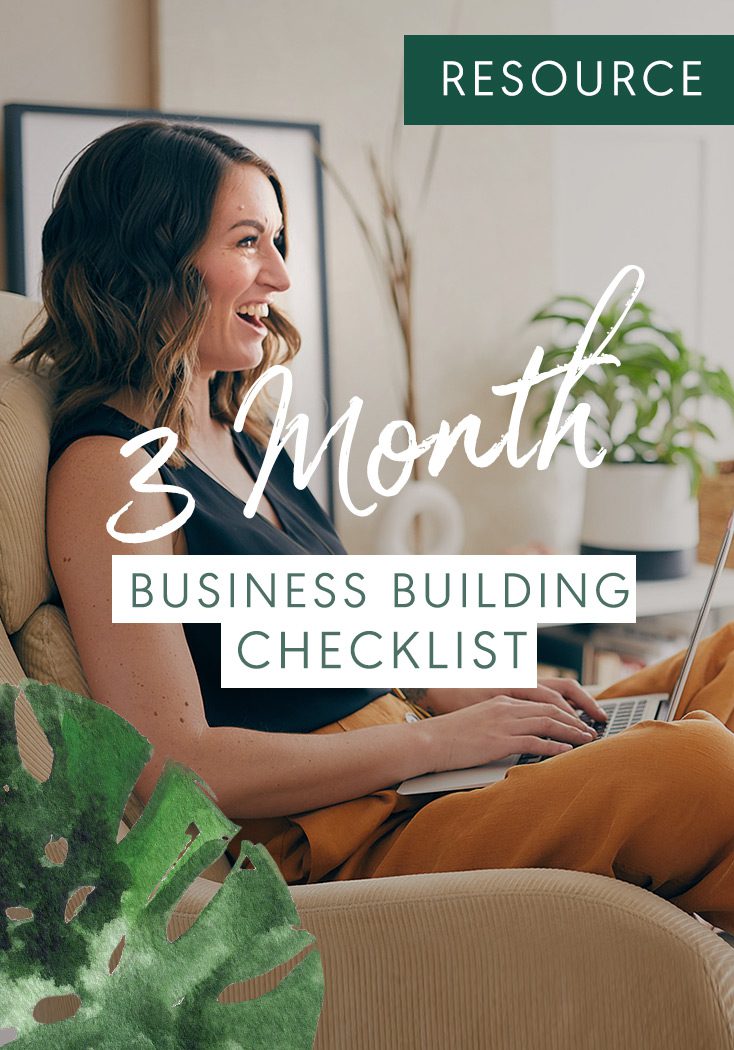 3 month business building checklist
ENTER YOUR EMAIL BELOW TO learn exactly what to do to start your new business
ONE FINAL NOTE:
Thank you for listening. Than you for being here. And thank you for all the support you have given me along the way. I promise to continue to create packages and programs that are of service to YOU and your needs, based on MY expertise and my knowledge. I will continue to listen and serve you in the best way that I can. And I will continue to keep my community clear of people who want to do business in any way other than with the highest integrity.