Why it's okay to get into "funks" as a solopreneur
I want to share something today that is a little vulnerable (close this tab now if you are JUST looking for how-to business advice — this will certainly NOT be it)
I am due to write a blog post… because that's what "good" business owners do, right? They decide they will do something and then stick to a schedule and get it done.
In fact – I am due to write about 6 blog posts, 12 emails, unlimited social media posts, and daily Facebook lives, and launch videos for my upcoming round of Uncage Your Business.
Errr…..
What am I doing instead? Well – NOT writing all the things, for starters.
Also NOT cleaning my house. My partner I bought a new house/loft last month. I was stoked, and swore I'd make it sooo pretty and it would be the most magical place to work in and I'd take photos of it all the time to get more followers on Instagram and make people want to be my friend and buy my shit!
Errrr…
I even spent the first 2 weeks after moving in MADLY trying to get it set up to do new brand photos for my brand overhaul (which meant new furniture since stuff from my old place didn't fit, new stuff on the walls to actually make it look lived in, a new desk set up, and basically new everything).
It was super stressful  – DO NOT EVER DO THIS! Take it from me.
Moving in (while my boyfriend was up in the Arctic working) was stressful enough, getting the house in a good enough state to do photos that were pinterest-worthy…  and then pile on top of that getting everything ready to drive myself to Burning Man in Nevada the following week.
These are privileged problems, I realize. But still.
Anyway – I made it happen and I did manage to do my photos – and they turned out well.
Here are a few of the shots we got (but make sure to read past them for the real truth)
Me, working at my desk, writing cool content and jamming with my Facebook group members, with cute dog in tow! Perfect life!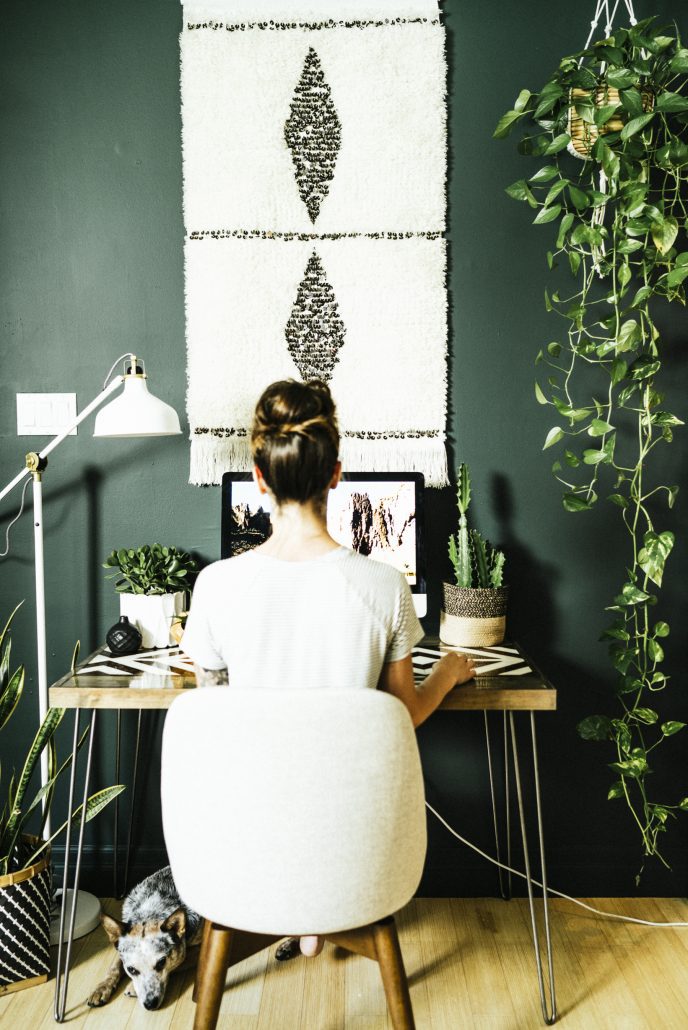 Oh you know, just casually sitting on my floor taking some notes about all my amazing and inspired new business ideas. I heart my business! (that tea/coffee is actually vegetable broth – didn't have time to make actual tea!)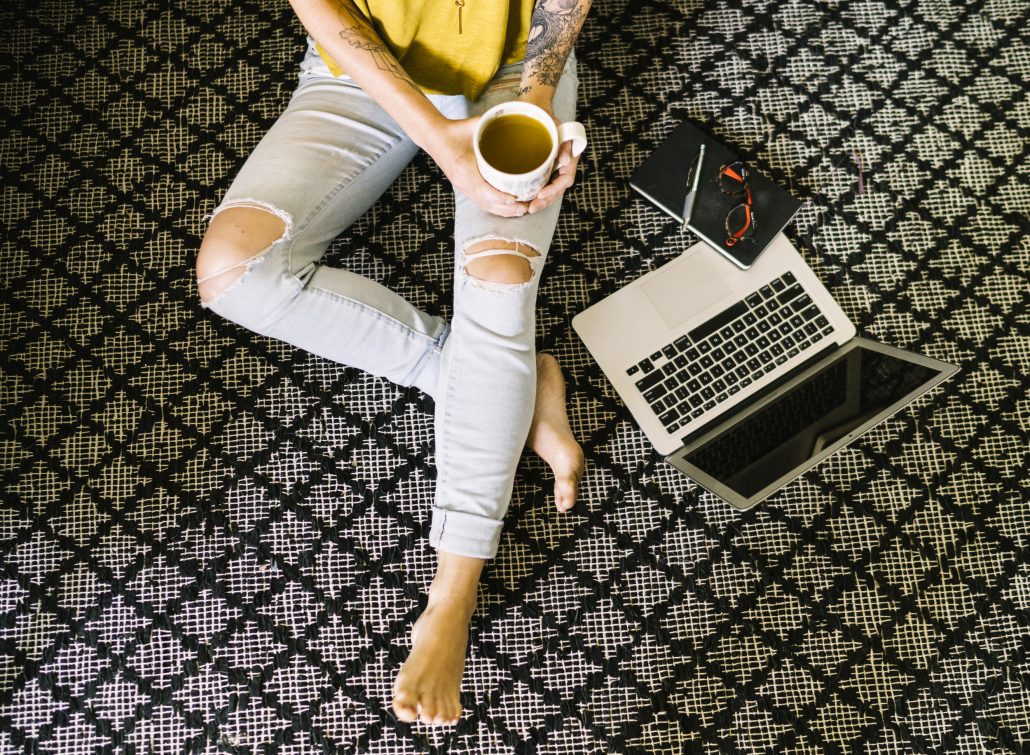 Me, taking a break from all my hard work, chilling in my cute living room with all my hipster plant babies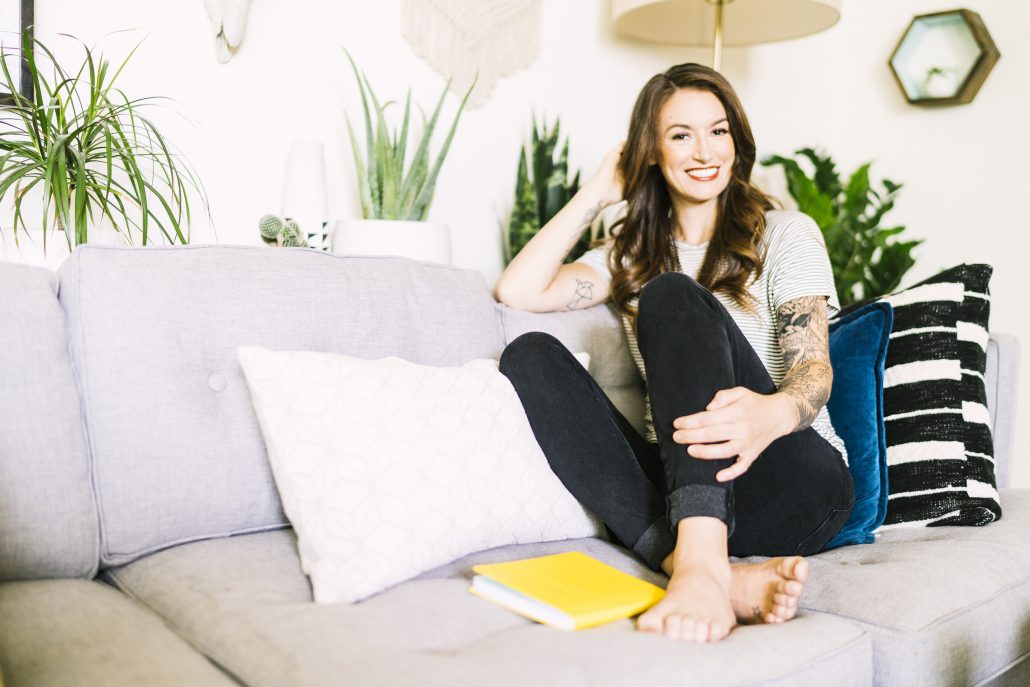 Me, having a great time and looking fabulous (that hair!) – you know, the way that I look most days!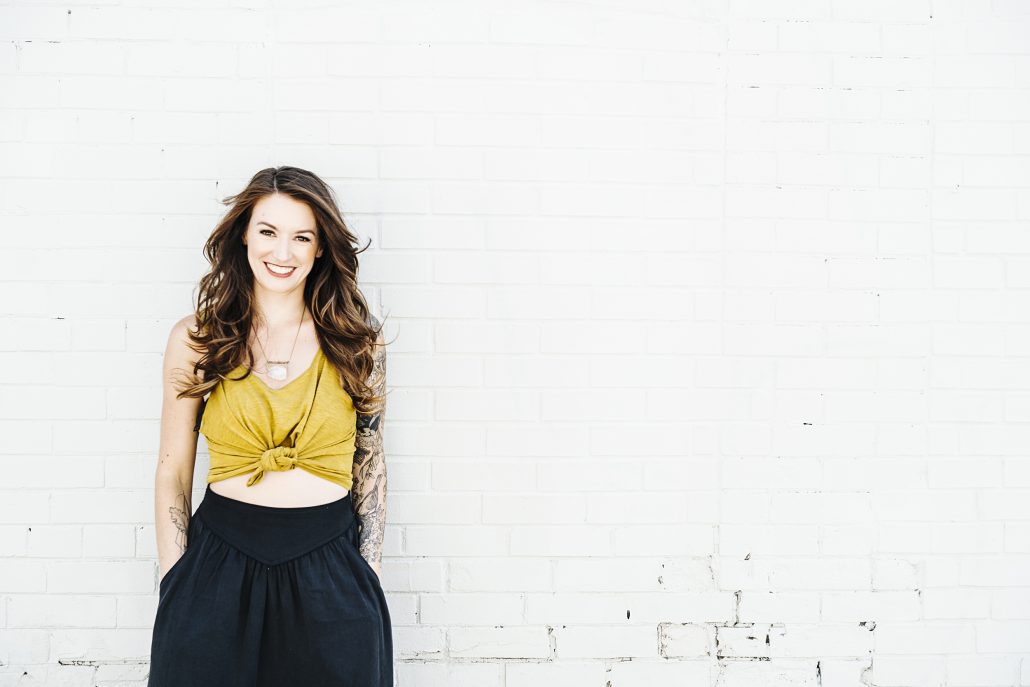 Gorgeous, right?
But I don't feel gorgeous right now. Neither does my house.
I just got back from a pretty intense trip out west to Burning Man (in short – drove myself there, had a pretty hard week with a lot of intense emotions, witnessed a suicide, drove myself home from San Francisco to Toronto (mostly in tears)….)
And now here I am – certainly not looking like that glam photo above. My desk is covered in 3 weeks worth of laundry that I can't seem to bring myself to do.
So here's where I'm working right now… on my kitchen counter, amongst dirty dishes, cold tea mugs, and Rhubarb sitting at my feet, pissed that I am not giving her enough attention.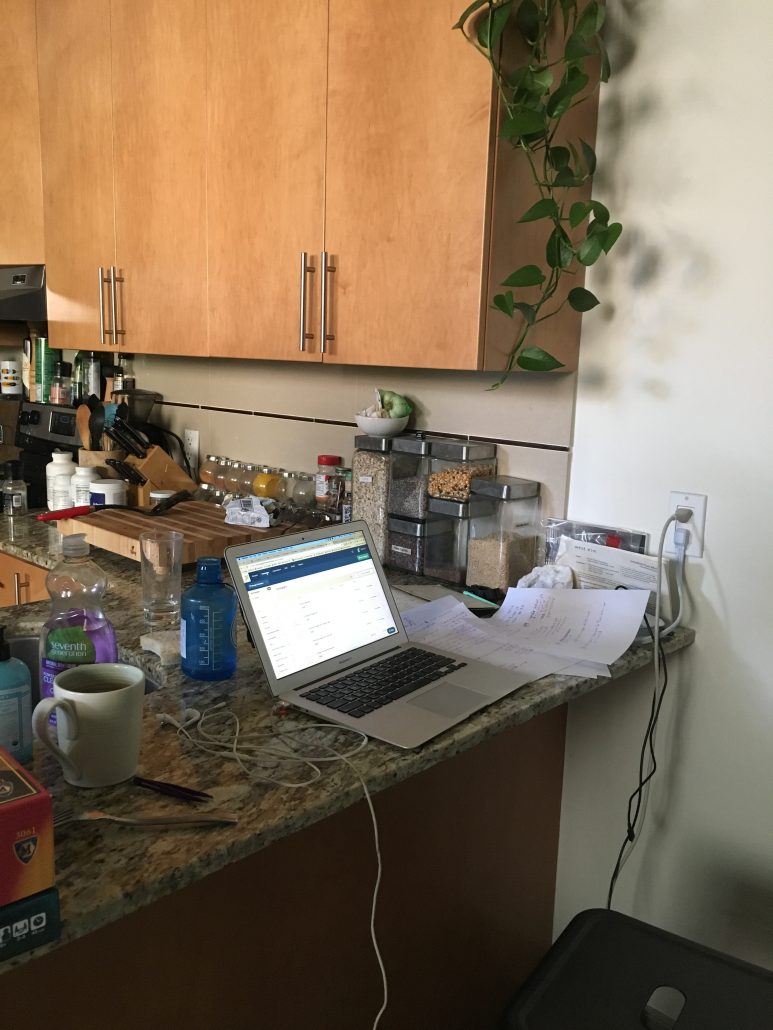 And this is what my beautifully designed new house actually looks like… gear from Burning Man that has yet to be put away (I got home over a week ago), camping gear for an upcoming trip that is strewn about the floor, boxes, because I am still not fully moved in yet, and a broom that, let's be honest, has never been used. The bathroom and bedroom are not much better.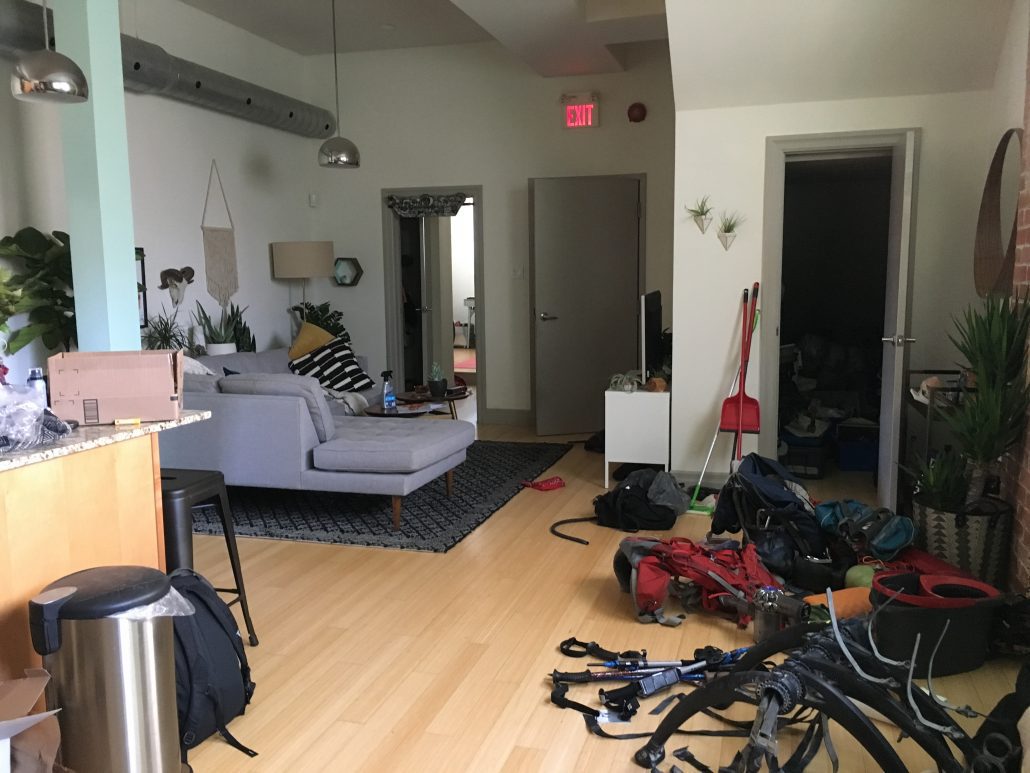 They say something like "clear house, clear mind" and there is supposed to be some kind of  life-changing magic in tidying up right? I haven't found it yet.
But business goes on! Oh yes – it does!
So here I am – due to write a blog post to start priming you for my upcoming launch of Uncage  Your Business… but I can't seem to think of anything super smart to write about business.
My brain has been such a fog of mush and I've been crying a LOT (and also my face is in pain and numb from the dentist – I guess all that junky food on my super emo drive across the country didn't do my teeth any good).
THIS, my friends, is the ever glamorous and real entrepreneur life.
Not the fucking pinterest photos of white desks and pretty journals.
Not glamorous photoshoots with perfect hair, next to the Eiffle tower (or in my case, a back alley in Toronto)
Not always-inspiring blog posts about how to achieve more success and be more authentic and amazing in your business.
This is real life. I am real life.
Will this funk pass? Absolutely.
I am actually STOKED to be gearing up to work with my students in Uncage Your Business in November (oh ya – get on the waitlist here for early bird shit).
In fact it's one of the main things keeping me moving forward right now at all. I LOVE this course and I love my clients.
I'm excited to dive back into all things business here at Uncaged.
I'm just having a hard time adjusting. And that's ok.
3 month business building checklist

ENTER YOUR EMAIL BELOW TO learn exactly what to do to start your new business
The truth is that I will probably write most of my launch content in this pig-sty of a house.
I'll clean up my couch just enough to get the clutter out of the way and shoot some sweet videos.
I'll write those emails at this messy kitchen counter.
I'll love on people in my Facebook groups while in my PJs with piles of dirty laundry next to me.
I'll enrol a whole bunch of amazing clients who are doing incredible things in the world.
And they will trust me to help them with their businesses.
In spite of my very non-pinterest-worthy set up.
In spite of me not being perfect all the time
In spite of this post that shows you just how much of a normal person I am.
I'm writing this because I think it's important to understand a few things:
1- Not everything you see online is the truth. It's important to me that I don't sell you a lifestyle (Freedom! Travel! Adventure!) and that you follow my work and sign up for my programs because of the results I get you – not because of my pretty instagram photos. Your clients will sign up to work with you because you are real, not because you are perfect.
2 – You don't need a perfect pinterest worthy set up, or a beautifully designed website, or any of that shit. You can write blog posts and chat in Facebook groups and get interviewed in your shitty 10 year old sweats with your baby crying next to you. People will still listen.
3 – We all get into funks. We all have dips in our motivation, our inspiration, and our mindset. It's how you come out the other side that matters.
Don't let your lack of perfection slow you down. I started this gig in a goddamn piece of shit '81 Chevy campervan, taking calls in McDonalds (free wifi) and writing blog posts in parking lots.
Your work matters. Your impact matters.
Your perfect life on social media – doesn't matter.
That's all I've got.
xx becca
PS. oh yeah – I should promote my program right? If you're a coach, VA, designer, healer (aka solopreneur type who wants to sell service), and you need to focus your shit in and learn how to get clients online – click here to check out Uncage Your Business. Future you will thank you.
PPS. Thank you to those who reached out checking in that I was ok after Burning Man. I am. I appreciate your support xx