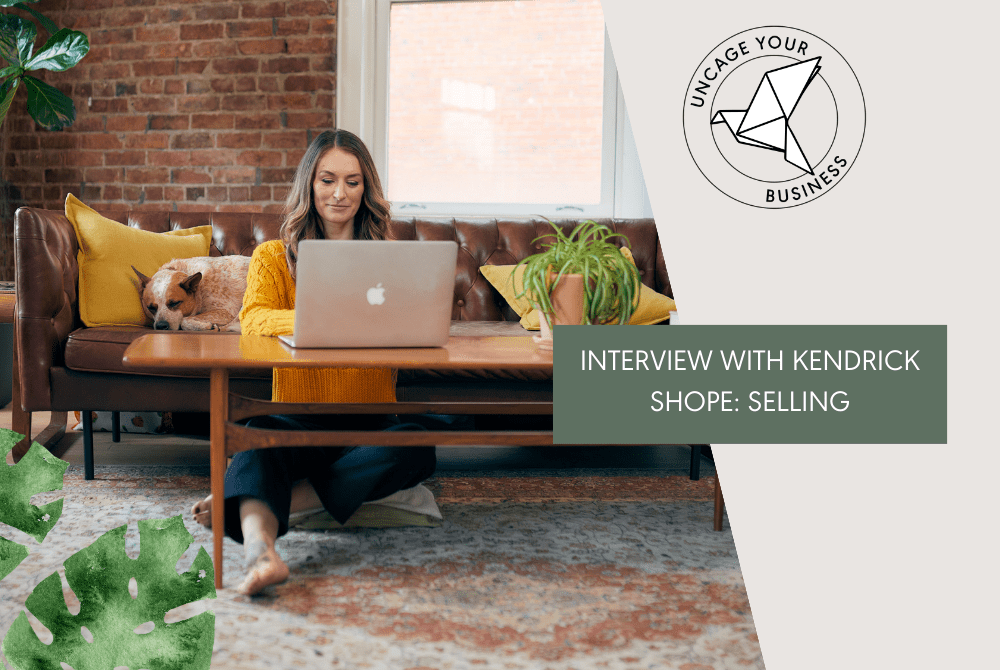 Interview With Kendrick Shope: Selling
I wrote a post earlier this week about one of the biggest reasons you're probably not getting clients (click here to read it), and in it I mentioned Kendrick Shope and her program Sales School. There aren't may programs that I affiliate for, and even fewer that I take the time to actually tell community about, and Kendrick's course is one of those few. I find myself constantly sending clients to it after they are done working with me, and I'm SO excited that Sales School is running again this year (click here to check it out).
There are some common questions that I often get from clients about selling, and I wanted the expert herself to help answer them, so I hopped on a Skype call with Kendrick this week and we chatted about SELLING.
In this interview we talk about:
The #1 mistake business owners make when it comes to selling
How to know whether it's a selling problem or something else when your business is flailing
The differences (and surprising similarities!) between selling in person/online/over the phone
WHEN you need to start focusing on selling in your business (do you get clients first, or learn selling first?)
How to get your clients to fall in love with you and remember you forever
Why you need to EARN the right to sell to your clients
Why life coaches need to learn sales more than ANY other industry
How one of her clients closed an extra $24,000 in sales JUST from learning Kendrick's selling tools
One of the reasons I loooooove telling people about Sales School is because it's one of the few programs that DOES actually live up to the hype of the results is promises. You WILL make more money in your business when you learn to sell. It's pretty much guaranteed. Which makes it a no-brainer for me to cheerlead for, because the more money my clients make, the happier I am.
Check out the interview here, and then hop into the comments! I want to know what your perspective on "selling" is – do you think it's gross? Do you love it? Hate it? Have no idea how to do it? Let's get talking about this important skill.
And if you're interested in Sales School, it starts this August and won't run again til next summer! Click here to read more about the program and sign up.
READY TO PRICE YOUR SERVICES THE RIGHT WAY?

ENTER YOUR NAME AND EMAIL BELOW TO DOWNLOAD MY FREE PRICING GUIDE
BONUS — if you do decide to take Sales School, I'd love to give you Hey Nice Package for free! Because selling is hard if you don't have great packages to sell. Just make sure to use THIS LINK to sign up (it's my affiliate link) and I'll send you HNP for free. Woot!