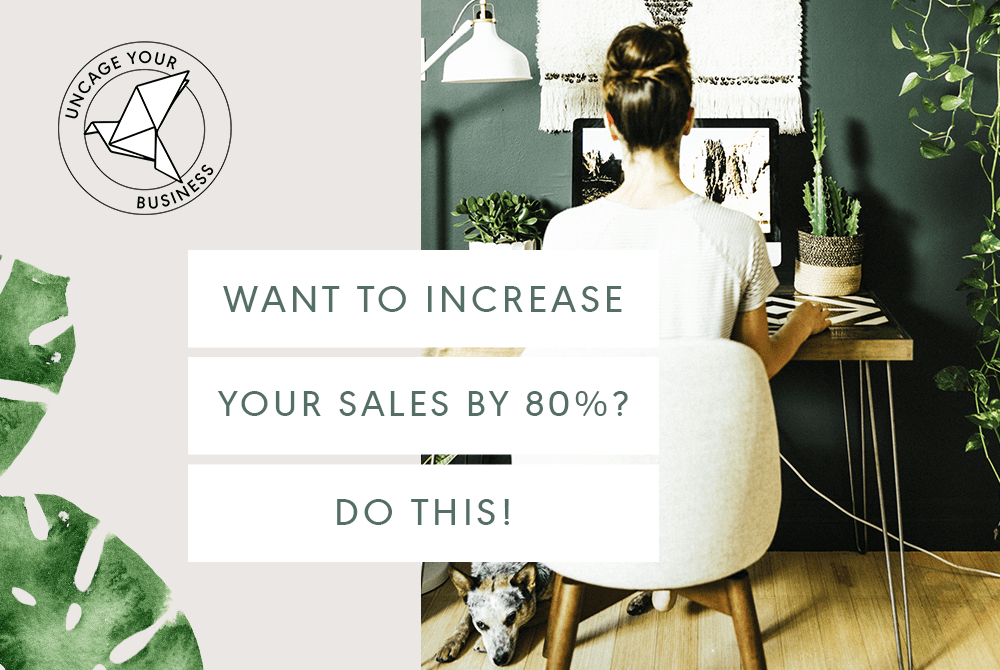 Want to increase your sales by 80%? Do this.
If you're a new coach and trying to break into the world of being a BUSINESS owner (ie. actually making a living from your business!), I wanted to take some time to talk about something that I see many coaches (and other kinds of businesses) not doing very well…. something that if you implement (and implement well) could help you increase sales by 80% !!!
That thing… is creating a SALES PAGE for your services.
What I see MANY new business owners (especially the life coaches) doing, is they tend to have one page on their site called "work with me" (or whatever) and there, they have some vague info about coaching, and 1-2 sentences about their packages and prices.
I'm going to show you some examples of how many new coaches tend write out their services, and tell you why each one sucks (and what you can do better). These are fictional examples, but stuff I see allll the time!
BAD EXAMPLE #1
How to work together:
My rate is $150/session, and I prefer to work with people for at least 3 months. Get in touch to book a call!
Why this sucks: You are giving them literally NO info about how your services can help them! Plus, you are charging for your time, which
is something we want to move you away from (you should be charging for the VALUE you offer instead!). You'll be hard pressed to get many people to contact you with a page like this.
BAD EXAMPLE #2
Coaching Packages:
2 x sessions per month (minimum 3 months)
Investment: $ 300
3x sessions per month (minimum 3 months)
Investment: $400
4x sessions per month (minimum 3 months)
Investment: $550
Why this sucks: Again, you are not giving them any info about how you can help them, PLUS you are confusing their brain by giving them too many options. How are they supposed to know how many sessions they will need!? You are the expert — you need to tell them how many they will need. I talk a LOT more about putting together your packages in Uncage Your Business, so check that out if you are still pricing like this and let's help you create some better packages!
BAD EXAMPLE #3:
At SO-AND-SO coaching, I help you live authentically, harness your personal power, and live your best life. I believe every person has the power to heal and to thrive, and coaching will help you get there.
What is life coaching? Life coaching is not therapy. In coaching, YOU have all the answers, and my job as the coach is to help ask you powerful questions to help guide you to your answers. I don't give advice or tell you what to do — coaches believe in personal autonomy and that you have the answers within.
If you are interested in exploring coaching, please contact me for more info.
Why this sucks: Your clients don't really care what coaching is — they have a problem and they need your help with it. So instead of explaining what coaching is in general, it's wayyyy better to explain specifically what they will leave with. Don't be afraid to get specific and talk about results (this is why having a clear niche is SO important!). The other reason this sucks is because you're making them do a lot of work to email you just to find out the price. ALWAYS list your prices, unless your package is more than $10000. And make it easy for them — if you do want them to contact you (again, we don't recommend this, but if you insist), put your contact form right on the page for them.
Overall, the examples above do NOTHING to help you sell your coaching. There is a better way.
WHAT TO DO INSTEAD:
Ok, so if all the above examples suck, what is a better way to list your services on your website?
It's to have something we call a SALES PAGE.
A sales page is a specific page used to sell your packages. It speaks directly to your client's problems and hits their pain points… and then shows them what is possible, what their life could look like if they work with you. It should thoroughly explain your offer as well as address any questions or objections they might have.
Basically, your sales page does most of the selling for you! Imagine how many more clients you could get if you actually used your sales page to SELL instead of just listing a price + how many sessions.
80% more — that's how many 🙂
A Sales Page truly helps you make more money in your business, and if you have been operating without one, it's time to change that!
3 month business building checklist

ENTER YOUR EMAIL BELOW TO learn exactly what to do to start your new business
Oh, and one more important thing — every program or package that you offer should have its own individual sales page. This makes it easy to send the right information to people. Let's say you meet someone and you have a specific package you know would be great for them. You can send them the link to that specific package, instead of making them scroll through one long page that has all your offers on it in order to find what they need. This also lets you market you programs more effectively because you have room to thoroughly explain the value of each individual offer.
​​​​​​​Convinced yet? Ready to write your sales page? DO IT!
I'll be sharing some hot tips and do's and dont's for writing your sales page later this week, so keep an eye out for that!
Happy writing!
xx becca