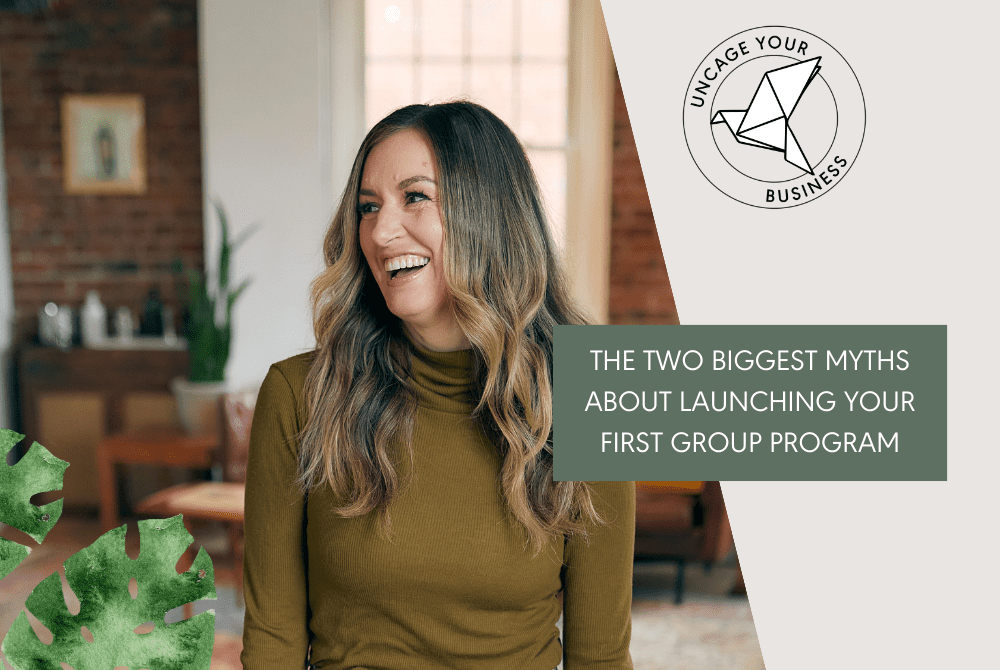 The Two Biggest Myths About Launching Your First Group Program
There's a lot of hype in the online space about scaling, launch strategy and making a bajillion dollars… Which is all great — IF you're at that stage of your business. Most of the people I work with inside Uncage Your Business are nowhere near that! In fact, most new coaches and solopreneurs simply need to focus on building the foundations first so they can fill up their books with happy one-on-one clients.
But what about when you're comfortably full with one-on-one clients and realising you've reached an income ceiling? Hello group programs! In my opinion, one of the BEST ways to scale your business and have more free time is to lead group programs. Helping more people in the same amount of time and making more money – YES PLEASE.
When I created my signature group program, Uncage Your Business, my income skyrocketed, and so did my free time. I was able to get go of aaaallll the other programs I was offering (one on one, some small low priced online courses that rarely sold, VIP days that I loved doing but were very tiring)… and now Uncage Your Business accounts for 90% of my income and I take 4-5 months off a year. Hello – FREEDOM!! Afterall, we all created our businesses to have more time and freedom to actually LIVE our uncaged lives, right?
But a huge mistake I see with people who are ready to move from 1:1 to groups is running before they can walk (see: online hype promising people at any stage of business can create 7-figures overnight). Group programs that could have been amazing, fall on their face because expectations are set way too high and the launch gets way too complicated.
That's why I want to break down the two biggest and stupidest myths about launching your first group program so you can set yourself up for success and actually scale your program to get to that bajillion dollars. It IS possible, but let's do it in a sensible and suitable way, shall we?
Now onto those launching myths!
Myth #1: You have to "Charge what you're worth"
Let's start with pricing, because increased income is totally a motivating factor in why we could want to launch a group program in the first place, right?
So I'm going to lay it out straight for you:
I believe that with your first group program, you should beta test either for free, or for 50% of your full price.
I will always have people argue with me and say, "I don't want to give away anything for free. I don't want to discount my offers, I want to charge what I'm worth."
First off — don't conflate your worth as a human with the price of your course. Not the same thing.
Now hear me out on my reasons for doing a free or lower-priced beta launch, and then you can decide.
Wondering what the heck a beta test launch is?
A beta test is a super simple way to get started with your group program by testing it out with real people in a VERY low pressure way. For a beta test, I recommend you pull 5 to 10 people from your current network to be your first round of students. So current email list, current audience, social media, friends, doesn't matter — you want to get those 5 to 10 butts in the seats in a really easy way through your beta.
Some of the benefits of beta testing:
It helps you fill your program quickly, so that you can test it quickly
You want butts in those seats asap so you can actually run your program and see if it's any good
Get valuable feedback so that you can make your program better
A beta test will help you see if you've nailed the content or if you need to add something else or take something out.
Gather testimonials
Testimonials are what is going to sell your program for you. Beta testing is gonna help you get those testimonials quickly.
Generate buzz for your program
When you're beta launching, you can share some of the behind the scenes to let people know you're creating something new. People love being early adopters of things and feeling like they're kind of getting in on a secret. So it helps you create some buzz for your program, even before you have created the whole thing.
Gain confidence in running it live, so you can raise the price next time
Our price is generally directly correlated with our confidence in the results that we can get our clients, and our objective experience of seeing those testimonials coming in and hearing our clients' results, which helps boost our confidence even more. So the sooner you can get people in for a beta test, the more your confidence grows, which means when you can come out of the gates for your next launch.
When you start small with a beta test, you're basically allowing yourself a messy first draft.
It's going to give you all the good stuff without the pressure AND give you the confidence to increase your prices when you launch "for real" next time
The myth? "Charge what you're worth"
The truth? Charge a small amount and get those butts in the seats, get those results, boost your confidence, and charge way more next time!
Myth #2: You need a big splashy launch and 10k Insta followers
I see a lot of people go out there and try to create courses and group programs where they plan an entire launch, make a bunch of videos, create a webinar, hire a bunch of people, record content in advance (noooooooo!!!) and their business just isn't set up for a big launch like this to succeed. And now with so much riding on the launch, if it doesn't work it can feel like a massive failure.
For that reason (and so many others), I love the beta launch, because it's a low pressure way for you to get people in and get you testing out your program.
How to position your pitch to potential beta clients
1. Tell clients what the full price WILL be
You're going to be sharing on all of your platforms, your email, your Facebook groups, your Instagram, your friends, inviting friends of friends – wherever you can get connected to the people who your program is for, and let people know that you're creating a new thing, you're looking to get some clients in the door to test it out. That's as simple as it is. Even if you don't have a large audience, you can do this! I teach this strategy in Your First Group Program.
I recommend telling them what the full price is going to be. So don't say "I'm beta testing something, it's free, who wants to come?" You want to still have it seem valuable and sometimes people think free = not valuable.
If you think your program price that you came to is going to be $1,000, you can tell people, "I'm beta testing this program, the full price is going to be $1,000 when it launches. I'm looking for five clients to join me for half price so I can test the program and get some feedback." Done.
2. Let them know that you're offering it to a specific number of people
I recommend straight-up telling people that you're keeping the group smaller because you're fine tuning it. You can let them know that you're going to be asking them for feedback, and that they get a great deal in exchange for their help with this.
People seem to think that beta testing is just like letting people in for free with no exchange, right? They're not exchanging money so it's a one sided deal.
It's not. The people in that program are literally helping you create the program. They're giving you feedback along the way. They're giving you testimonials, they're really helping you shape the program. So they have an active role in it as well. And to me, that is worth so much more than the couple hundred dollars that they could have paid you for the program.
3. Set expectations
With a beta launch comes beta pricing (see above) which sort of lets you off the hook because it means that you don't have to be perfect yet (you're testing, after all). You can do pretty basic worksheets. You can do fairly budget recordings (or none at all, which is actually whatI recommend!). You don't have to have everything perfected in order to do a beta test, which can be like a sigh of relief for many people.
And you can let beta testers in for free if you want. It's a really nice way to give some love back to past clients if you have clients that you like and maybe they'll go around telling everyone about it and hyping you up! Win-win!
I hope you can see that you really don't need to plan a big old launch for your first group program. Gather some of your favourite people, take the pressure off and test it out. Once you've gathered some epic testimonials (which could be a separate post on it's own because, honestly, this is the gold) you can go out there with a super refined offer and launch strategy.
The myth? You need a big splashy launch and 10k Insta followers
The truth? With your first group program launch, start small with a beta test and grow from there
We teach ALL of this, from how to create curriculum for your program that gets results, to how to price your beta, how to ask people to join the beta, and scripts to how to get killer testimonials), in Your First Group Program. Check it out here.
Let's help you launch your first group program with ease!
xx becca