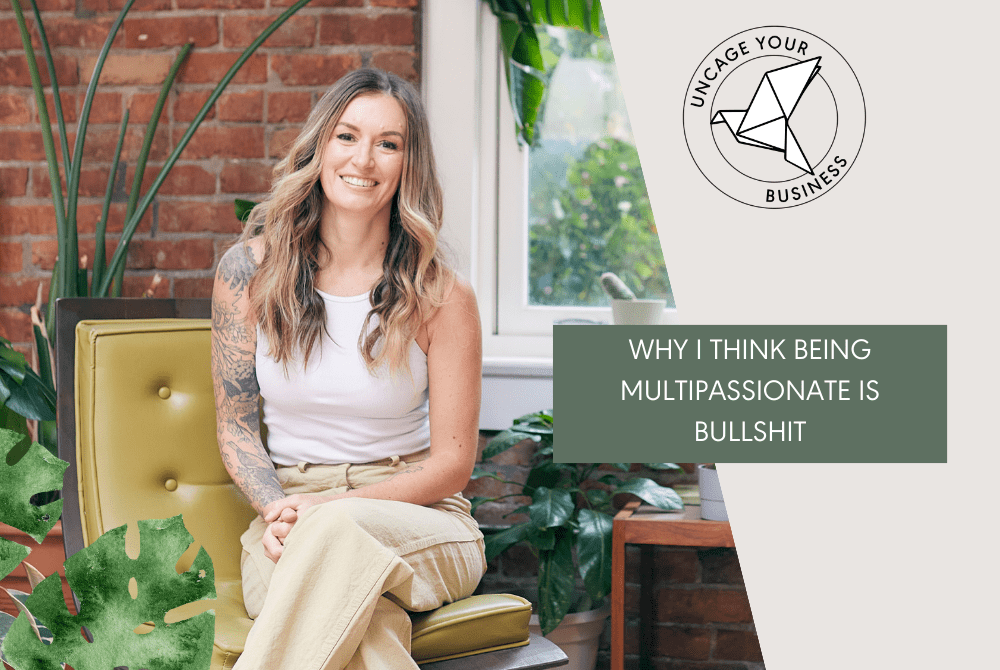 Why I Think Being Multipassionate Is Bullshit
The whole "multipassionate" thing? I'm over it.
Yeah, I said it.
Saying you have so many interests that you couldn't possibly choose just ONE to start a business about? I'm done with that nonsense.
I should clarify — It's not being multipassionate that I am over. It's using it as an excuse to not move forward with your business that I am just done with hearing! It is so shitty to see so many people holding themselves back because of this excuse.
This post is a battle cry. To everyone out there in Online Business Land who is shouting from the rooftops that you absolutely CAN and MUST create a business that is 100% in line with your passions and interests and strengths and hobbies and loves and your life purpose. 
To the coaches touting that you absolutely MUST NOT SETTLE for a business that you don't LOVE and telling you that you shouldn't have to choose just one thing to focus on – that you can have it all!
And to anyone calling themselves multipotential, multipassionate, or a scanner, and believing that you shouldn't have to choose something – because ugh – how could you possibly settle on one thing? You love so many things and your life and business should represent that! You are special and the good ol' regular advice on choosing a business idea and a niche simply doesn't apply to you.
Can we please stop the insanity! Please? It makes me SO sad to hear talented, smart people who have BIG dreams, procrastinating SO hard because they are waiting to find the PERFECT business idea that fills all their passions.
If you're a human, there is a 99.9% chance that you are interested in MORE than just one thing. We ALL are. No one is single-minded enough that they have ZERO interests or hobbies or causes they care about.
Having so many passions that you couldn't possibly choose one to start a business about is an excuse and a mindset issue. And it's holding you back. BIG TIME.
And if you ever want to grow your business, you are going to have to suck it up and choose ONE thing to focus on in your business, and get a move on.
In fact, Focus is my new favorite F-word.
Because here's the thing – it's a business. It's work. It's a career.
It's not all puppy dogs and ice cream and rainbows. It's not going to feel warm and fuzzy all the time.
And honestly, I get SO disheartened seeing SO many crazy amazing ambitious people going in circles for months because they refuse to focus in. Waiting to find something that will fulfill every single need they have ever had. Waiting for an idea that they won't get bored of in a month, only to have to scrap everything and start again (again). 
You know what you will get bored of? Not making money and not helping ANYONE because you are changing your mind all the time!
Your business is DEFINITELY not going to go anywhere if you keep waiting to find the perfect blend of EVERYTHING you love and  try to smoosh everything into one, because 1) that's likely not possible, and 2) if it is, you will confuse the crap out of everyone when you try to market it.
And, if I may add 3) your interests and passions will change as your grow, so what are you doing to do – keep trying for the rest of your life to integrate them into your business? And remove the old ones? Constantly changing your services and your tagline and your niche because your interests are changing.
Sounds like way too  much work to me! And not the best business move.
It's time we stop being so precious about our businesses, and time we start focusing in on finding something we do well, that we like to do, that people will pay us for, and let that be enough.
DISCLAIMER: I should take a minute here to note that I absolutely believe in creating a business that is close to home for you – something you give a shit about. This isn't just about arbitrarily choosing something you don't even like. But MOST of the students in Uncage Your Business like ALL the options they are considering — and what they don't realize it that it often doesn't matter which one they choose. They all lead to the same road of them getting to do something they love with awesome clients.
I strive for that in my own business and I advocate for that with my clients. It's why I put such a big emphasis on Messaging. There's no sense in creating something that will just be another job that you hate. What's the point?
But does it have to be perfect?
Will you love it every minute of everyday?
Will never feel like work and will only feel like warm and fuzzy feelings all the time?
HAHAHAHAHA. No.
Whoever told you that wants your money and wants to try to sell you the impossible dream. Because the truth is that your business will ebb and flow, and sometimes you will love it and sometimes you will hate it.
And no matter what you choose to focus on, there are no guarantees that you won't get bored of it a few months down the line. It's a risk you take.
Actually, scratch that – it's a DECISION you make –  to stick with it, through the ups and downs. To not just quit when you start to feel drawn to something else. To keep your FOCUS so you can build the life you want for yourself through your business.
STRUGGLING TO FIND YOUR NICHE?

GRAB MY FREE NICHING GUIDE HERE, AND SAY GOODBYE TO ALL YOUR NICHING WOES!
It doesn't have to be a be-all-end-all business idea when you first start out. You'll drive yourself mad trying to create that right off the bat.
As we say in Uncage Your Business — it just has to be 70% good enough. It has to be something you don't want to kill yourself doing everyday, with a solid enough foundation that as you change and grow as a person, there is some wiggle room for your business to expand and grow with you (while still staying true to  your core message), AND, most importantly, that affords you the Uncaged lifestyle that you are craving.
The endless search for the PERFECT business idea that will incorporate all your values and passions and strengths and quirks and that will line up with the moon and the planets and be in perfect alignment with your numerology charts  – it's  a mindset issue and is your way of holding yourself back from doing ANYTHING (probably out of perfectionism or fear of failure)
Business is all about making decisions. Quick decisions. Decisions will move you forward. Indecision will keep you going in circles and never get you anywhere.
So this post? It's about calling you out if you've been hiding under the veil of being multi-passionate and not actually making concrete decisions about your business and taking action.
I am taking a stand for STARTING. Before it's perfect. Before it feels in line with the moon and the stars and your tarot. Before you feel like it's THE idea.
I am taking a stand for separating business from hobbies. For taking the preciousness out of business. For letting yourself have interests OUTSIDE of your business, and not trying to smash them altogether like a potpourri of shit things just shouldn't go together.
And I am taking a stand for creating a business that affords you the time to enjoy all those other hobbies and passions, outside of business hours – that's what this is all about, right? Living Unaged.
Because trust me – it's WAY more fun when you don't mix business and pleasure all the time.
PS. Ready to niche in and find focus? Grab our niching guide – time to get decisive!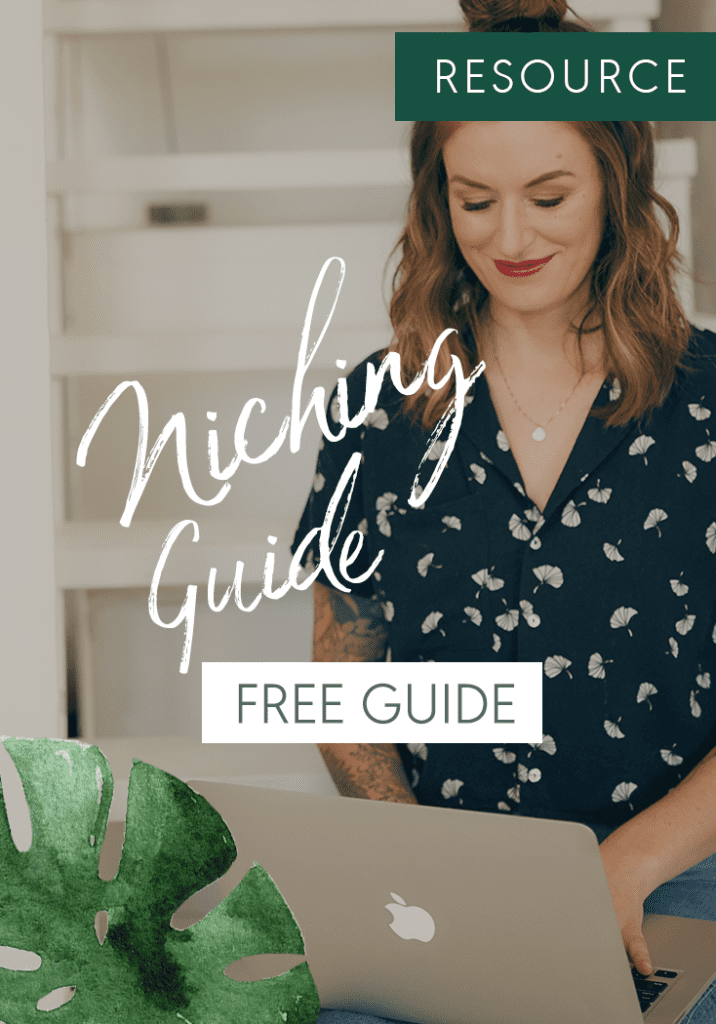 STRUGGLING TO FIND YOUR NICHE?
GRAB MY FREE NICHING GUIDE HERE, AND SAY GOODBYE TO ALL YOUR NICHING WOES!