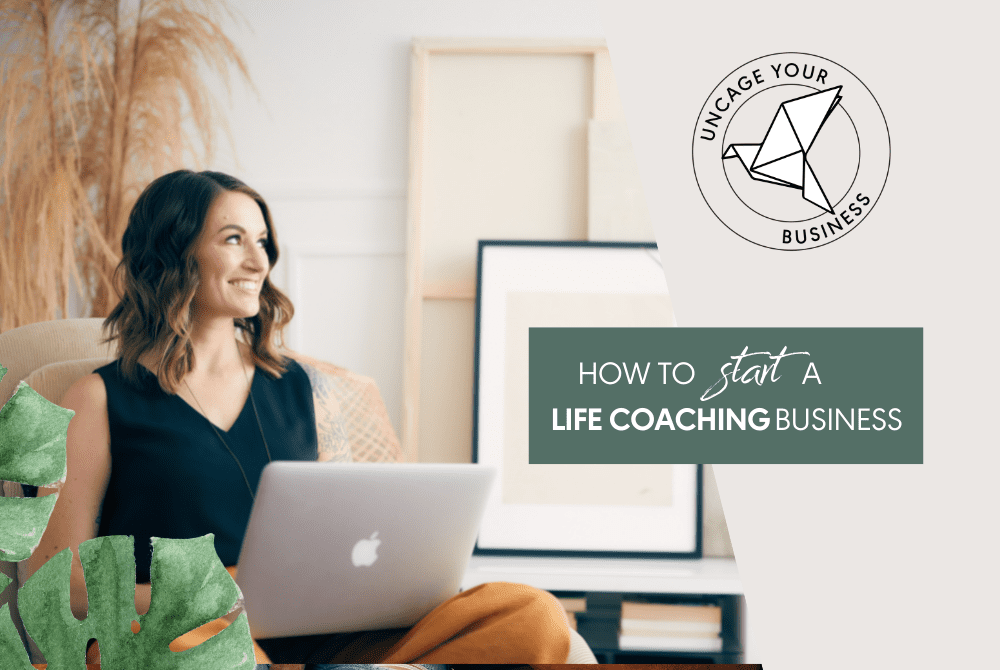 How To Start A Life Coaching Business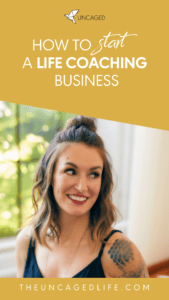 I come across A LOT of brand new life coaches who are super highly trained and skilled in what they do, but who have pretty much zero idea about the business side of things. But if you want to make life coaching a viable career (and not just an expensive hobby), you have to focus on ONE thing and one thing only.
To be clear, that one thing is NOT your:
Brand colours
Business name
Website
Logo
Business number
Business card
Tax setup
We have a name for these kinds of activities: procrasti-branding and time-wasting. You don't need any of these to officially be in business!
So many new coaches waste time (and money) on the wrong things when they're starting out and I want to be super clear on what actually matters when you're creating a life coaching business. Because even though staying busy with lots of behind-the-scenes work can feel productive, it also tends to be when your mindset shit comes up. Things like:
"When I get my website and Instagram branding all lined up, then I can start talking about my services"
"Maybe I need more training before I can work with paying clients. Let me just Google some courses real quick"
"If I can just figure out a cool name for my business, then I can move forward and get clients."
If these sound like procrastination and perfectionism, that's because they are — and neither are helpful when you're trying to get your life coaching business off the ground (and fast, so you can leave that soul-sucking job, am I right?!)
Here's the truth: The ONE and ONLY thing you need to start a life coaching business is to
start coaching people.
… even if you're doing it for free to start out with. It's as simple as that.
Coaching people = a coaching business
This is what I tell my clients to do and it's what I did myself when I was starting out. No fancy tech required. Get out there and tell people what you are doing.
I got my first two clients by 1) asking a friend if I could coach her for free and then turning her into a paying client, and 2) asking a girl I met at a workshop if I could coach her for free and then also turning her into a paying client.
My next clients came via online connections within a month of starting my business! I posted my (very basic) website everywhere and told everyone I knew what I was doing. I asked friends if they knew anyone who fit my ideal client description. I interviewed other people on my website so they would share it to help get me traction. It worked (and is still a great tactic to use today!).
Start with low-hanging fruit like friends, family, and your personal networks. Inside Uncage Your Business, our business foundations coaching program, we teach people the super simple strategy called the friends and family email. It's by far the easiest way to get new clients quickly in your business if you don't have an email list yet.
It works like this: Send out an email to everyone you know – friends, family, colleagues, acquaintances, old boyfriend (ok maybe not that one), and let them know what you're doing, who your work is for, and give them one thing to do at the end of the email (either reply back to work with you or forward the email to a friend who they think would be a good fit, etc).
If you want clients, getting your name out there is key. And the reason this works is because the people you're emailing already know you (and hopefully like you), so you remove that barrier that tends to exist when you're trying to reach cold leads. They already trust you. WIN!
Whether you want to charge right away or offer some complimentary sessions doesn't matter. What matters is that you just get started. It's way easier to tinker with your website for the thousandth time than to actually get out there and to speak to real people, but it's 100 percent what will get your business off the ground.
You don't need a fancy website or a complicated funnel. You can write your program in a Google Doc, take money via Paypal, communicate with clients via Facebook Messenger or Instagram DMs, and send Zoom links via email. It gets to be that simple and that easy. (And please, please listen to me when I say that, as a life coach, you DO NOT need a logo. I know you may want one, but you can invest in that later when money is coming in.)
If you want to start a life coaching business, my best advice is to not overcomplicate it and just start coaching.
3 month business building checklist

ENTER YOUR EMAIL BELOW TO learn exactly what to do to start your new business
Like how simple and straightforward this business-building advice is? We like to stick to what works at Uncaged because we know how much noise there is out there about what it takes to build a successful business (and by successful, we mean one that gives you your own version of uncaged freedom — pants optional). Take a look at our 3-month business building checklist to help you focus on what you need to do and what you don't!