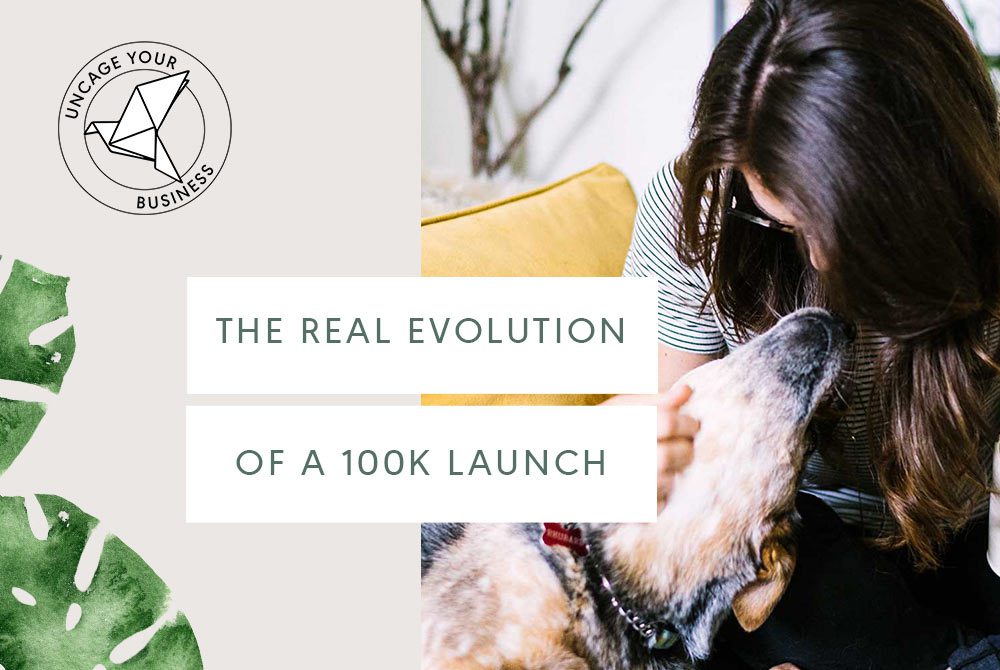 The truth behind a 100k program launch
Hey so let's get right to this – there is a lot of bullshit out there about creating courses and launching programs and how it works and what it really takes, and they seem to make it look a lot easier than it is!
A lot of people are selling you formulas for course creation that are supposed to help you "scale" and "grow" and "get to the next level".
And while I 100% believe that starting to do group programs is the best way to scale your business and give you more time and freedom,  rocking it with your group program doesn't happen right out of the gates. It takes time… and a lot of it!
I also know that for all the people out there bullshitting you, there are an equal amount of people who are transparent and telling you the TRUTH about what it really takes.
My friend Kendrick Shope who runs a wildly successful program called Sales School that sells out at multiple 6 figures each round, posted in her Facebook group recently sharing her real numbers about how Sales School started (i.e. with 20 people at $500).
The always down-to-earth Denise Duffield Thomas posted a blog recently that shared the details of a crazy successful launch, while also telling us that this is NOT how it started, and that her million dollar Money Bootcamp started with just 20 people in it.
And I wanted to get down to some uncaged #realtalk and show you what the evolution of how my signature program, Uncage Your Business, came to be what it is today.
Because when you see us successful biz ladies rocking our launches, you need to know that IT WAS NOT ALWAYS THIS WAY.
I've had a few people email me saying "Becca, I want to create group programs too, but I'm not YOU. I certainly can't have that kind of success with my group program".
To which I say YES YOU CAN. Let me show you how creating a wildly successful group program really works.
Here are what the REAL numbers look like for Uncage Your Business.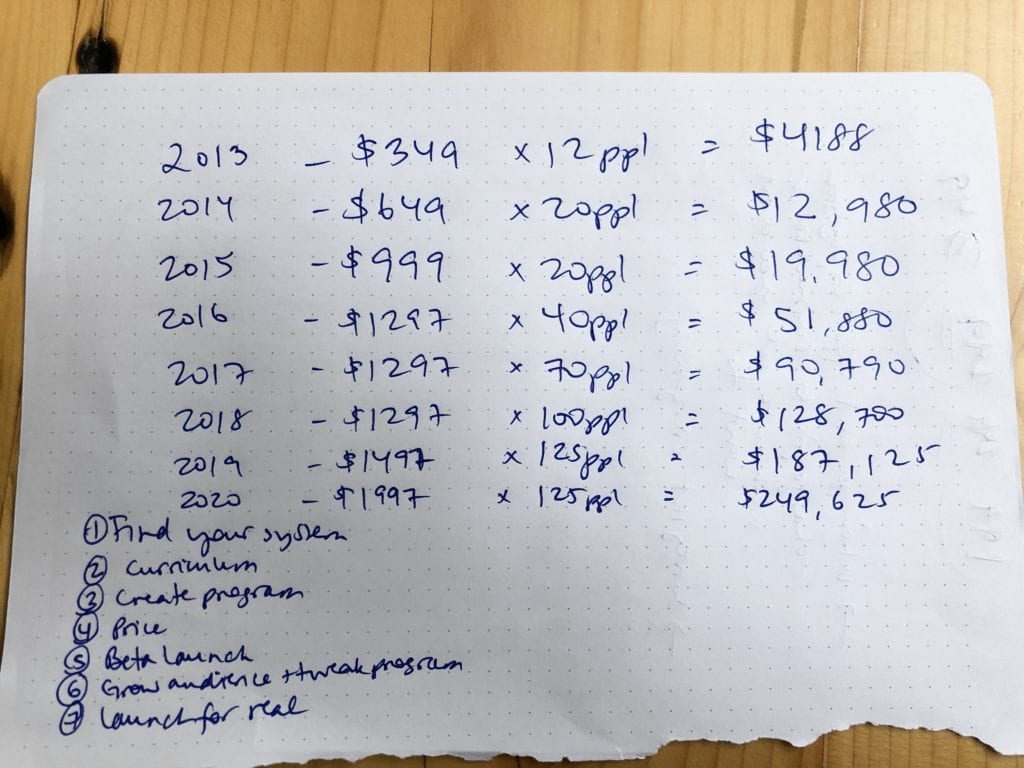 It's important to me that you TRULY understand this process, because there is so much crap out there selling you on the idea of creating an online program or group course and making  a lot of money off it right away. This just isn't how it TYPICALLY works.
You don't start with a 100k program launch.
Here is how a 100k program actually gets created:
1. Find your system
You start with actually working with people one-on-one first, or in some other format, so that you can FIND YOUR SYSTEM. You need to know what works and how to get results for your clients, before you scale. There is no point in spending all that time putting the work into creating a course that won't get results. You need to find your process first by testing it on a smaller scale. I worked with over 20 people one-on-one and in small workshops before I started running groups.
2. Create your curriculum
Then you need to actually figure out how to TEACH what you know. If you're a coach of a done for you service provider, creating a scalable group program requires you to move from coaching/doing, to TEACHING. So you need to create curriculum in a way that walks people through your material methodically.
3. Structure your program + timeline
Then you need to figure out how to package this all up in a timeframe that will allow for results. If you have been doing ongoing coaching with clients, you can't do that in a group. So you need to take your curriculum, and structure it in a way that is will work in a group setting. This usually looks like anywhere from 4-12 weeks, and it varies based on what you know you need to get results for your students.
4. Pricing
Then you have to get over some pricing gremlins and actually set a price for your program. And no, a group program is not always just a cheaper way to work with you, or an intro to working with you. Your group might be replacing your one-on-one income, so you need to price accordingly. AND, you also need to price based on what you are confident in. In Your First Group Program, I teach you how to price in a way that will feel good for you AND your students. My first round of Uncage Your Business was $349, and now I sell the program for $1997, BUT, I have perfected the material over the years and gotten so much feedback and great testimonials, that I now feel confident selling it at that price. I never would have launched at that price out of the gates.
5. Beta launch
Next, you'll want to give your new program a test run! We call this a "beta test", and it's all about making sure that your program is actually GOOD. Beta testing is SO important! It helps build confidence in your program, helps make sure you get the best results possible, allows you to get feedback and tweak the content if students are finding it confusing or if you need to add more info, and lets you get testimonials so you have social proof when you are ready to launch for real. I give you exact scripts in Create Your First Group Program for how to get beta testers for your beta launch! You don't need a huge list for a beta launch! My litmus test is usually — if you have a few places right now that you could put out your offer (your list, FB groups, instagram, personal outreach/networks), and you think you can grab at least 5 people to join, then you are ready to do a beta launch!
My beta round of Uncage Your Business has 12 people in it, and now I fill it with over 100 people each round!
6. Tweak program + grow your audience
This next stage is all about making changes to your program after your beta test is done. Did students get results? Did they have additional questions that you need to build into the material. Did students drop off? Where? And how can you prevent that in the future? You'll inevitably need to make changes to your program after the first round, so while you're doing that, you can also use that time to grow your audience. Because when you launch a group program, you need lots of eyeballs on it! Instead of getting just one client, you need to get 10, or 20, or however many you want in your group! So list building becomes mega important.
7. Launch for real!
Once your program is tweaked and you have grown your audience, you're ready to launch for real! Launching can be elusive, and I can't teach you the entire process in this post, but it involves a LOT of emails, time on social media, and selling! This is where the money starts to come in and your course can really grow. You might start with 5 people in your beta test, and get 20 in your launch. The next launch you might grow to 40, or beyond. You can decide how many students you want in your program, but once you get rolling with launching a few times a year, you can easily replace your one-on-one income and scale  your business infinitely. This is where "6-figure programs" are a real thing.
Hope this has helped shine some light on how great group programs really start and evolve. As you can see, my very popular Uncage Your Business program started with 12 people at $349 back in 2013, and how it's the one thing I sell that has helped me scale Uncaged to a half a million dollar business (with plans to grow that this year!).
You have to start somewhere, and I truly believe that learning the RIGHT process for creating a group program is your ticket to Uncaged freedom.
xx becca
3 month business building checklist

ENTER YOUR EMAIL BELOW TO learn exactly what to do to start your new business