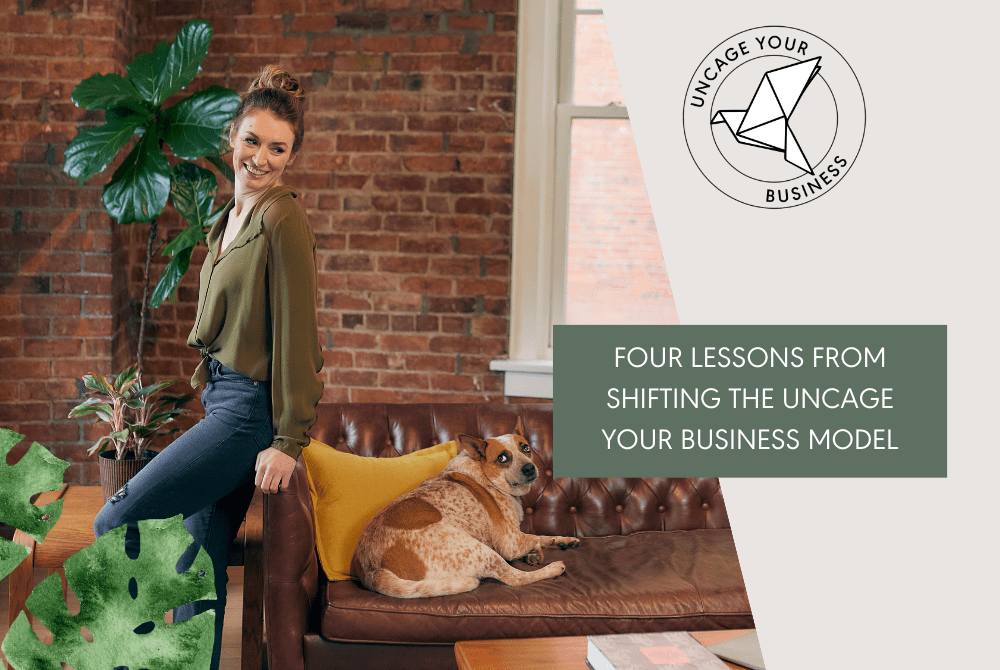 FOUR LESSONS FROM SHIFTING THE UNCAGE YOUR BUSINESS MODEL
Hey! Have you heard the news? Uncage Your Business is changing.
It's a big change, and I want to share the reasons why we're doing this because there are some BIG lessons that are super useful whatever stage of business you're at.
To give you some context, Uncage Your Business is our signature program for coaches (and anyone who has a coaching competent to their business who wants to sell services online), that helps you niche in, create compelling messaging, create packages that people get excited to buy, and helps you learn how to talk about what you do with the clarity of someone who has been doing it for years!
The program has been running in 2 different ways for the last few years — one as a LIVE 5-week group program twice a year, and the second as a self-study program that you can work on at your own pace.
I just made the decision last November that we are RETIRING both of these programs, and turning Uncage Your Business into a year-long coaching program. The content will stay the same, but we'll have more specialised coaches to support our students (everything from copywriting to money to mindset) on-hand for 12 whole months!
This whole process of making this change has been super illuminating and there are some big lessons from this shift (so far!) that I think could be really useful for you too. Let's get into them!
Lesson #1: It takes time to test and tweak your biz
The reason I wanted to shift Uncage Your Business to offer a whole year of coaching support is because I know that SO much can change in that first year of business and our students need more than five weeks to be able to implement, tweak, and refine.
There are SO many ups and downs in your first year: you have good intentions, you fall off or get distracted, you get sick, you have a baby, you work a job full time and can only chip away at your business part time.
Even if you are able to dedicate full time hours to your business when you're new, there is still an UNAVOIDABLE process of testing and tweaking and refining everything from your niche, to your packages, to your prices and your marketing — nothing is one and done, ever, but especially when you're new.
All of this means that growth takes TIME in your first year, no matter how well-intentioned you are. And we want to be able to support your business through ALL of that.
And spoiler: this tweaking and changing – it never stops! Here I am, a decade into my business, and I am still making changes to what I am selling!
Lesson #2: Let yourself — and your business — change
My life is also changing and the twice-per-year launch model we ran previously just doesn't make as much sense for my uncaged lifestyle now. We've bought a house in the mountains and I don't want those long stretches of travelling in between launches like I used to.
The other change is that we will not be launching UYB again (except for our grand opening of the new program which will launch in March). After that, the program will always be open for enrollment. Launches are stressful and getting more and more unpredictable with all the changes to Facebook's operating systems. And while I do LOVE launching, I am excited to shift to this model of evergreen enrollment.
I have LOVED live launching and it has served me extremely well, but it's time for a shift. The stability of having an evergreen enrollment system is something I am craving now that I feel more settled in one place in my life (anddddd if I decide to have a baby, I won't be able to do the full-on, high energy launch model that I have come to love so much!).
Letting yourself and your business evolve and change might feel uncomfortable, but clinging onto an old version will feel way worse.
Lesson #3: Scary doesn't mean wrong
Changing up the Uncage Your Business model was a scary decision to make. Especially because it comes with a price increase to $3500 for the new program! However, I am SO confident in how much better it is going to be for our students that even though I am sure it will take some fine-tuning in our marketing and delivery of the program, I know this will be better for EVERYONE in the end.
I overcome mindset gremlins and fears by looking around and seeing that MANY other people are selling similar programs (for much higher pricepoints!), which helps remind me that this model works AND that our students are going to be getting a great deal for this level of support!
Just because you are having the jitters about some of the grown-up decisions you are having to mak in your business, doesn't mean they are not the right decisions. There is a difference between knowing in your gut that something is absolutely not the right choice, and feeling nervous but excited about the possibility of making a change.
These kinds of nerves are something we work with our Uncage Your Business students on navigating ALL the time. It's why we have an incredible mindset coach who coaches alongside me in our program – so that you don't let those nerves stop you from taking the actions that will move your biz forward.
Lesson #4: Start where you are
I never thought we would change Uncage Your Business like this and I could never have predicted where me and my business would go. I started by offering 1:1 services for $100/month!
I didn't have overnight success, but I did keep growing slowly and steadily (read: sustainably) over the years. Every step along the way I've had to learn new things, test, tweak, pivot and evolve, and let go of old versions of myself and the business. Things I NEVER thought I wanted then, make so much more sense for where the business and where I am at now.
I have had to let go of a LOT of ego along the way too!
Take for example, hiring coaches to help support our students. If you had told me I would want to do that in my early years, I would have said hell no!
I used to believe that I was the only one who would help my students best. That no one would want anyone else but me helping with their business. Umm hello, self centered much!?
Over the years, I have been in MANY programs that have had program coaches doing some of the coaching, and to be honest, in some cases, I jived with the program coaches even more than the course creator!!
Even in UYB, I have brought in other coaches to help over the years, and the results have been incredible. Having Erin our mindset coach, on the team has drastically increased our students' success in the course. And hiring Peer Mentors to help give feedback and cheer our students along has been SO helpful and our students have raved about the support they received from the mentors.
Now, with a decade under my belt and even more of a conviction to help our students succeed in whatever way possible, i have learned to drop the ego, and never say never about where the business is headed.
I know it can feel like a HUGE deal to pick a niche, choose your packages, decide your price, or set a business model — but nothing is set in stone. You get to change your mind, tweak and improve, do a total 180 pivot, quit completely and start again, if you want to!
You cannot do this perfectly, so just do something to start. Start exactly where you are and know that everything will change along the way (it's meant to).
Love the sound of having a whole year of support to build super strong foundations for your business so it can grow with you? The new UYB program releases mid-March and our new coaches are ready to support you with everything from mindset to copywriting to marketing.
I AM SO EXCITED! More info coming soon (but if you want a sneak peek at the details because you want to plan, join the waitlist and we can fill you in!)
x becca
p.s. Are we friends on Instagram yet?