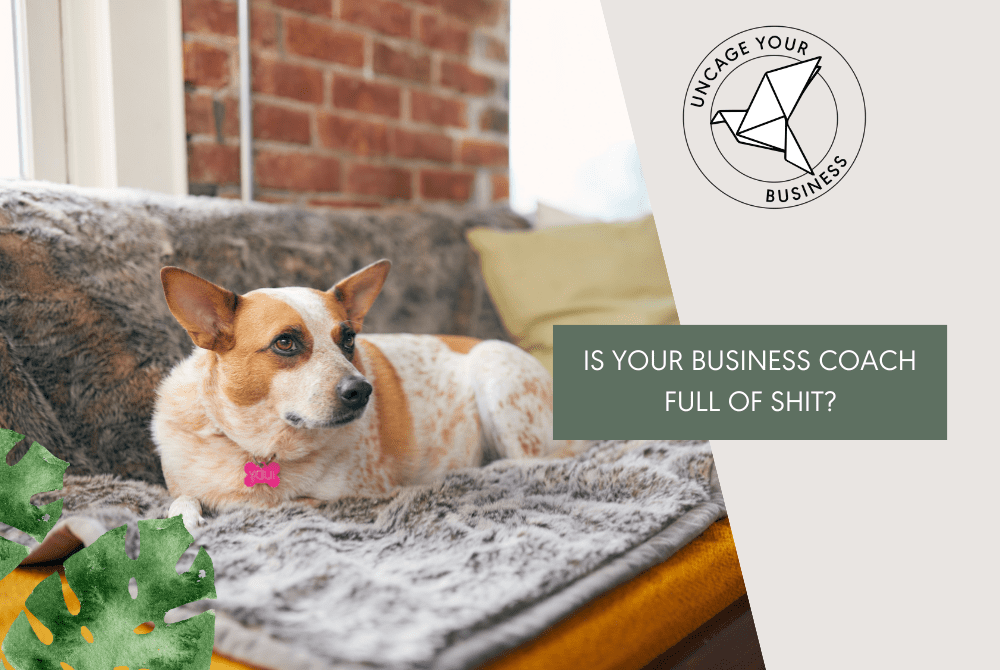 Is your business coach full of shit?
One of my favorite things recently is checking out websites on WayBack machine. You can look up the web archives of ANY site out there, and see every iteration that was ever online. It's very awesome and very eye-opening, especially if you are someone who is comparing yourself to someone like Marie Forleo, who has been in business for over 15 years (seriously – go check out her first ever site and see how far she's come!).
And some of my all-time favorite sites to check out are those of newfound 6-figure business coaches who I see around the internet.
What a recent search showed me
This week I was looking at coach's new site (someone who's been popping up in groups lately) and I was remembering how much she was struggling not that long ago. So I hopped onto Wayback Machine to check out her archives. Here is what I found: back in the first version of her website (sometime around 2013) she's saying that she's rocking her business doing what she loves (life coaching, I presume) and that she helps women do the same so they can make 6 figures. just like she did!
But now, on her current site (about 2 years after she said she was rocking it in business), I'm reading about how for the first two years of her business no one knew who she was and nothing was working, that in 2014 she was broke and she had no clients and she hit rock bottom …And now, magically! she's pulling in multiple 5 figures a month by helping others do the same!
Do we all smell the same thing here? This is happening a LOT, I see it, you see it – we all see it.
Let's just be clear that I have no problems with people switching direction in business, going through lulls (it happens), changing course, teaching things they are good at, and I love a good rags to riches story — when it's authentic. But when someone is saying they are rocking it in business, and then later reveal that they were actually NOT rocking it (that was just a lie haha! but they don't actually tell you that), and that they were really flat broke and business wasn't working…  and THEN do a full 180 and use the old "I was broke and now I am making 6 figures (by showing other people how to make 6 figures too)" … it's just so blatantly sleazy and gross that, as they say, I. can't. even.
Of course, this rubs me the wrong way. As a business coach who actually grew a business that has been more and more profitable every year, with no bouts of hitting rock bottom and no bouts of insane leaps in income,  just slow and steady building,  I wonder about what it means for this industry that more and more of the fake "I was broke and now I make 6 figures!" coaches are appearing – and actually getting clients!
It makes my blood boil to see people falling into the glamour of it all – how easy it must be to make a shit ton of of money overnight, because look she did it, and she's just like me! My hesitation when I hear of people paying for these "coaches" is that they are buying into a good marketing story, rather than someone will skill, integrity, and know-how.  Because they made their fortune by saying "I'll help you make a fortune!", without ever actually doing anything well in their business before helping people make a fortune…
I'm wary, to say the least. We have all seen this pyramid-scheme-style shit, and some coaches out there even TEACH it (the worst form of all of this) — they turn health coaches, life coaches, yoga teachers, you name it – into business coaches on purpose, because the only model they know is how to help people make money by helping people make money.
All of this is just to say that we all need to do our research before we hire a coach or a mentor. At the end of the day, you get to choose who you give your money to, and if they can get you results, that's really what matters… but be wary of the "I was broke and now I'm suddenly rich and I'll show you how" coaches… they may not always be able to get you results in a way that actually feels good for you. Some are legit and have inspiring stories, and some, well, are not.
3 month business building checklist

ENTER YOUR EMAIL BELOW TO learn exactly what to do to start your new business
How to know if your coach is legit or not:
There's no one way to know if your coach actually knows what they are talking about and can actually help you grow your business, but there are a few things you can do to try to make sure you're not hiring  someone who is just blowing smoke up your ass by way of good marketing:
1. Check Wayback Machine
You'll get a good idea of where they came from by looking at their past website revisions. Everyone starts somewhere, so don't be too hard on them! But have a look at their evolution and you'll get a gut feeling of whether it feels legit to you or not.
2. Search for them in business groups you're in.
You may find that just 6 months ago they were posting about how they have no clients and don't know how to make any money, but now you see them selling 6-figure business secrets (interestingggg). Also – GOOGLE. When Reese Ben-Yaacov stole my programs and sold them I wrote a blog post about what happened, and now people still email me almost a year later saying that they are grateful that they found my post before they decided to give her any money!
 3. See if they work with people other than business coaches.
Often, these kinds of coaches will turn all their clients into B2B, and if you're a passionate health coach who wants to help people cure their digestive disorders, you likely don't want to be told that you need to start helping health coaches start businesses if you want to make any money. If your coach has worked with other people in your industry and gotten results, that's a good sign.
4. Listen objectively to their story.
When someone says they were flat broke and then they started making all kinds of money — did they do that via the pyramid scheme method of making money by teaching people how to make money? If yes, it doesn't necessarily mean they can't help — there are many coaches who are legit and smart as hell whose businesses center around helping other businesses… but if it's a "I was broke and had no idea how to make business work" and then all of a sudden they "figured it out" and are raking it in – just be careful.
5. Ask to hop on the phone with them for a consult.
Talk with them about how they see you growing your business, what they'd want to work on with you, and make sure they have solid, clear answers that instill confidence. If it sounds fluffy on a consult, it's not going to get much better when you hire them.
6. Ask to talk with their past clients in the same industry as you.
Any good coach will be happy to send over the names of people they have worked with, and ask around in groups too to see if anyone has worked with them and ask if you can chat with them to get a sense of their experience (but make sure to have the conversations in private – you don't want to start shit talking anyone in a public forum if that client wasn't happy with their coaching!)
7.  Are they promising things that are too good to be true?
There are very few legit coaches I know who can guarantee that you will make more money in your business if you work with them. Most good coaches and consultants know that there is no magic guarantee – so they might say they will help you grow your social media following, or create your packages and courses, or build a marketing strategy that will help your business grow, but very few legit coaches will actually say straight up that they will help you make more money, and very, very few would ever put an actual dollar amount on it (because they know that there is a lot that goes into that equation. I tell my clients I will help them create packages that sell, but I would never say I'll help you create a package that will pull in 10k/month. It might, it might not – a lot goes into that that is out of my control in our work together). The coaches who are saying they will absolutely make you more money (100k), might not actually be able to deliver that – so make sure to get a guarantee if you do see promises of specific numbers.
8. Pay attention to what results they are actually selling you.
Are they selling you a fabulous, first-class lifestyle, where you get to live your passions and escape the 9-5 and do work you love and make a killing doing it? Or are they selling you tangible business building tools and strategies, and coaching to help you find a way to do it that works for all your unique strengths and talents? Because I tell you, I see a LOT of people out there selling a lifestyle with no actually strategy to back up how the hell they plan on getting you there (and believe me, I am acutely aware of this because I have to be careful how I message this in my own business, what with it being named after the idea of a lifestyle "The Uncaged Life").
One of my clients just last week told me she hired one of these millionaire coaches, and her coach told her to put more pictures of her in first class on her website, and get a professional photoshoot done every time she travels, to make people want what she has. Basically, she was told to lure them in with lifestyle photos and promises, and then teach them how to do the same with their clients. Um, no thanks.
3 month business building checklist

ENTER YOUR EMAIL BELOW TO learn exactly what to do to start your new business
There is a lot of awesome business help out there, and unfortunately, a lot of garbage. And I know we are all sick of seeing "make 6 figures in 3 months" bullshit. And while I have zero problem with anyone wanting to make 6 figures (or more – it's your life, you get to decide what will make you happy), I know that you are too smart to actually believe that it can happen overnight, or even in 6months, or a year…
And I am hoping that you know that you CAN make your business work, and that you don't need to buy into the FOMO that's created when you see these glamorous, time-sensitive programs run by struggling-life-coaches-turned-6-figure-business-coaches-once-they-learned-the-secrets-of-success.
There are other options, and your business will thank you for choosing them in the end.
xx becca
PS. Are you thinking HELL YES Becca, this shit need to stop!!? If yes, I'd love if you could share this post  on your own business page or with someone you know who needs to hear it. Thank you!