CREATING AN ONLINE MARKETING PLAN CAN BE LONELY. AND FRUSTRATING. AND CONFUSING. AND THE WORST.
Getting clients online requires a rock solid marketing strategy.
But most days you're somewhere between 'what does that even mean?,' and 'I guess this will have to do.'
You glare at the computer screen every time you're 'supposed to' blog.
You want to punch opt-ins in the face.
Trying to come up with new offerings is driving you to drink.
And hot damn everyone else is making it look so easy.
Well, enough of this sad dance. What if INSTEAD, someone could just swoop in and see your business for what it is and what it could be…
…point out your blind spots PLUS all of the opportunities you're missing,
…and then hand you a customized, you-focused marketing plan that illustrates all of that plus killer, me-crafted content so that you can actually put it all into action instead of just staring longingly at what everyone else is doing
No, it's not a pipe dream; it's MEET MARKET(ing): a done-for-you marketing plan that doesn't suck—so you can focus on what really matters.
MEET MARKET(ING) IS ABOUT GIVING YOU THE MORE THAN A KILLER STRATEGY FOR YOUR BUSINESS BUT ALSO REAL, ACTUAL CONTENT YOU CAN USE RIGHT THIS MINUTE. LIKE, NOW.
Because working hard hardly works if it lacks direction.
Because your ideas are awesome, but they need to be corralled (yeehaw).
Because no one will give a shit about your work  if you're pumping out generic content and packages that don't nail it every single time.
Because there are big, fat, amazing opportunities out there that you haven't even considered.
Because DIY has driven you up the WALL and it's beginning to be a waste of time and money and energy.
And mostly: because once you establish a clear, sharp, brilliant strategy + plan, you'll discover that writing your website, blog posts, opt-ins, tweets, and new programs/products/services comes easily.
HERE'S MY EDUCATED HUNCH ON HOW YOU MAY BE FEELING AT THIS POINT IN YOUR BUSINESS:
You have so many ideas about how to put together your content and packages and opt ins that you have no clue where to start or what to focus on. Or even worse, you haven't had a new idea in months, and so you sit and stare at the content you can't create and think of all of the subscribers who aren't hearing from you like they should.
You've been doing this too long to be guessing when you create new programs and services. Especially when the guesswork leads to generic programs that everyone and their stepmom are offering.
You are confused, overwhelmed, and frustrated because every day you waste precious time that should be going towards watching the work you really care about grow and helping people.
You walk around green with envy when people in your field get media opportunities or when you see everyone sharing their content because for some reason they know exactly what they're doing and IT'S NOT FAIR.
You know the people you want to help, but you're hazy on the whole market research thing – and you kinda just wish someone sit you down and walk you through it all.
You want help; but not generic advice or another e-book; you want a real, live plan and someone who will break it down for you so you can focus, start creating, and finally have a steady stream of content and programs that reel in the clients (and the dollars).
Does this feel alarmingly familiar?
Have you fallen asleep thinking these things? Well stop banging your head against your desk (because the people at the coffee shop are staring), and wave the little white flag that says, "PLEASE HELP ME AND ALSO SEND CUPCAKES."
No promises on the cupcakes, but what I can promise, is that MEET MARKET(ing) will get you out of the trenches and into the limelight; out of the rut and really onto something.
SO WHAT'S INCLUDED IN THIS WHOLE SHEBANG?
(SPOILER ALERT: IT'S ENOUGH THAT IT WILL MAKE YOU CRY TEARS OF RELIEF):
In-depth training on how to find out exactly what your clients want and need (so you never waste your time creating things they aren't really interested in).
A one-on-one strategy call (90mins) with me do dive deep into your business, sort out any lingering uncertainty, and create a solid base for creating your content strategy.
Done-for-you content and program ideas (as in, I'm going to create all the ideas for you without you having to lift a pretty little finger), including:
One signature package idea, plus two smaller package options that help fit into your sales funnel. Yes, really. I'll tap into my years of expertise in crafting services and programs and come up with ideas for you – BOOM. All content ideas from here on in will be focused on helping you sell these packages
Year-long revenue plan so we can see exactly how much money your new packages are going to make you – and so you know exactly where your energy needs to go each month
Lead generation goals so you know how many people you need to get getting on your list to help you meet your sales goals
10 blog post ideas with click-worthy titles. We're talking 3-5 months worth of content here that will lead people directly to your opt-in and eventually buy your packages
3 opt-in ideas (that correspond do your new packages!) that your clients will actually WANT (with new and interesting ways to use them that you probably didn't even know you were "allowed" to do)
3 ideas for free calls, webinars, or challenges you can host that will be big time list builders or help you promote your new packages.
Strategy plan for pitching yourself for guest posts and podcasts to help you get noticed online, fast
Resources and support documents for every single piece of content so you know how to implement everything and replicate what works in the future  (think – tips for writing blog posts, the ins and outs of running free calls, opt-in delivery methods, how to pitch yourself for guest posts and interviews, etc)
One week of jamming in the comments of your doc. You'll go through everything with fine toothed comb and have the chance to ask me any questions, add to what I've created, and give me high fives for your new content plan. I'll go through and review comments along the way and make sure we're both on the same page.
Then one follow-up call the following week. where I'll explain what I did, how I did it, and how you can replicate it in the future, so even when the content that I've created for you runs out, you can continue to be an endless stream of perfect value for your clients, which will make you look like the little mindreader that you are. Any final Qs are cleared up here, and you are off to the races!
AND IT'S ALL DONE ONE DAY, like magic.
LET'S TALK MORE ABOUT THIS DAY, SHALL WE?
Think of this as a luxury, VIP, solo retreat (me-treat?) It's your time to take a break from business as usual and let me do the work.
The whole process goes a little something like this:
You sign yourself up and take a big sigh of relief that someone's in your corner. Next, you get your get-started training sent to your inbox. This will teach  you how to do market research the right way in your industry, and give you the chance to dive into your business and start to figure out exactly what your clients want. Plan ahead for this bad boy, because you should take at least 2 weeks to complete this.
We schedule our day together and you get down to business on your pre-work (please note that all sessions are booked at least 2 weeks out in order to give you time to do your pre-work)
On the big day, we get on a 60-90min call in the morning (anytime after 10am EST) and together we discuss the down and dirty of your business.
Now, the fun part. We break, and within the next 48 hours you get your completed meet marketing plan sent to you in a shared google doc
You spend a week digging through, asking any questions, saying yay or nay to ideas, asking for tweaks, etc.
Once all is said and done (and laid out and tweaked and revised), we get back on the phone for a 45 minute follow up and go over the entire plan, making sure you feel solid with all of the material. We can even get down to business and start scheduling some of the content into your calendar, if that's how you wanna roll!
I send you on your way with all your shiny new content along with resources on how to implement everything we've created.
You hang up and proceed to take the world by storm.
Yep. One day that will change everything for you.
So.
Are you ready to finally create packages that will work for you and your clients?
Are you ready to build your credibility, boost your list, and create amazing content that your dreamiest of clients will eat up (and share everywhere)?
Are you overdue for some creativity and confidence; hungry for someone to just come in and do it all for you for once?
Are you excited about learning how all of the moving parts of your business fit together so you can start leveraging everything like a serious pro who knows what the hell they're doing, and not just following generic business advice that isn't working for you?
Are you anxious to stop feeling anxious about putting your business out there in big, badass ways?
Are you ready to stop talking about it and start doing it? Or rather – start having ME do it for you? ME TOO.
REQUIREMENTS TO BOOK THIS SESSION
You've worked with at least 5 clients and definitely know what your business is. This means that you're relatively clear on your niche and how you help them. We'll iron out any small kinks in your morning session, but you do need to have a business already.
You have a website (ya know, the place where we are implementing all of the content I will create for you.)
You are ready to REALLY put yourself and your business out there with a solid plan and focus.
You are ready to own your expertise (and once again, you know what that expertise IS. If you're still unclear, I recommend a Foundation Session to get you started and you will be ready to book your session after that!
Once I review your application to make sure you're a perfect fit, I'll send you over a link to pay your deposit and book your session date, and you'll be sent your pre-work so you can get started!

SOUND LIKE YOU? THEN LET'S DO THE DAMN THING!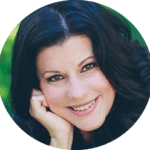 Best thing I've ever done for my business.
I made $2000 in just 9 days over CHRISTMAS with my beta offer that we put together in this session. This was gold! And I haven't even launched the group program we created yet! The importance of the email sequence you gave is KEY - it's so hard to create that without help, even for professional writers like me. This is the best investment I have ever made in my business and I'm just getting started implementing the content.
RAMONA RUSSELL, PR EXPERT
I'm feeling unstoppable right now!
This package is worth every penny. I'm just still so amazed at everything you came up with and how quickly you did it. You obviously know what you're doing, have a ton of experience, and have a great mind for this kind of work. You are creative, a quick thinker, and have the brilliant mind of a marketer.
It feels inspiring, exciting, relieving, and grounding to have a plan that I can stick to. I feel like I can get some blog posts going, pitch for some guest posts, get a better opt-in and build a bigger list. I also feel that these packages will bring me in some more money fairly quickly. I wish I would have done it sooner!
JEN ANDERSON
This program literally shaved years off my business-building process.
If you're on the fence about this program, get off. Becca's insight, intuition and expertise will take the blinders we all have about our businesses right off and allow you to see all the paths available to you. When I first got the google doc, her ideas were SO far out of the box from what I'd been doodling around with, and yet SO on the nose for my audience, it totally blew me away. You'll have it all in a clear, actionable document, which she prepares while you're at the gym. I mean, what's better than that? This program literally shaved years off my business-building process. I've been ramming my head against the same wall for years, and in a few hours, Becca tore it down.
KATE ANTHONY

Working with you on the marketing plan gave me a road map that I can follow!
Before working with you, I felt confused, overwhelmed and paralyzed trying to move my business forward. I had a good sense of my big WHY, but didn't know how to translate that into a specific WHAT and HOW that my clients can understand as well. Because of that, I felt my blog posts, social media presence and everything about my business was all over the place.
Working with you on the marketing plan gave me a road map that I can follow! I was surprised how well you zoomed in on areas where I was feeling iffy. The content you created fit perfectly and encouraged me to explore new possibilities for my business that I wouldn't have considered on my own.
And you absolutely went above and beyond with your feedback – you were so generous with your comments, took the time to explore and understand my specific message and approach, and offered some laser coaching during the call!
Seeing the content all laid out made it so easy to see the big picture and how my message is re-purposed into all aspects of my marketing plan. It would have taken me so much more time and energy to create this type of content on my own. But it was really the opportunity to talk it through with you that was priceless. It's really a no brainer! Everyone should do it!
CICI DIMITROV


These ideas have spurred my creativity and opened up the flow of possibilities of what I can create in my business.
Having the combined insights about the needs of my ideal clients along with your customized ideas for solution-based content is invaluable! There were several ideas that seemed like such a natural fit for my expertise and audience that I couldn't believe I hadn't thought of them before! On the flip side, there were some ideas that I needed to think about and explore in my mind-those pushed me a little outside of my typical comfort zone. I love that both of these angles were present!
Seeing all the ideas laid out, I can see how these will help me build credibility as an expert in my field, how the content will provide valuable solutions to my ideal clients and how I will be able to capture more attention and build the ever-important list. These ideas have spurred my creativity and opened up the flow of possibilities of what I can create in my business. And last, but not least, this plan has given me a vote of confidence that I can create valuable content and that my comfort zone doesn't have to contain me-the possibilities really are endless. You really do have that effect on people!
HILLARY LIBBY
I am set up for success for the next several months now!
This session was AWESOME. The length of the content that I got back was definitely more than I expected! The number of awesome blog post titles, resources for guest posts, etc. I feel EXCITED. Clear. Ready. Armed with a central mission and message that I finally know how to channel in different ways.
I feel like I'm already set up for success for the next several months. It's kind of like studying for a test and knowing you're going to ace it 🙂
If you are looking to dig deep into your business - perhaps deeper than you have before - and want to truly understand your clients needs and desires and base your business on THAT - this is for you!!
AMANDA HAYES MORGAN, HEALTH COACH

You helped me see the blind spots in my business!
Becca thought of resources and angles that I would have never thought of but will definitely be valuable to gain more exposure and business! It amazed me how she could understand the needs of my business in such a short time. I loved not only the content ideas but the various formats that she suggested. I feel relieved! It was amazing to have so much content delivered in such a short period of time!
Becca ALWAYS under promises and over delivers. The Uncaged programs and services have been the best investment for my business. She is an amazing gift to the entrepreneur community! If you're debating on getting this or any other of her services, and need advice, my advice is a hell yes, go for it!
ALENE BRENNAN

I feel relieved and inspired!
Before MEET MARKET(ing) I was feeling totally overwhelmed! I felt scattered and unfocused because I had all these ideas in my head, but I couldn't figure out how to make an actual plan out of them. I was surprised at how specific you got with what I could offer, and even how to word things- you definitely did your research. The package ideas blew me away! (I actually came up with the plan for my main 1:1 package the same day we talked!). I feel relieved and inspired! Like a huge weight has been lifted off my shoulders. You gave me ideas on how to serve clients that I didn't think of on my own.
This service was amazing! Not only did you do all the dirty work for me (saving me a shit-load of time), you also came up with a ton of ways I can get out there and get known! You made it so freakin' easy!
KELLY DAWN

This was absolutely more than I could have dreamed of!
Before working with Rebecca I had some ideas, but no idea on how to make them happen - and no idea if they were right for me. Then I decided to try the Meet Market(ing) package and suddenly a ton of brilliant, new creative ideas got quickly released into my inbox! She is impressively creative and I was amazed by the amount of solid action points created especially for me. I was immediately able to see my business in a different light and this brought me that fresh and cool flavour that I was looking for.
I was simply amazed by the huge value Rebecca gave me with this package. She clearly outlined for me the business opportunities I hadn't seen yet. This was absolutely more than I could even dream of!
You know all the things I was struggling with? Solved! Getting my plan laid out made me do another BIG step in my business. I got clarity, confidence and action and a ton of energy and excitement!
Now that I have these amazing ideas for my business I will be able to properly launch my business and spread it all over the web! I love it!
DIANA MALERBA

I feel like I can see how my business can go from good to amazing this year.
This has been an amazing experience! I loved that it was like you read my mind and understood what my strengths were and what my clients needs were and able to put it together with me into ACTIONABLE steps and marketing to not only engage my readers, but help me build my business! YAY! I knew you were going to provide a marketing plan and ideas, but I guess I didn't really understand just how much you were going to be giving. I feel like I have enough to keep my entire year busy and moving forward. I was also really surprised how quickly you understood my style, what I do, and who my clients are. It was so much fun opening up the content and reading through what you came up with. I immediately pictured writing it and so excited about the response from my readers!
I feel like I can see how my business can go from good to amazing this year. I now feel confident that I not only have the tools, but a clear plan to make my business what I've always known it can be. And that is seriously the best gift of all. Thank you, you're the shit!!